I had to leave my passport with the ship's crew at embarkation. It was the third time for me to leave it with others. The first time was in South Korea 6 years ago when my plane wasn't able to land in Japan and flew to South Korea. I was told that my passport had to be kept by the hotel which I had reached at 2 o'clock in the morning. I was so tired and followed his instruction without further thought, but I got angry to find later that it must have been for protection against escape. Who would want to escape in South Korea? (LINK)
  The second time was when I was heading for Karafuto (Russian name: Sakhalin). I heard that it was to make it easier and faster to enter Russian territory, but Russian officers were really slow in their work. I was angry all the more that they had no legal evidence to live in Karafuto.(LINK)
  Then this is the third time. The procedure was really smooth and the passengers were able to go out of the ship as soon as the ship arrived at the port of call. I realized how lazy the Russian officers were after such a long time.
  The picture shows my cruise card, which was used as my ID card, a credit card available only in the Diamond Princess, and the room key. When I was out of the ship, I was told to carry a copy of my passport.
(Vocabulary)
after such a long time 今更ながら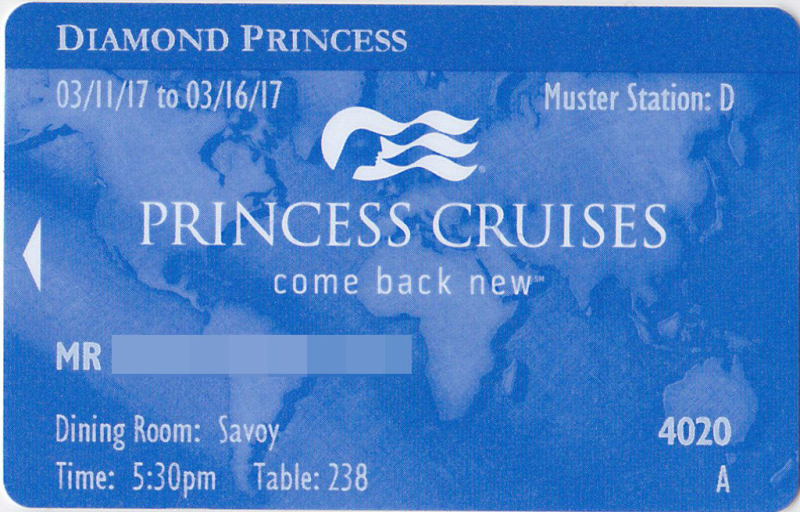 マラッカ海峡クルージング記: パスポートを航海中係員に預けてしまう件
乗船時にパスポートを預ける決まりになっている。パスポートを他人に預けるのは3回目の経験である。一度目は6年前の春、カナダからの帰り、日本国内に着陸できずに仁川国際空港に降りたことがあった。夜中の2時。混乱の中たどり着いたホテルでパスポートを預けるよう指示された。訳がわからなかったが疲れていたので言われるままに預けた。後で考えると、これは逃亡の予防だったに違いない。それに気がつき誰が南朝鮮なんかで逃亡するかと腹が立った。
 
2回目はにっぽん丸でのクルーズで樺太へ向かったとき。樺太は大泊(ロシア名コルサコフ)へ降りるとき、手続きを円滑にするためとのことだったが露助の税関職員の仕事ののろさに辟易した。奴らに南樺太に住む権利はないだけに腹が立った。
 
そして、今回が3回目。逃亡の予防もあったかも知れないが、マレーシア、タイへの入出国をダイヤモンド・プリンセスのスタッフが代行してくれるとのこと。樺太での嫌な思いが甦ったが、心配は全く無用であった。露助どもが如何に怠慢だったかと今更ながら実感した。
 
写真はパスポートと引き替えに渡されたクルーズカード。今でも乗船の記念として手元にあるが、船室の鍵で有り、船内で利用できるクレジットカード、IDカードとなる。船外へ出るときはパスポートのコピーを携帯するよう指示された。
パスポートを預けた件
http://kumo.typepad.jp/weblog/2012/04/hotel-and-airport-personnel.html
露助どもが上がってくる
http://kumo.typepad.jp/weblog/2015/09/immigration.html