Who are the four men who are handed big leis from people, I wondered. If you are interested in Japan, you must have been alive to the resemblance between them and sumo wrestlers in Japan. Sumo wrestlers are often called on the occasions of Shinto ceremonies, because sumo is tightly connected with Shinto. These four men might be such people and Kamehameha I might be treated as their God or something.
  Around the time when Hawaii was annexed into the U.S., the Japanese Imperial Navy was the strongest in the world along with its ally, Great Britain. Just a single Japanese naval vessel being there, the U.S. navy was
frozen. In such times, Kalakaua, the 7th Hawaiian King, wanted to become a relative of the Japanese Imperial Household by his niece's marriage, but in vain. He is said to manage to protect the independence of his Dynasty by the solid connection with Japan, but I assumed that it might not be the single reason. In my view, Kalakaua had a natural affinity for Japan, because Japan and Hawaii seemed to have something in common culturally or
from the folkloric perspective. Viewing the maybe-sacred men or listening to the local melodies, I imagined the era of the end of 19th century.
(Vocabulary)
folkloric    民間伝承の, 民間に伝わる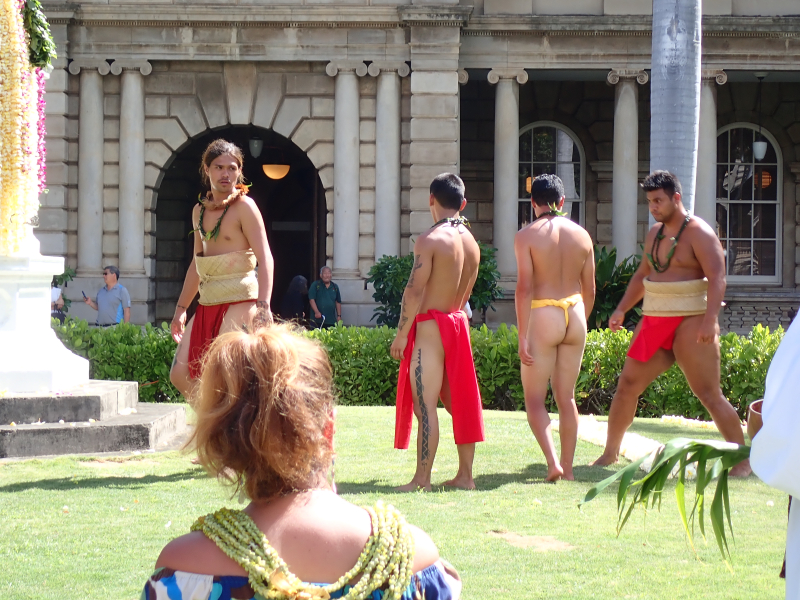 日本に親しみをもつ方なら、この4人の男達の姿が相撲の力士達に似ていることにすぐ気がつくでしょう。
ハワイがアメリカに併合された頃、日本の海軍力はイギリスと同等の世界最強レベルでした。我が国の軍艦がそこに居るだけでアメリカは黙り込んだ時代です。19世紀末、アメリカに怯えるハワイ王朝は自らの独立を護るべく、日本の皇室との婚姻関係を希望した事実があります。この力士風の姿を見ると、カラカウア王が日本に接近したのは、単にハワイを護りたかっただけではなく、民俗学的、文化的に見て、日本とハワイには共通する何かがあったような気がします。レイ・ドレーピング・セレモニーが神事かどうかはわかりませんが、日本では神事に力士が参加することは多いです。そのようなことを考えながら人々の歌を聴いていました。