About 260 years of the period from the start of the 17th century to the middle of the 19th century is called the "Edo era" in Japan. During the era apart from the last several years, Japan had never been invaded or attacked by foreign forces and had seen a rapid and remarkable progress in cultural, artistic and some other aspects. Consequently, the art of battle wasn't necessary and the products of arms were only small weapons like swords or matchlock guns. In other words, Japan was sleeping in this period without knowing of the religious wars like the Thirty Years' War and the French Wars of Religion nor superpowers' battles seeking for colonies. In the middle of the 19th century, however, several foreign military ships came to show up around Japan, typified by Commodore Perry's fleet from the U.S.. Their ships were armed with cannons.
  The officials of "Bakufu", the then Japanese government, were surprised being confronted with the cannons on Perry's fleet, because they were up-to-date at that time. As for me, I was surprised at the fact that the officials did know about that kind of cannon even in the less informative era. Anyway, what if Japan was attacked with those cannons? Japan started to build forts on the coastlines. Daiba, which is now one of the tourist spots in Tokyo, used to be a fort for the protecton of Edo, which we now call Tokyo.
  By the way, where did the cannons come from? The next destination, Nirayama Reverberatory Furnace, is just the place where Japan's first-ever cannons were made. The range of those cannons was reportedly only 3km, while that of the foreign ones was 11km. If a military conflict had happened, the result would have spoken for itself, but the presence of those even inferior cannons would work for avoiding military confrontation. To my and maybe your surprise, this furnace was built not by the government but personally. A local official and his son, who were worried about the circumstances, did the research on the foreign furnaces and built their original furnace in Nirayama. Their work must have been a daunting task and was narrowly in time for the arrival of foreign powers.
  As I often wrote in this blog, when Japan was in distress, someone surely and timely showed up in its history. These Mr. Egawa and his son, who completed Nirayama Reverberatory Furnace, would be one example. A volunteer guide perfectly fulfilled her task. Her answers to my several detailed questions were totally informative. Nirayama Reverberatory Furnace was listed on the World Cultural Heritage Site in July in 2015.
(Vocabulary)
Nirayama Reverberatory Furnace 韮山反射炉: 静岡県伊豆の国市にある反射炉跡。日本で唯一現存する実用反射炉であり、国の史跡に指定されている。平成27年7月、韮山反射炉を含む「明治日本の産業革命遺産」が世界文化遺産に登録された。
matchlock 火縄銃
French Wars of Religion ユグノー戦争
Commodore Perry ペリー  Matthew Calbraith Perry 1794-1858 1853年黒船で浦賀に来航し, 日本に開国を求めた米国の提督; 通称 Commodore Perry》.
be confronted with ~をつきつけられる、を見せられる
a daunting task/prospect/challenge 気の遠くなるような作業/見通し/試練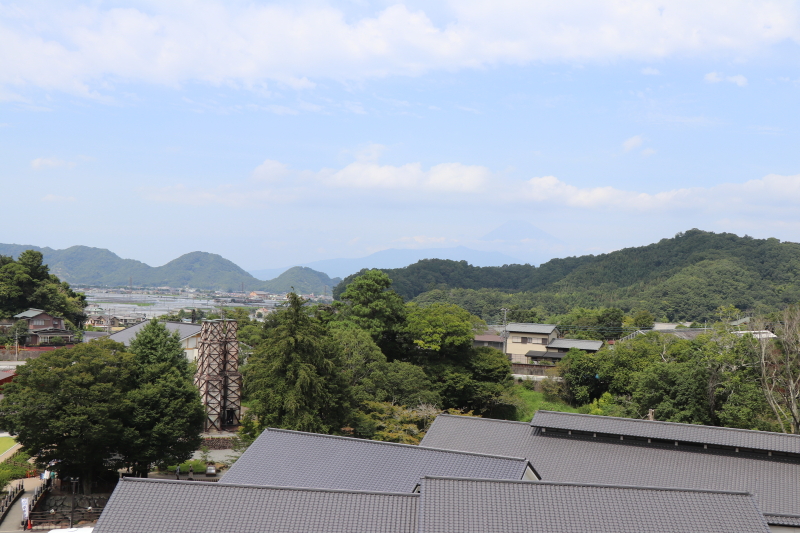 17世紀の初めから19世紀半ばまで約260年間は江戸時代と呼ばれる。この時代、外からの侵略はなく、文化、芸術などの著しい発展があった。当然ながら戦うための技術は必要無く、武器の生産は小規模な物に限られていた。ところが、である。19世紀になると、1853年のアメリカ海軍軍人ペリーの来航に代表される海外からの船が続々とやってきて交易を求めてきた。彼らの船には戦うための大砲が装備されていた。
幕府の役人たちはペリーの乗る軍艦を見て驚いた。当時の最先端の大砲が備え付けられていたからである。その大砲が世界最先端のものだと知っていたことにも驚くが、これを使って攻撃されたら日本はどうしただろうか?急ぎ日本は防御陣地を建設した。現在、東京の観光地の一つになっている台場は砲台を設置するために埋め立てられた場所である。
ではその大砲はどうしたか?その大砲が鋳造された融解炉、韮山反射炉が次の目的地である。ここで鋳造された日本初の大砲の射程距離は3kmほど。対するペリーの軍艦の大砲は11km。戦えば勝敗は目に見えていたのだが、見かけだけでも日本に大砲があったことは戦争回避のために役立ったのではないだろうか。そしてこの反射炉は驚いたことに個人が作り上げたもので、日本を取り巻く状況を憂えた幕末期の代官とその子2代で完成させたものである。
このブログ内で度々書いてきたことだが、日本が危機にあるとき、かならずそれを救う人物が実にタイムリーに歴史上に登場する。この韮山反射炉を完成させた江川某親子もまたその一例だと思う。ボランティアの女性の案内で、その構造、歴史をしっかりと勉強させていただいた。韮山反射炉は2015年7月世界文化遺産に登録された。