There were two types of restaurants in the Diamond Princess; free and pay restaurants. We were eating in free ones every day, but we visited an Italian place, Sabatini's, for dinner today, because it was on the travel company.
  Anyway, dishes served were not bad. They were the company's treat, but we wouldn't visit Sabatini's alone, because other free restaurants were good enough for us. I found the list of restaurants on the net and show you its link below.
  On the next morning, the Diamond Princess would enter the port of Phuket in Thailand. I recalled the laziness of Russian immigration officials on Karafuto island (Russian name of Sakhalin) in 2015. (link) I didn't show them any respect, but I was going to be modest this time. (grin) Praying for our smooth immigration, I slept after putting my clock forward by an hour. The adjustment of time of the Diamond Princess seemed to be done on 2 o'clock.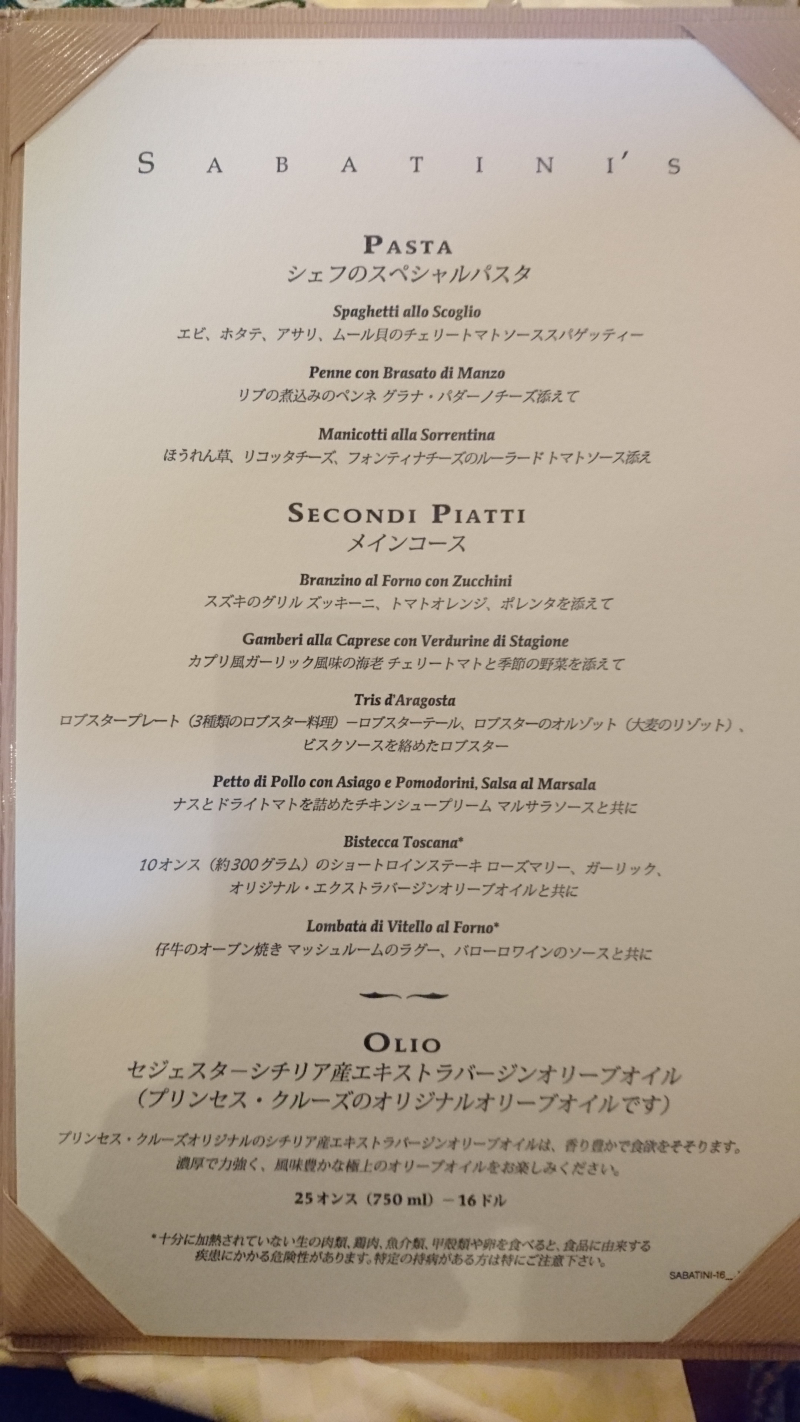 http://www.cruisecritic.com/reviews/review.cfm?ShipID=296&pgtype=dining
マラッカ海峡クルージング記: イタリアンの店 サバティーニ
ダイヤモンド・プリンセスには無料のレストランと有料のレストランがあるのだが、いつもは無料のレストランを利用していた。この日は旅行会社の手配でイタリア料理店Sabatini'sでのディナーだった。旅行会社の支払いなので寄ってはみたが、十分に美味しい無料のレストランがあるので自分だけならここは利用しないだろう。料理はまずまず。一部の料理と日本語メニューをupする。インターネットに無料と有料のレストランの一覧があったのでリンク先を下記に載せておく。明日はタイに入国。入国審査に手間取った樺太でのロシア人役人たちの怠慢を思い出した(link)。奴らに対しては一切の敬意を払わなかったが、今回は丁寧に対応しよう。スムーズに入国できることを祈りつつ、時計をタイの時刻に合わせてから就寝。船の時差調整は午前2時に行われるらしい。