I overslept a little on the morning of 13th, when we arrived in Penang. I was going to see from which way of north and south the ship would approach the port. If it cruises up from the south, it must have run under two big bridges connecting the Malay peninsula and Penang island. When I went up to the deck, however, to my regret, the ship was moored. The cruise of the last night was really calm and comfortable.
  I found a big cruise ship, which often had appeared even in Japanese magazines on global cruise ships and I knew its name, Mein Schiff, which means "my ship" in German. I was on the top of the Diamond Princess and there were few buildings higher than me around, so the deck was an ideal observatory. I was able to view the Malay Peninsula in the distance.
  After taking a walk on the deck, I ate a considerable portion of breakfast. We picked up a half-day optional tour of Georgetown, because my wife wanted to avoid the scorching heat and ultraviolet rays. My wife was to enjoy afternoon tea with others from Japan, but I went out alone after lunch, because the tour didn't include my favorite places.
  Getting through the security check and going out of the ship, several local people with ethnic outfits on were waiting for us, passengers. Their smiles, so pretty and full of hospitality, deserved applause. I found "Mein Schiff" again there, which had disappeared out of my sight during breakfast. If you look at the picture closely, you'll find it at the bows of the Diamond Princess. Additionally, I found another cruise ship in the distance, but I wasn't able to identify its name.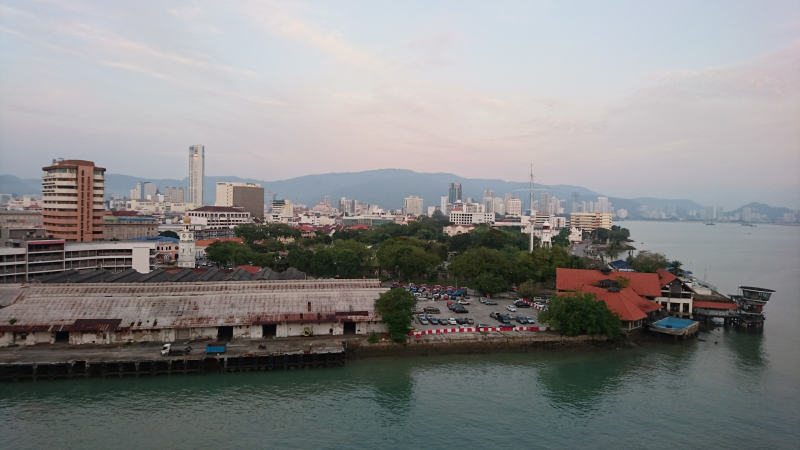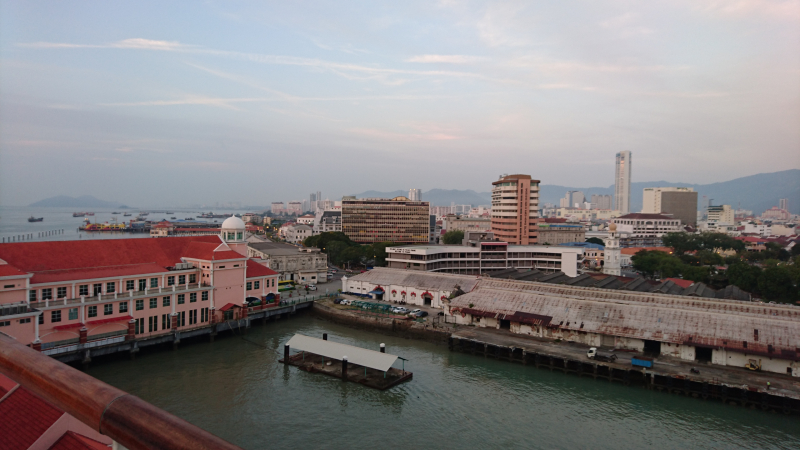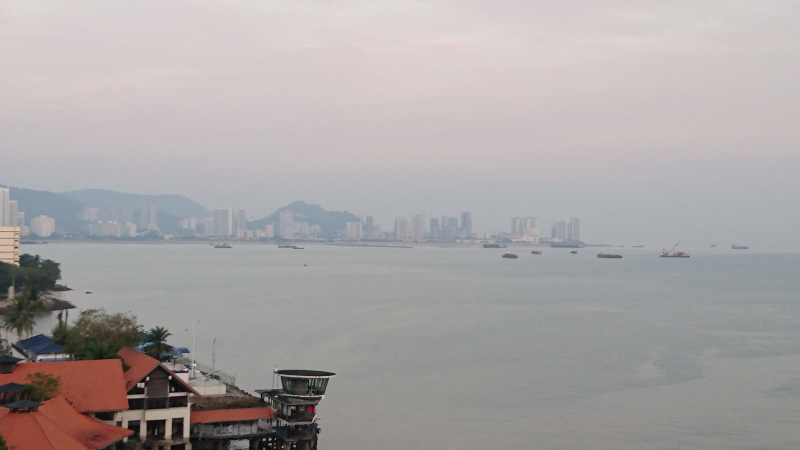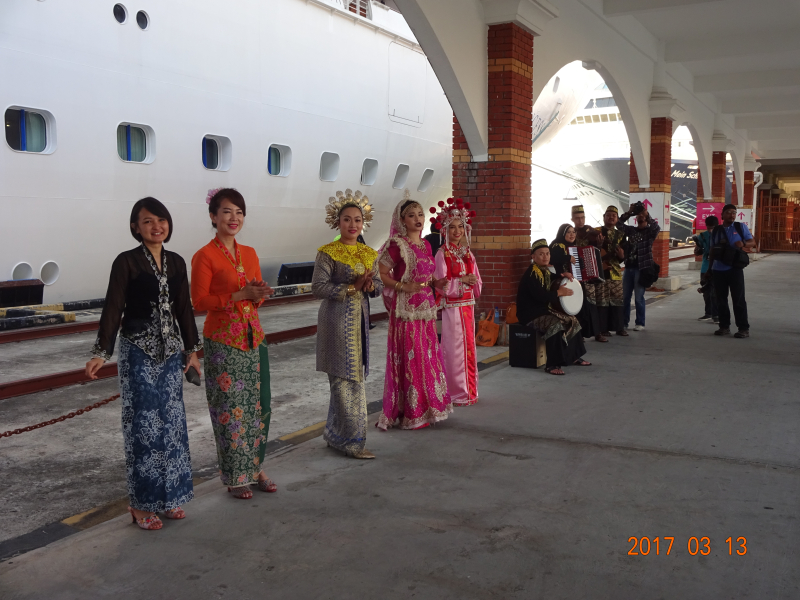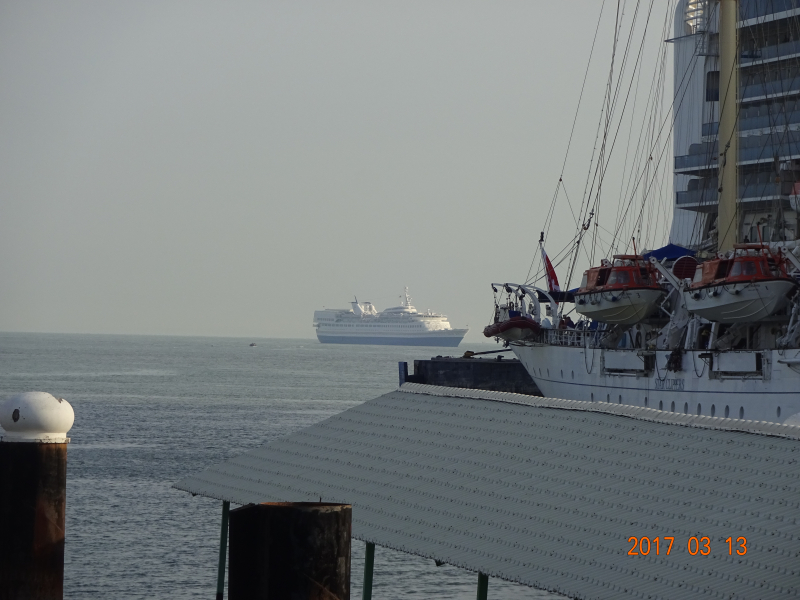 マラッカ海峡クルージング記: ペナン島到着
ペナン島到着の朝、少々寝過ごした。マレー半島とペナン島を結ぶ2本の大きな橋をくぐって南から入港するのか、北を廻って橋を避けて南下してくるのか確認したかったが、起きたときにはもう着岸していた。昨夜は海の上とは思えないほど静かに船は進み、快適な船旅だった。
さて、朝一にデッキに上がるとすぐそばに一隻のクルーズ船がいた。クルーズ雑誌にはよく登場するドイツが誇るクルーズ船、マインシフだった。港周辺にはこのデッキより高い場所はほとんど無く、格好の展望台で、対岸のマレー半島まで見渡せた。
デッキを散歩してから朝食。カフェテリア方式で食べ放題。昼は食べなくて済むほどたくさん食べて部屋へ戻って外出の準備。今日はペナン島の中心地ジョージタウン観光。行きたい場所はオプショナルツアーに含まれていないので、後で個人的に散策するとして、まず一般的な観光地をツアーバスで巡ることにした。
セキュリティチェックを抜けて下船すると現地の人が民族衣装でお出迎え、、、微笑みに心が和む。そしてこの写真をよくみるとわかるように、ダイヤモンド・プリンセスの舳先にあのマインシフが着岸していた。食事中に視界から消えたのでどこかへ出発したのだろうと思っていたのだが、目の前に着岸していたのだ。さらに振り返ると遠くにもう一隻のクルーズ船を見つけた。これは南の方へ向かっていた。残念ながら船名は確認できなかった。じつはここでもう一隻、凄いクルーズ船を見つけたのだが、これは後の記事で書くことにする。