We moved to Heathrow Airport by tube, which I already felt got familiar. As we had only to change tubes once at a small station, I chose a train which stopped at every station. Its speed wasn't so rapid, but we enjoyed the scenery of the suburbs of London. The tube went out of the ground about 10 minutes from St. James Park Station. Viewing the landscape, I remembered the trip, during which we were involved in a few problems, but the trip was fun. We were relieved to see the college and its dormitory in which my youngest daughter lived.
  What we had to do in the airport was to upgrade our ticket to upper seats. Our tickets were offered for free by obtained mileage. Moreover I tried to get upper seats for free, and... we got them. We were able to fly both ways premium economy class, which was the middle class between economy and business classes. Then, fish-and-chips! I heard that it was one of the representative British dishes and we weren't able to leave the U.K. without trying one. I visited a restaurant in the airport and ate it with a London local beer, Camden. This fish-and-chips was really delicious. We weren't happy in culinary respects during the trip, but enjoyed the British cuisine at the last minute.
  By the way, my daughter's purse which was stolen in Oxford naturally didn't come back, but as it was expensive, I advised her on an insurance claim. She claimed for the purse on her insurance by herself, and the insurance was paid, discounting use commission. It was her first experience and she was surprised to get money back from insurance. She had to give up money in the purse, but it was a bitter but good lesson for her.
  This is the last entry about my recent trip. Thank you for subscribing.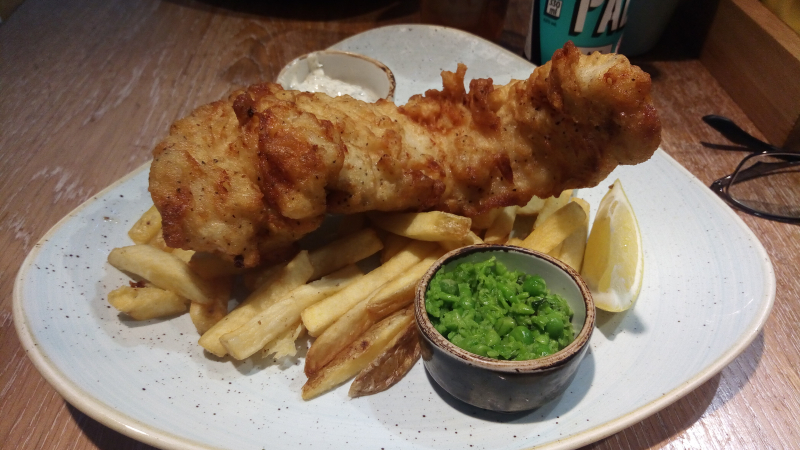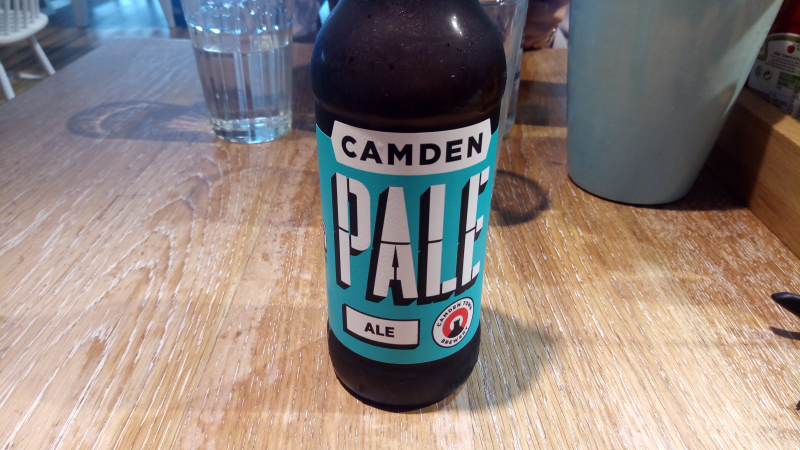 空港までは既に慣れた感じのある地下鉄で移動した。乗り換えが1回で済むので、全駅停車の鈍行を選んだ。地下鉄とは行っても10分ほど走ると地上に出る。ゆっくりと景色を見ながらいろいろあった旅行を思い出していた。

ヒースロー空港ですることは一つ。帰りの便のアップグレード。今回往復ともに特典航空券、つまり無料のチケット。それをプレミアムエコノミーにアップグレードを依頼した、、、果たして、、、してもらえた。ANAなので機内は日本語、美味しい料理にワイン。そして最後に食べたのはフィッシュ・アンド・チップス!イギリス名物料理と言えばこれでしょう。食べずに帰れるか!ということで食べてみた。ここまで食べる機会が無かった。食べても美味しくはないだろうという気もあったし。ところが、これはかなりうまかった。ビールはロンドンの地ビール、カムデンで。

さて、スリにやられた財布だが、もちろん帰っては来ない。ただ高価な財布だったので保険請求をしてみた。すべて娘がやったのだが、手数料を引かれたもののほぼ全額が支払われ、娘は驚いていた。中の現金は諦めるしかないが、これだけ戻れば我慢もしやすい、、、と。ま、これも勉強かな

以上で旅行記は終わりです。読んでいただき、ありがとうございました。