I assumed that the Tanegashima Space Center was the only space-related facility on the island before visiting the island, but that was not the case. Tanegashima Island has several facilities for space exploration. The rocket launch is very eye-catching, but it is supported by other departments handling its design, assembly, fuel and supply, the control of the rocket in and after the launch, and so on. Mainly in the south of the island looking at various signposts, I knew that those facilities were dotted around southern Tanegashima Island.
  A number of facilities are usually open to the public but all of them were closed during the prevalence of the Wuhan virus. However, I was going to visit the Masuda Space Communications Center, because it was located between our hotel and the airport, though I knew its exhibition room and guided tour was closed. Guess what, I came across sites or ruins related to the last war one after another on the way to the center. I wondered why those sites didn't appear on the map.
  A signpost caught my eye, which read War Room ruin. There seemed to have existed the Tanegashima Air Station of the Japanese Imperial Navy about 80 years ago. I understood the historical fact seeing a string of historic sites which came up one after another. The first one was the former War Room, whose pictures are below. I've seen another war room in the former Uzurano Air Station (link). As far as I can judge from the pictures, both war rooms were alike.
(Vocabulary)
dot 《通例受け身形で》 …に点在する
Small farms dot the landscape. その風景には小さな農家が点在している.
be dotted with something <…>が点在している
The hills are dotted with trees. 丘には木々が点在している.
be dotted around/about something <場所>のあちこちに散らばっている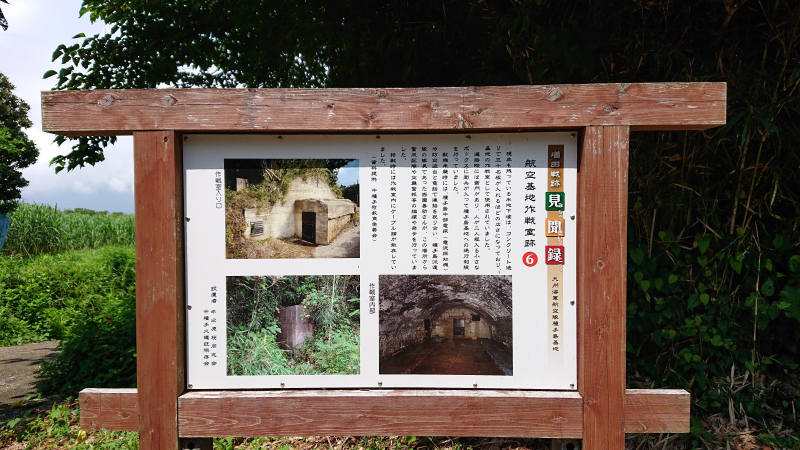 鶉野飛行場 
https://kumo.typepad.jp/weblog/2016/11/uzurano-air-station.html
戦跡巡り

種子島には何カ所も宇宙開発関連の施設がある。種子島宇宙センターだけだと考えていたが、打ち上げだけの話ではなく、設計開発、製造、燃料管理、打ち上げ時、打ち上げ後の管理などいろいろな役割分担がある。実は旅行前にはそんなことさえ知らなかった。

今回の旅では宇宙関連のそれら施設見学は全て閉鎖。武漢ウイルスのためである。しかし宿から空港までの途中にある増田宇宙通信所へは寄ってみようと思った。展示室が閉鎖されていることはわかっていたが、その周辺を見るだけでも良いかなと。ところが途中、とんでもない場所を次々と見つけた。少しずつ紹介しようと思う。これらの施設のほとんどが地図に載っていないことが不思議だ。

通信所への途中、道路脇にあった案内板が目に留まった。種子島に海軍航空隊種子島基地があったようだ。次々と現れる戦跡をみてわかったことだが、来島前にはまったく知らなかった。最初に見つけたのが作戦室。同じような構造の作戦室を鶉野飛行場でも見つけた。このときは施設の関係者がたまたまやって来て中に入ることが出来たのだが、写真で見る限り種子島の作戦室も同じような感じだ。