This article is the last blog entry about this trip. I'll upload several pictures shot from or in the cabin. I clearly saw Kota Kinabalu(KK) and its surroundings, even each house along the shore of Gaya Island off the coast of KK. The opposite side of the island is the resort hotel area and the island shows different features on both sides.
  I saw Burnei Bay on the way from Kuala Lumpur to KK in the distance, but cloud hampered a clear view. I wanted to see it again on the way to Japan, but our plane seemed to head north just after taking off to the east. I wasn't able to shoot the bay as well as the disputed artificial islands built by China.
  It's not generally known, but the principal fleet of the Japanese Imperial Navy started from here for the Naval battle off the coast of Leyte Island in 1944. I wanted to imagine the view of Burnei Bay in which the Battleship Yamato or Musashi floated. Further back in history, that Magellan fleet anchored in this bay. They would never be able to even imagine that human beings would see scenery from the sky like birds.
  The in-flight meal was served. I don't know whether it was delicious or not, if it was served on the ground, but I like in-flight meals. I ate the leftovers of my wife and ordered a small bottle of wine, which was great. After a while, the screen on the back of the front seat showed that the plane was flying over Bashi Channel. The uncle of my wife was killed here by a torpedo from a U.S. submarine on his way to the Philippines in 1944. He was a hopeful surgeon. We observed about a minute's silence.
  Just before arrival at Narita International Airport, I happened to spot the former Katori Air Station. The attack team of Kamikaze for Iwoto Island departed from this station. I'd like to visit the site.
(Vocabulary)
Brunei Bay ブルネイ湾
Naval battle off the coast of Leyte Island レイテ沖海戦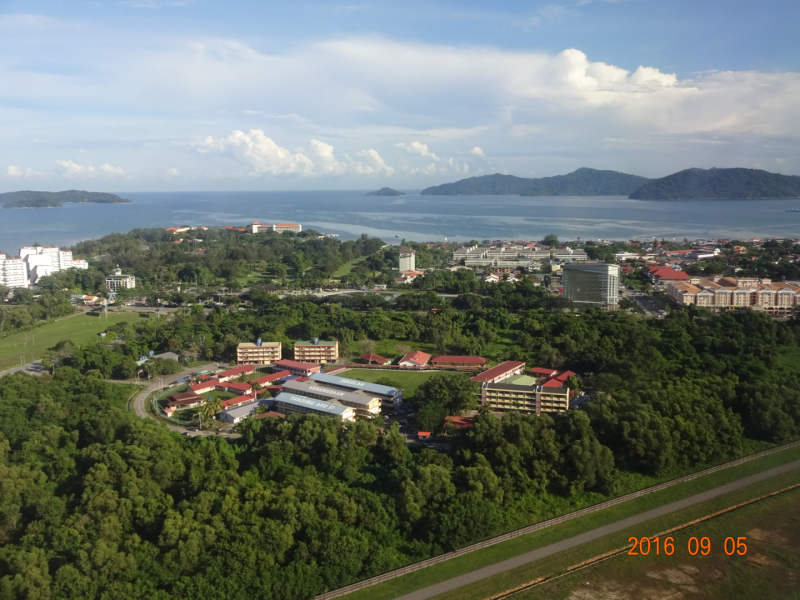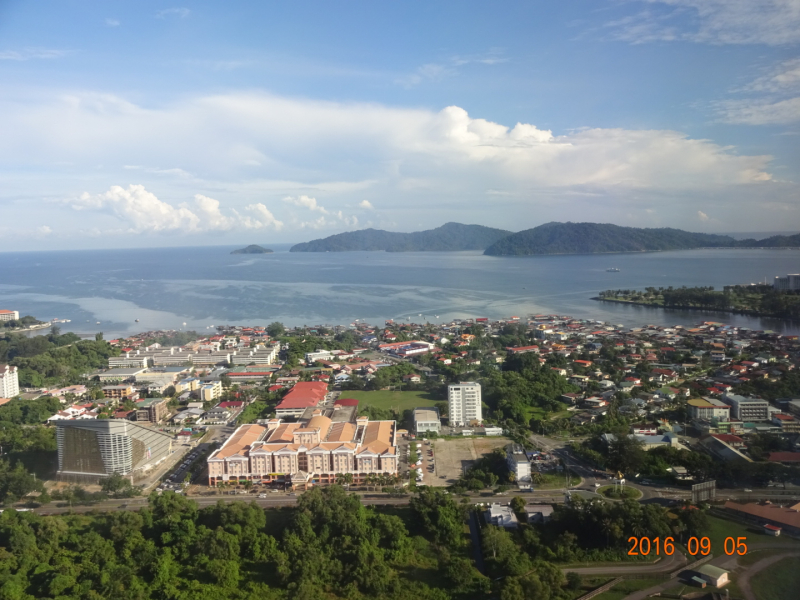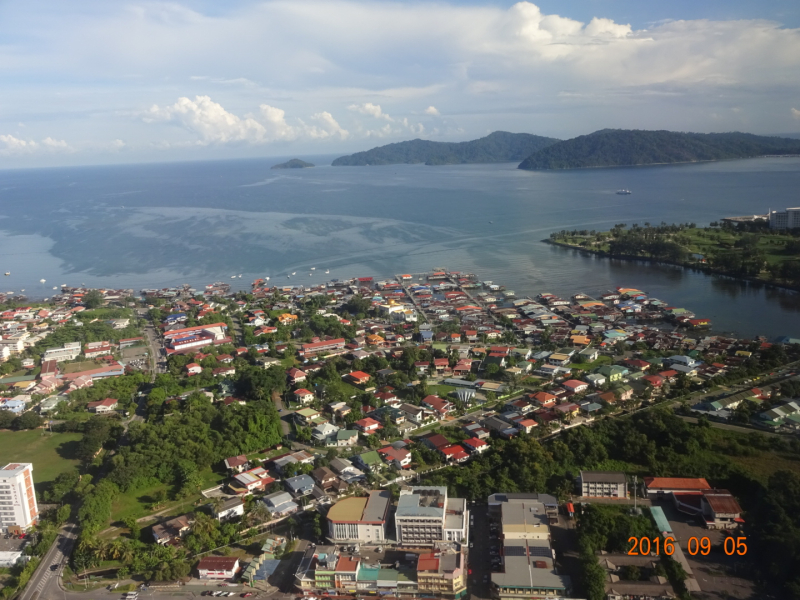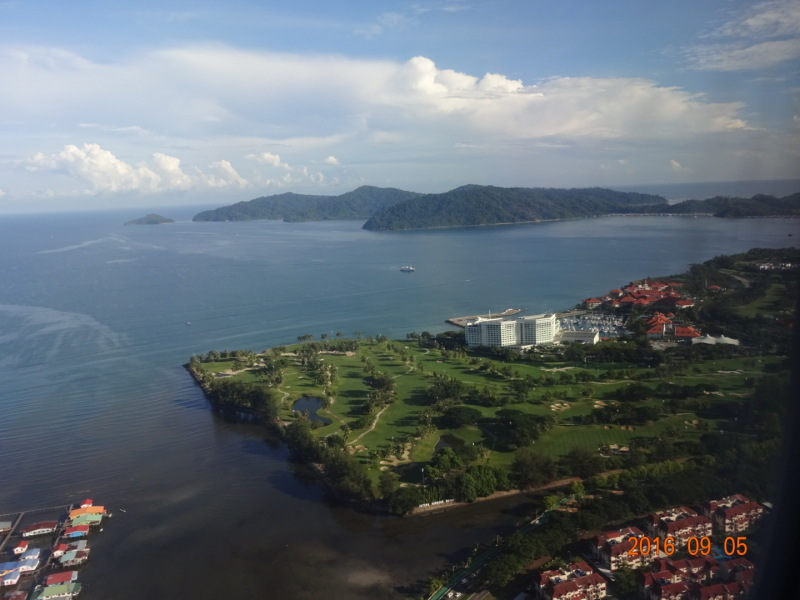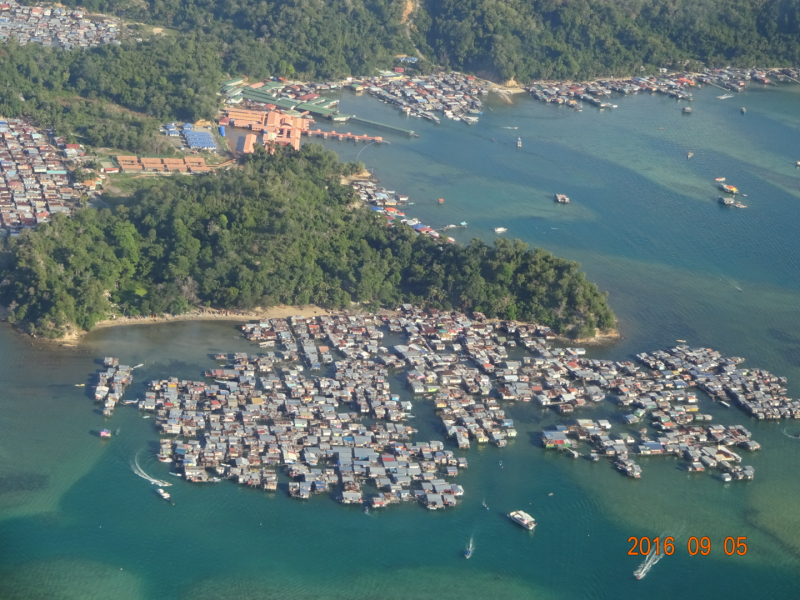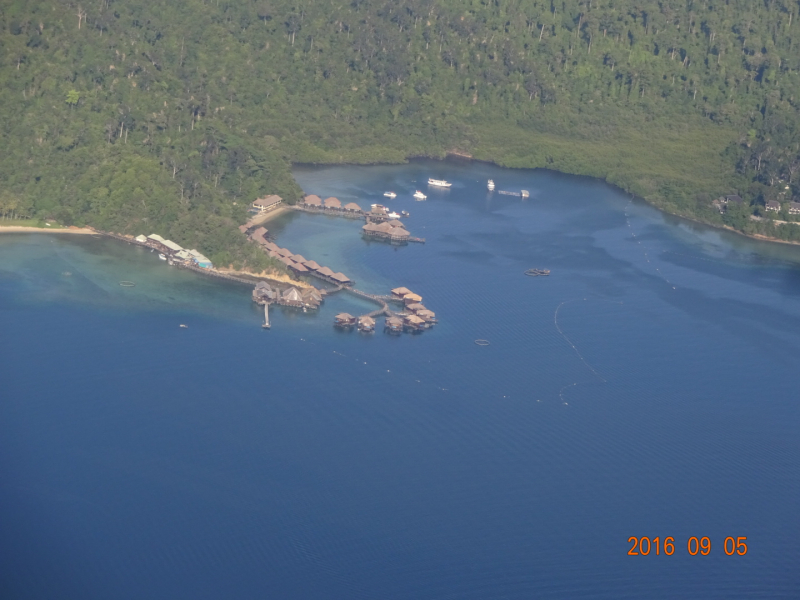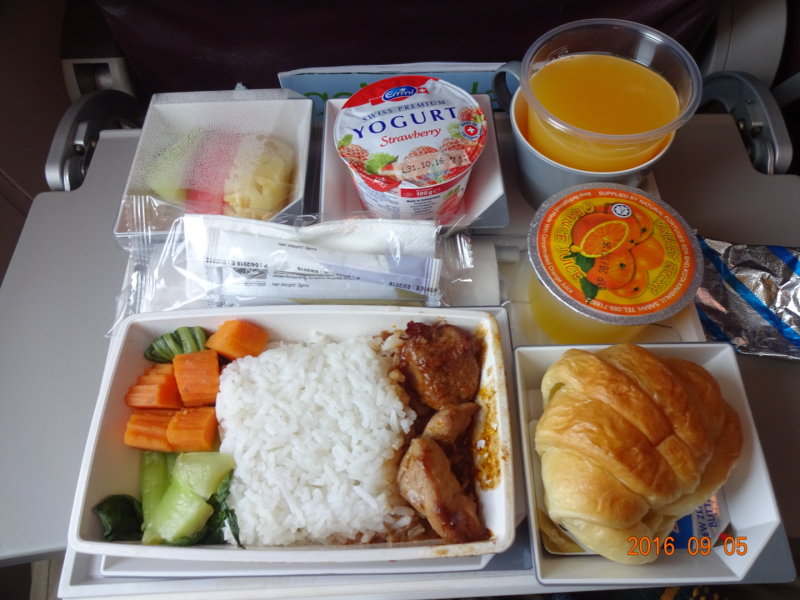 マレーシア旅行記: コタキナバル-成田の機内にて
マレーシア旅行の最後の記事になる。ここでは帰りの飛行機の中で撮影した写真をupする。飛行機からコタキナバルの街がよく見えた。KKの沖に浮かぶガヤ島の、海上で暮らす人々の家もはっきりと見えた。この島の反対側はリゾートホテルが並んでいるのだが、表と裏で全く性質のことなる島だ。
 
クアラルンプールからコタキナバルへの途中で遠くにブルネイ湾が見えた。そのときは雲に邪魔されたのでこのフライトできれいに見えたら良いなと思っていたが、やはり日本に向けて北上するようで、ブルネイ湾をカメラに収めることはできなかった。シナが造っている人工島も見えず。
 
あまり知られていないが、レイテ沖海戦に向かう日本帝国海軍主力部隊はここから出撃したのだ。武蔵も、大和も。ブルネイ湾に大和、武蔵を始めとした多数の艦船が浮かんでいる姿を想像したかった。更に歴史をさかのぼると16世紀にはあのマゼラン艦隊もブルネイ湾に入港している。空からこのように眺められる日が来るとは想像だにしなかっただろうな。
 
そして写真は機内食。地上で食べて美味しいかどうかわからないが、飛行機の中の食事は楽しい。家内の残りも平らげてワインをもらって映画を見る。しばらくすると、機内に設置されたディスプレイがバシー海峡にさしかかったことを示した。ここは家内の伯父が軍医としてフィリピンへ向かう途中、戦死した場所。二人で黙祷した。
 
成田到着直前、香取航空基地跡が目に留まった。ここから硫黄島へ神風特攻隊が出撃したのだ。一度訪問したいものだ。