I got up earlier than usual. I might be tense subconsciously. We were provided with breakfast that was simple but good. The owner of this inn was kind and talkative. My daughter looks delighted to chat with her. This inn was reasonable (3500 yen). The choice of our inn was good. The first photo shows this inn.
The second photo shows the Otaru station of JR (Japan Railways). We got on the ordinary train here for Sapporo. I like wandering around with nothing to do as I wrote before.
Deserted windswept fishing villages, overhanging cliffs over our train and magnificent views of the Sea of Japan,,,all of them made me happy.
(Vocabulary)
subconscious 潜在意識に潜む, 意識下の
a subconscious fear of failure 潜在意識に潜む失敗への恐れ
subconsciously 潜在意識の中で, 意識下で
windswept 〈場所が〉 風の吹きすさぶ, 吹きさらしの
windswept moors 風の吹きすさぶ荒野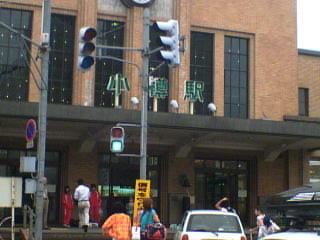 (KW: 小樽 民宿 若葉荘 Wakabaso)