When I was following the flow of passengers from the plane to immigration, I found a propeller aircraft set in the parking area. I didn't exactly remember the name, but it would have been a Bombardier Q400 or Dash8, both of which frequently cause problems in Japan. All of them were luckily minor, but those minor problems sometimes lead to bigger ones. I was going to fly to Prince Edward Island the next day, so I was afraid I'd have to get on board one.
  We sailed through the immigration procedure. We picked our luggage up and headed for the Sheraton Gateway Hotel, which was connected to Terminal 3 of the Toronto Pearson International Airport. This hotel was really convenient, because we had to take an early flight the next day and I didn't want to be far away from the airport, in particular, in such an unfamiliar place.
  It was about 7 o'clock in the evening, but we didn't want to have anything to eat, maybe due to the jet lag. My daughter went swimming to get a better sleep. On the other hand, I tried to connect my PC with the internet via the wireless router which I rented in Narita, but in vain. I wondered why the hotel didn't provide the guests with free internet access. I took a shower, drank a canned beer and went to bed, but ,,,,.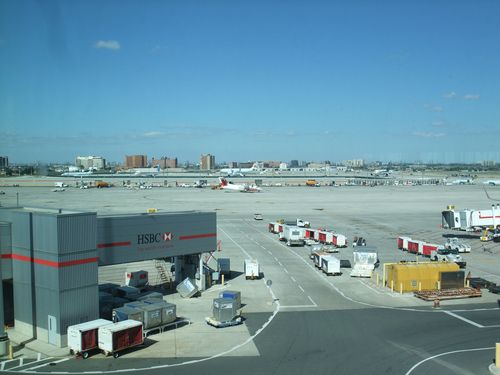 (Vocabulary)
propeller aircraft  プロペラ機