I started jogging after seeing cheerful runners passing over the finish line at the Ehime Marathon in 2013. I usually jogged for a short distance when I started, but I made the distance longer and I joined the Ehime Marathon the next year. As for the result, I had to stop at the time control point of 40.5km. I learnt the technical word of DNF at that time. I wasn't able to finish my first full marathon, but I still kept my wish to finish it. I joined my fourth marathon, the Osaka Marathon, on Oct. 25th.
  I had a slight convulsion in my left leg at 24km and did a stretch. I took some anti-convulsion medicine at 25km. After taking in salt at 25.2km which I was given from people along the street, the symptom decreased. However, I felt a foretaste of convulsion when I increased my pace, and I ran at the slowest pace that I could successfully finish the race. My record was 6 hours 50 minutes in gross. It took about 40 minutes to pass the start line after the gun.

(Auf Deutsch)
  Als ich beobachtet habe, wie Teilnehmer am Ehime Marathon das Ziel erreichten, habe ich mich zur Teilname am nächsten Ehime Marathon entschlossen. Ich habe mit kurzem Jogging angefangen, und habe die Strecke, die ich auf einmal laufen konnte, verlängert. Nach einem Jahr habe ich am Ehime Marathon teilgenommen.
  Das Ergebnis war, daß ich am Zeitkontrollepunkt von 40,5km wegen Zeitüberschreitung gestoppt wurde. Der offizielle Rekord war 5 Stunden 45 Minuten für 40km. Der Rest des Weges war nur noch 2km! Ich konnte nicht den Marathon zum Ende laufen.
  Ich wollte den Marathon unbedingt erfolgreich beenden und habe seitdem geübt. Am 25. 10. habe ich am vierten Marathon, Osaka Marathon, teilgenommen.
  Bei der 24-km-Marke habe ich im linken Bein einen Krampf bekommen und Stretching gemacht. Bei der 25-km-Marke habe ich chinesische Medizin eingenommen. Von den Zuschauern an der Straße habe ich an der 25,2-km-Marke Salz bekommen und dieses Salz hat mir den Krampf gemildert.
  Wenn ich die Geschwindigkeit gesteigert hätte, hat der Krampf vielleicht wieder zu passieren gedroht. Also, mit einer Geschwindigkeit von 10 Minuten pro Kilometer, die langsamste Geschwindigkeit um die volle Strecke laufen zu können, konnte ich das Ziel in 6 Stunden 50 Minuten erreichen.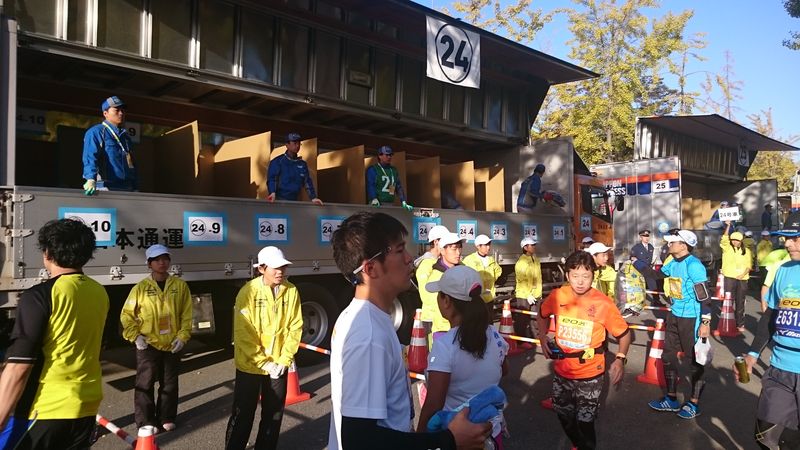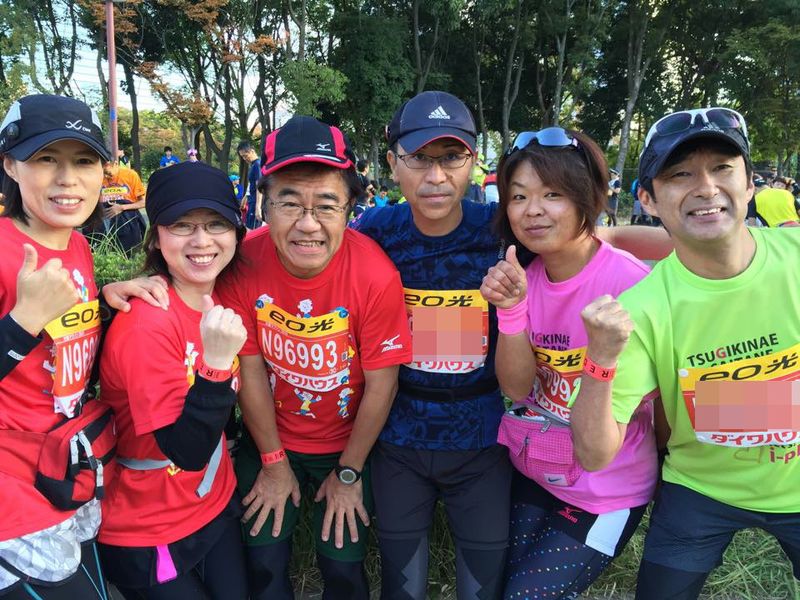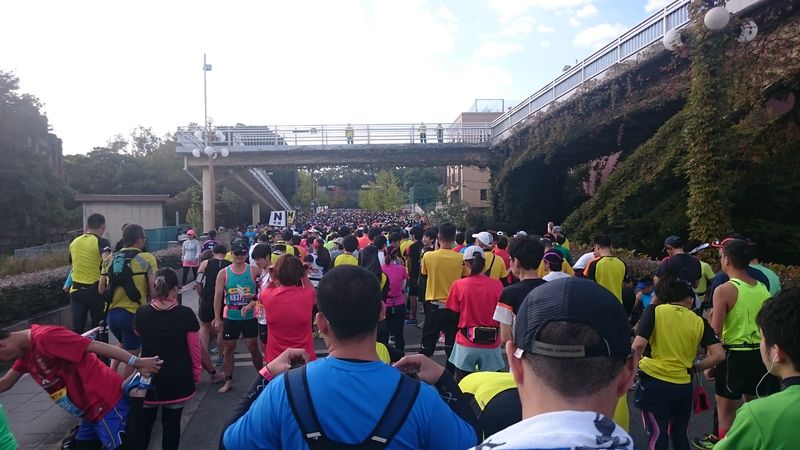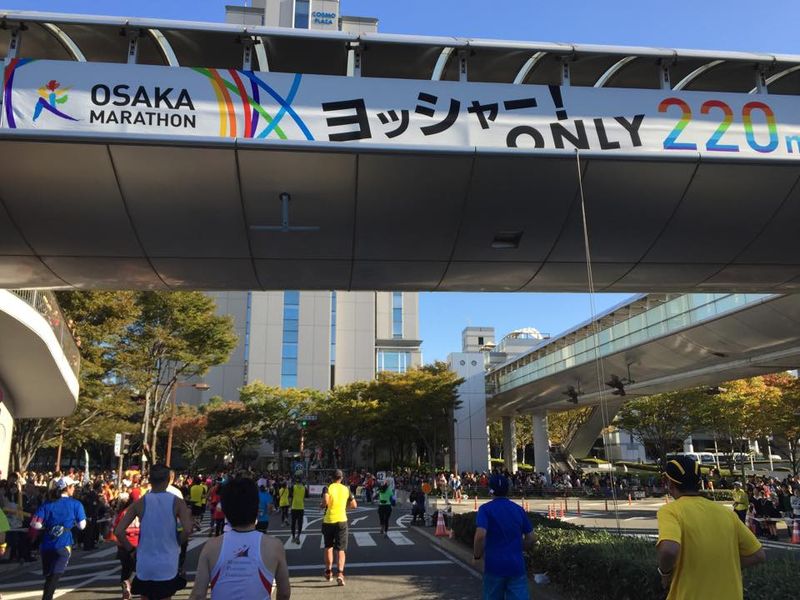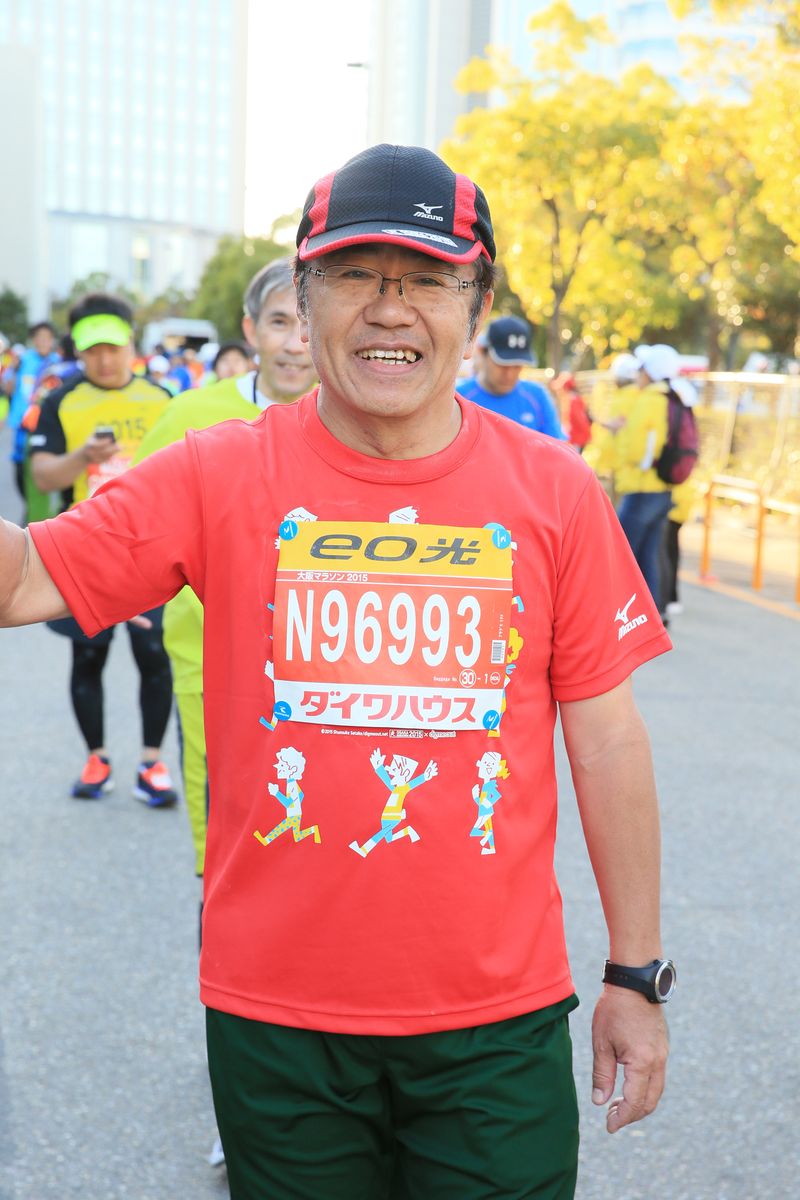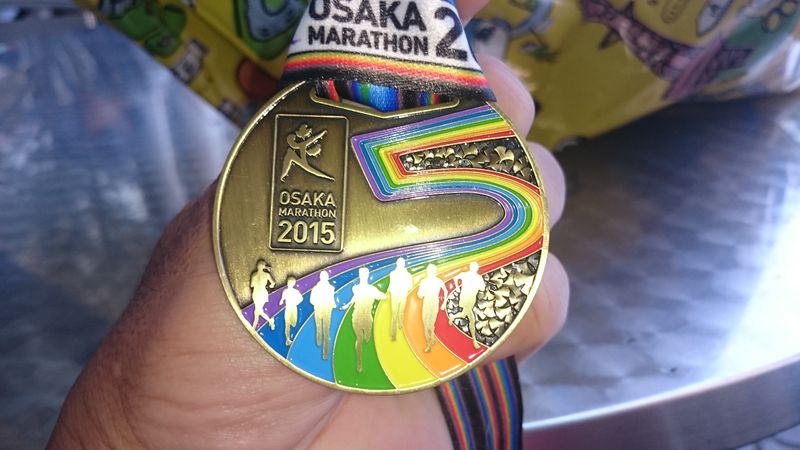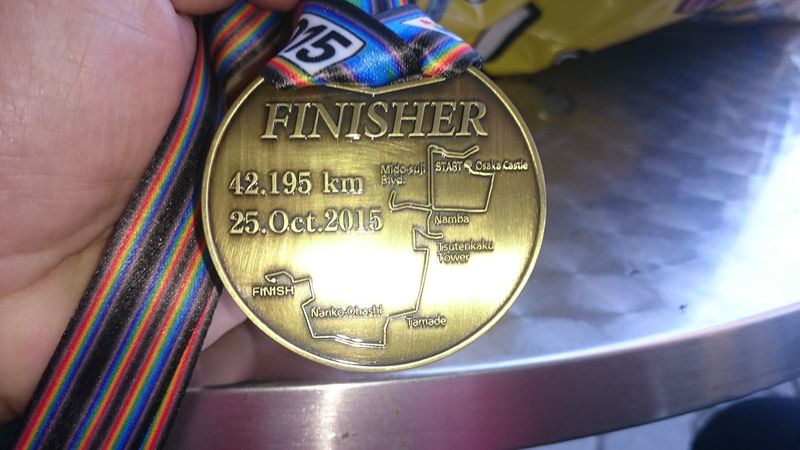 2013年の愛媛マラソンでゴールする人たちを見て、翌年の愛媛マラソンに参加しようと決心しました。短いジョギングからスタートして、走る距離を伸ばしていき、1年後に愛媛マラソンに挑戦。結果、40.5kmの関門で時間切れでストップ。公式記録は40kmで5時間45分。マラソンのフィニッシュはかなわなかったけれど、完走したいと思い、それ以後も練習を続け、10月25日に4回目のマラソンを走りました。大阪マラソンです。
 24km地点で左足にけいれんがあり、ストレッチをして、25kmでは薬を服用。そして25.2kmで沿道の人から塩をもらい、症状は軽快。スピードを上げると再びけいれんが起こりそうだったのでゴールできるぎりぎりのゆっくりとしたスピードで走り、なんとか6時間50分で完走しました。