It's very difficult for me to describe Japanese history and literature precisely, but I have to do it in this and my next articles. I headed for Hiraizumi in Iwate Prefecture from Towadako Lake. Hearing Hiraizumi, most Japanese recall Konjikido in Chusonji Temple, which is already on the list of World Heritage Sites. I visited it for the first time and found not a few buildings of historical importance in the grounds of the temple.
Konjikido is confirmed to be built in 1124 both scientifically and in document-based research. It is the grave of four successive generations of the Fujiwara tycoon family which had lived in splendor in 11th-12th century. Their bodies, which are naturally mummified, are still placed in the coffins.
  The first picture shows the sheltering hall of Konjikido. Konjikido itself is preserved in a tightly sealed room inside the hall and taking pictures of Konjikido was strictly inhibited. I have no picture. Search its pictures on the net, if you want to see it. When I was looking at Konjikido, a simple question came up. Before the modern and strong sheltering hall, what had been protecting it? Hiraizumi is in a heavy snowfall area. Konjikido would never be able to survive the harsh climate.
  Now, I can't help omitting the story of Matsuo Basho (1644-1694), who is the founder of Haiku poetry composed of only seventeen syllables. He travelled around there and left several superior haiku poems in 17th century. After visiting the shelter hall of Konjikido, taking a walk along the sightseer's route in the grounds, I found a big hall (2nd, 3rd, 4th pictures). It was the former sheltering hall. According to the description, it was evidently moved from the original site to there when the construction work of the present sheltering hall started. Matsuo Basho described the sheltering hall in his trip memo, "Okunohosomichi" and the sheltering hall that he had actually seen was it! I was moved to see and touch the same building as he actually touched 4 centuries ago.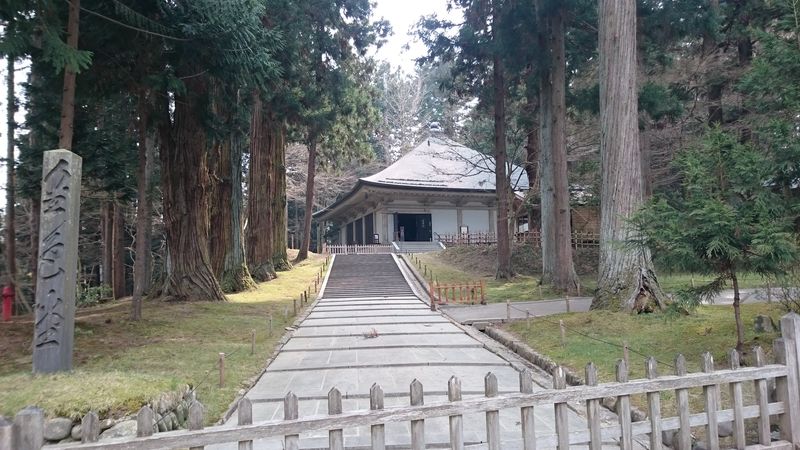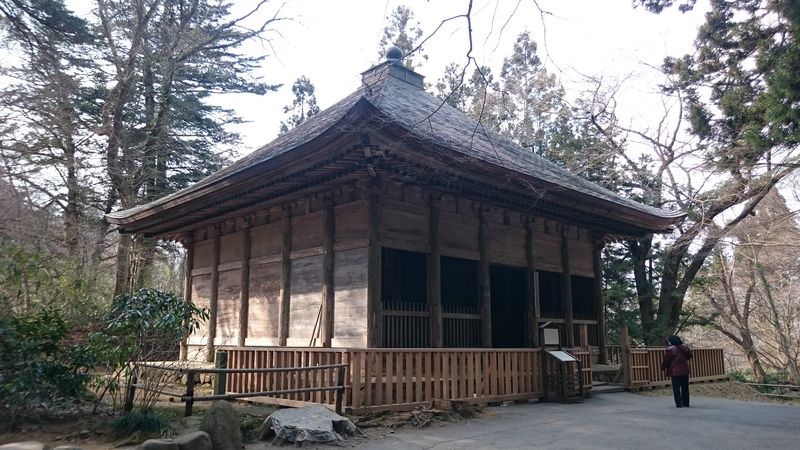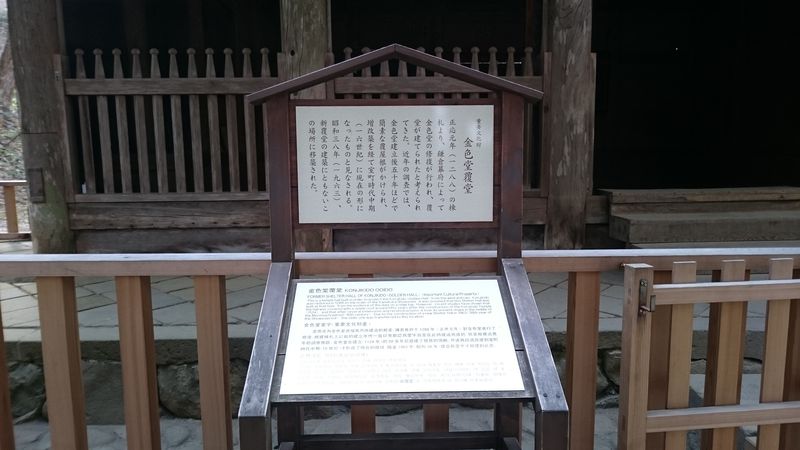 (北海道・東北旅行記/3月30日)

 日本の歴史や文学について英語で書くのは僕にはかなり難しい。だが、この記事と次の記事では書かざるを得ない。十和田湖から岩手県平泉に向かった。平泉と言えば中尊寺の金色堂である。世界遺産にも登録されている。今回、初めて訪れる。中尊寺にはその他にも歴史的な価値のある建物がいくつもあった。
 
金色堂は1124年に建立されたことが、文献的にも科学的にも確認されている。11~12世紀に栄華を極めた藤原三代の墓である。金色堂の須弥壇内には、藤原清衡、基衡、秀衡のミイラ化した遺体と泰衡の首級が納められている。
 
 1枚目の写真は金色堂を覆うように立てられている建物、簡単に言うと単なるカバーで、金色堂そのものはその内部の密閉された空間に復元保存されている。写真撮影は禁止されている。写真を見たい人はネットで探してほしい。金色堂を眺めていてふと思った。この覆堂が作られる前はどのように保存されていたのだろうかと。
 
 松尾芭蕉(1644年~1694年)を書き落とすわけにはいかない。彼はこの地を旅行し、俳句を残しているのだが、彼の見たであろう覆堂が残っていた。新しく最先端の覆堂が立てられてたときに境内の中の別の場所に移されたのである。彼が見て触ったであろう、同じ覆堂を今、自分が見ていること、触っていることに感動した。