The waters between Honshu and Shikoku, the largest and 4th largest island in Japan respectively are called the Seto Inland Sea. The biggest island in these waters is Shodoshima Island, which is located at an hour by ferry from Takamatsu City, the capital of Kagawa Prefecture. I'd like to join a cycling tour event there and visited the island on the previous day.
  The sky was clear. I took a seat on the roof with a canned coffee and my iPad. Comparing the surrounding scenery and the map on the iPad, and being blown by the comfortable sea wind, I spent about an hour there.
  Then, I happened to see Oshima Island on the way, which I knew since long ago by name, but didn't know where the island was. The island has a lot to do with Hansen's disease(leprosy). In the era of uninformed medicine many patients suffering from leprosy were forced to move to the island and became isolated. They had never been allowed to leave the island in their life. Most of their relatives are said to reject receiving their bodies or even their bones. The stupid superstition had prevailed on society in those days. The leprosy related facilities are now renovated into the national sanatorium for patients with chronic illnesses. The island is only 20 minutes from Takamatsu City and rich in natural environment. I'd like to visit the island before long and pay tribute to the departed in front of their cenotaph.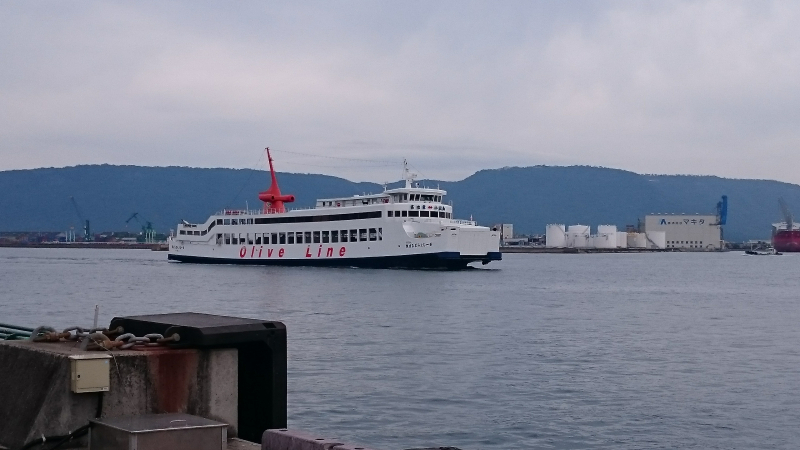 本州と四国の間の海域を瀬戸内海と呼ぶ。この海域で一番大きな島が小豆島だ。この島で大手旅行会社がサイクリングイベントを行うというので参加した。イベント前日の6月4日に小豆島へ渡った。
 途中で大島を見つけた。ハンセン氏病が恐れられていた時代、患者はこの島へ集められ終生島から出ることを禁じられた。今は療養所と生まれ変わり、長期の療養を要する患者が住んでいる。高松市から20分。便利で自然に恵まれた所となった。近いうちに見学に行ってみようと思う。ハンセン氏病に対する誤った認識により、大勢の患者を苦しめた歴史遺産がここにはある。

小豆島 http://www.japan-guide.com/e/e5430.html
大島青松園 (日本語サイト) http://www.nhds.go.jp/~osima/index.html