We were learning the history of Buddhism on the Kunisaki Peninsula where lots of Buddhist temples stand on the last day, but we ended up visiting Harajiri no taki Falls, which is given the nickname of oriental Niagara.
  I was surprised to see the waterfall. It was rightly a small Niagara Falls. The magnitude was completely different, but its shape was alike. I've been to the real Niagara Falls twice. While staying in Pittsburgh to learn the technique of the liver transplant, I knew that you could visit Niagara Falls by car in two days and a night. The next time was with my youngest daughter. We visited Prince Edward Island, Toronto, and Niagara Falls at that time. By the way, if Canadian people were to see this waterfall, what would they say?
  The magnitude aside, the difference between these falls and Niagara Falls would be the presence or absence of the Maid of the Mist.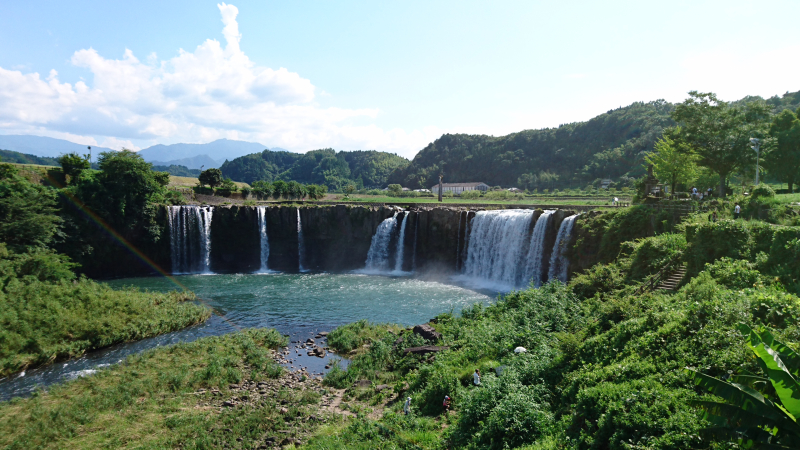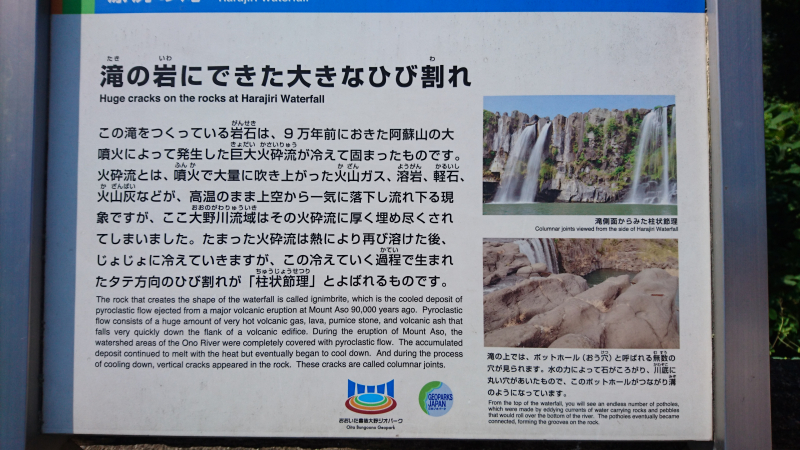 最終日は国東半島を巡って仏教の歴史を学ぶつもりが、結果的には滝めぐりツアーになってしまった。東洋のナイアガラと呼ばれている滝があることは知っていたがここへ寄れたのは偶然のなせる技。原尻の滝という道路標識が見えたので寄ってみたらこの滝だった。
驚いた。まさに東洋のナイアガラというニックネームがふさわしい。規模こそまったくことなるが形はそっくり。本物のナイアガラの滝へは2度行ったことがある。最初はピッツバーグ大学へ肝移植の見学に行ったとき。ピッツバーグから週末に1泊2日で行けると聞いて友人たちとドライブ旅行をした。2回目は三女と一緒にカナダ東部、プリンスエドワード島、トロントを旅行したとき。カナダ人がこの滝を見たらどう思うかな?笑うかな?
原尻とナイアガラの違いはその規模を別とすれば霧の乙女号が無いことくらいだ。本当に良く似ている。