The name of our hotel in Kota Kinabalu(KK) was the Jesselton Hotel, which was built during the rule of Britain, and its name was derived from the old name of KK, Jesselton. Inside the hotel, the atmosphere was that of Britain, though I've never been to Britain up to now. I chose this hotel for two reasons; its British atmosphere and it faced Gaya street.
  On every Sunday, Gaya street becomes a pedestrian mall, and it sounds like the busiest area in KK. This day was Sunday. If you see the street, you might think that this street can't turn into a shopping street with trees, narrow sidewalks and irregular medial strips. However, take a look at the first and second pictures, which were shot at 6:45 am and 8:30 am respectively. The whole street was covered with tents, and the street changed into a big square. We were having breakfast at a restaurant adjacent to the lobby and were able to observe the preparation.
  We saw the celebrating ceremony of their Independence Day in Kuala Lumpur and we were able to enjoy the Sunday mall on Gaya street here in KK. My wife told me that we were very lucky to experience both events. She seemed to think that we came across those events by chance. It was not true. They were scheduled in advance by me. Every trip starts at the moment of planning it for me.
(Vocabulary)
Gaya Street ガヤ通り JL.Gaya(マレー語)
precinct
1 [C](米) 行政区
2 [C](米) (特定地域の主要な) 警察署
3 precincts 《複数扱い》 (大学・大聖堂などの) 構内, 敷地
4 [C](英) (町の商業地区にある) 歩行者専用区域 pedestrian precinct, shopping precinct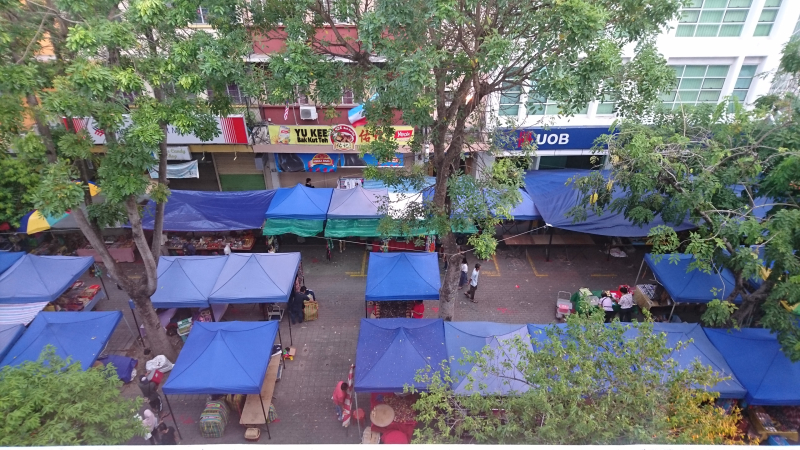 マレーシア旅行記: コタキナバルを歩く
コタキナバル(KK)で泊まったホテルはジェッセルトンホテルという。KKはその昔ジェッセルトンと呼ばれており、その名を冠したイギリス統治時代の名残を残す英国風のホテルである。内部を見てみたいという気持ちと、このホテルがガヤ通りに面しているからここを選んだ。
 
日曜の朝にはこの通りがホコ天となりKKでもっとも賑わうと聞いた。そして今日がその日曜日。昨夜の写真を見ていただくとおわかりと思うが、とてもホコ天とはなり得ないような通りだった。が、朝6時45分の写真が1枚目、8時30分には2枚目となった。道路が見事に広場と化した。朝食をホテル1階のレストランで摂っていたため準備の様子がよく見えた。
 
クアラルンプールでの独立記念日祝賀式典、そして今日のガヤ通りのホコ天と、上手い具合に良いところが見れたねとかみさんが言うが、、、、実は織り込み済みのことだ。旅行は計画を立てる段階からもう始まっている。