Dr. Yujiro Ozaki, the specialist in urology, who had proposed a toast at our wedding party 30 years ago, invited us to lunch. We haven't seen him for 30 years, since our wedding. I've been thinking about visiting him at his house, but I knew how busy he was and therefore refrained from visiting. He graduated from the same junior high, high, and medical schools as me.
  When my wife and I got married, my wife was working as a chief nurse at the central operation unit in Okayama University Hospital. His boss, Prof. Ohmori, was the head of the unit and he practically managed the unit. That's why he knew my wife.
  Seeing him again for the first time in 30 years, our talk became animated and I didn't feel that 30 years had passed, setting our horizontal growth and facial wrinkles aside. He lives in Kobe now. I'd like to visit the big harbour city next time and enjoy dinner with him. I got permission to upload our picture to show our acquaintances.
(Vocabulary)
Weblioより:
英語国では「先輩」「後輩」の関係はあまり重要視されず, これらの語にぴったり相当する英語はない. 「あの人は僕の先輩です」を英語でいうには He entered the company [university] earlier than I did. とか He was at Hosei University (ten years) before me. などというのが一番自然であろう.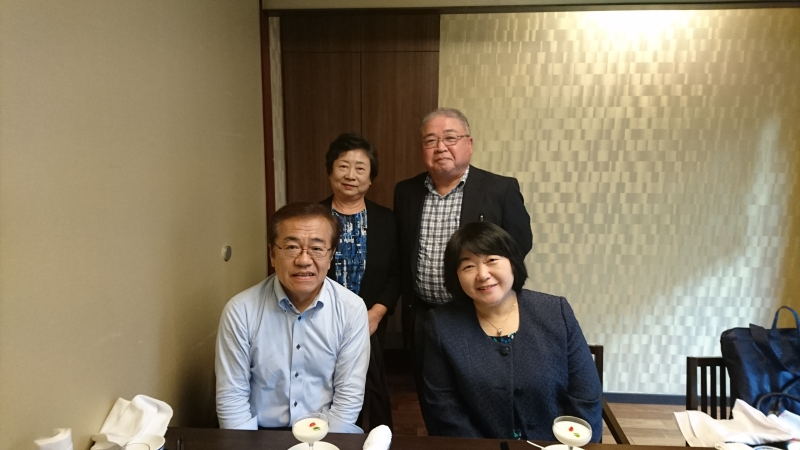 約30年前に結婚したとき、その披露宴で乾杯の音頭を取って頂いた尾崎先生から一度食事でもしないかとメールが届いた。実はこの30年、一度もお会いしたことがなく、挨拶に伺わなければと思いつつもお忙しいだろうからと遠慮していた。先生のご専門は泌尿器科で中学、高校、大学と先輩に当たる。
結婚当時、妻は岡山大学病院で手術室のナースのチーフとして活躍していた。尾崎先生の上司にあたる大森教授が手術部長を兼任されていた関係で、泌尿器科のNo.3だった先生は手術室を統括されており、妻とも親しく、乾杯の音頭をお願いすることになった次第だ。
30年ぶりにお目にかかると、お互いの水平方向への成長や、顔のしわは隠せないものの、30年前の思い出話に花が咲いた。神戸にお住まいなので次回は我々が神戸に赴き食事会をしたいと思っている。許可をいただいたので4人の集合写真をupする。