On the night of Feb. 10th, the fridge abruptly stopped working. This fridge was the second one for my house and was operating for as long as 18 years, except a couple of shutdowns for moving house.
  The first one, which had been bought when we got married, broke after 12 years' use. When we chose the second one, we thought that our daughters would grow up and the bigger and more functional it was, the better. It was refined to save electricity and to adopt several cooling methods for various food items, like vegetables, fish, meat, and so on.
  My wife and I weren't able to conceive of life without fridges and made a beeline for the nearest electric appliance shop at just its opening time on the next day, the 11th. A big and sophisticated fridge, which was equipped with a storage space for even wines, caught my eye, but my wife told me that we wouldn't need such a big one for just the two of us. She was right and I agreed. When I replaced a dead light bulb into a LED bulb the other day, I wondered when and who would replace this bulb. It would never be me! My life was surely approaching to the end. (grin)
  The picture was shot on 12th. The old one was being taken out of the kitchen in the pictures. I fully left the moving work of both the new and old fridges to the store staff members. Their work was really that of professionals. I admired them.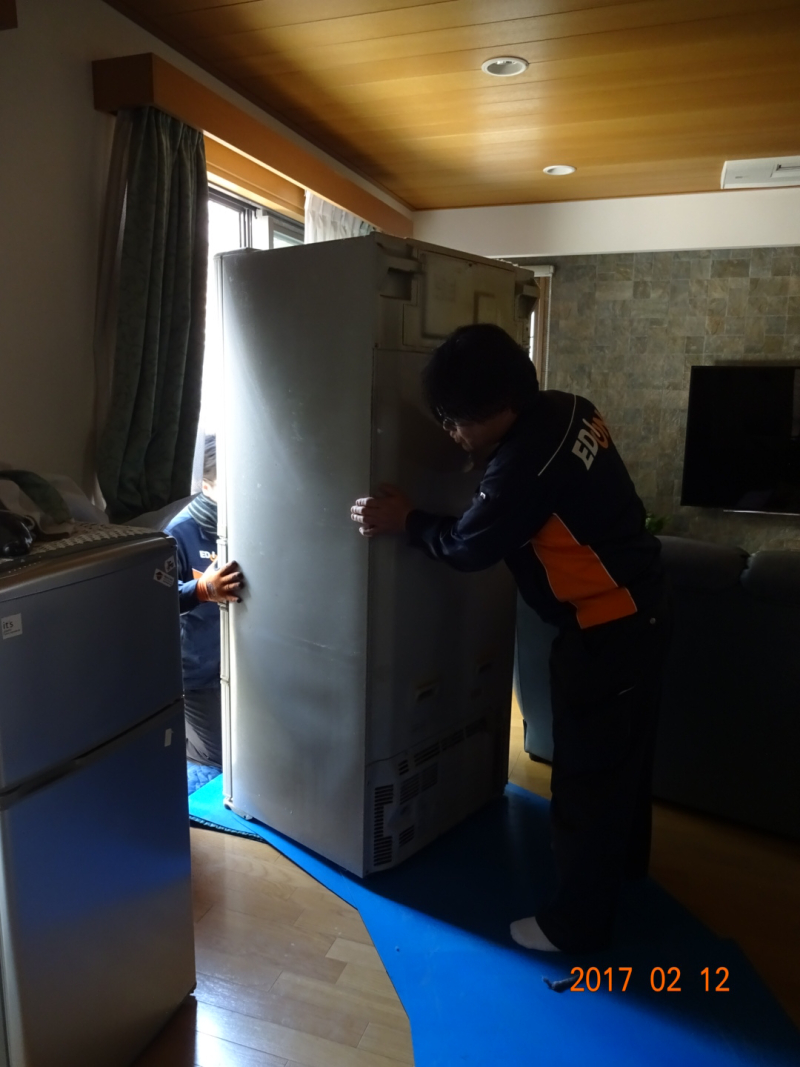 2月10日の夜、突然冷蔵庫が動かなくなった。この冷蔵庫は我が家の2代目で18年使っている。この間、引っ越し以外で電源を落としたことはなく、常に我が家の食生活を支えてくれた。
 
結婚時に買った初代の冷蔵庫は12年あまりで壊れた。そして今の冷蔵庫を買うとき、これから娘たちが成長するからと考え、結婚したときに買った大型の冷蔵庫よりも更に容量の大きいのを買った。2代目の冷蔵庫は冷蔵方法が食品別に設定されていたり、節電できたりと細やかにデザインされていた。
 
冷蔵庫のない生活は考えられないので翌11日急遽電気屋へ行き、新しい冷蔵庫を購入。これからは夫婦二人の生活で、食も細くなるだろう。あまり容量は大きくなくて良いと考えて選んだ。先日交換したLED電球、その寿命を考えると、次にこれを交換するのは誰だろう?少なくとも自分ではないだろうなあと考えた。あ~、人生、終わりに近づいている。(^_^;)
12日に古い冷蔵庫の引き取り、新しい冷蔵庫の搬入となった。冷蔵庫の移動はプロにお任せした。その巧みなやり方に驚いた。やはりプロはプロである。