The next spot which I visited was the medical center. I was so much interested in its equipment, the number of staff members, the work shift, and so on. I wanted to chat with the ship's doctors of the Diamond Princess. I feel a little bit like working as a ship's doctor.
  I asked the concierge at the front desk if I was allowed to make a medical center tour, showing my doctor's certificate in advance on the previous night after the musical. She told me to wait for the captain's directive. I wondered if my request was a big issue that required the captain's permission. Anyway, the concierge called me about an hour later and told me to visit the center anytime directly and comply with its receptionist.
  I dropped in at the medical center just before noon. The equipment was beyond my expectation. I wanted to talk with doctors, but they were absent at that time, and a nurse guided me in the medical center as long as I was out of reach of personal information.
  There was an operating room equipped with shadowless lamps and a gas machine, which seemed to make surgeons capable of performing simple operations. There were three or four wards, which were equipped with pipes of oxygen, ventilators, X-ray film viewers, and one of them was designed for isolated patients. A stretcher, which takes on the role of the ambulance on board, was placed in front of a silver and seemingly thick door with lots of medical apparatus for emergencies. I often see stretchers in my office, and wasn't interested in it. However, the silver door behind the stretcher caught my eye. The nurse, who guided me, didn't explain about the door, but I asked if it was a morgue. My speculation wasn't wrong, but not correct. It was a refrigeration morgue. The longest voyage of this ship is from Japan to Hawaii and from the U.S. to the U.K. and if someone passed away during these voyages, he or she would be kept in this morgue, because there's no means to take the body out of the ship.
  When I told her about my specialty, cross-sectional emergency procedures, she replied that I was eligible enough for a ship's doctor. I thought that a ship's doctor was an option in the future.
(Vocabulary)
comply with something (フォーマル) <法律・規則など>に従う, <要求>に応じる
The company has not complied with the law. 会社は法律に従っていない.
gas machine / anesthetic machine 麻酔器
an X-ray film viewer / Schaukasten シャーカステン
morgue 死体安置[保管]所、霊安室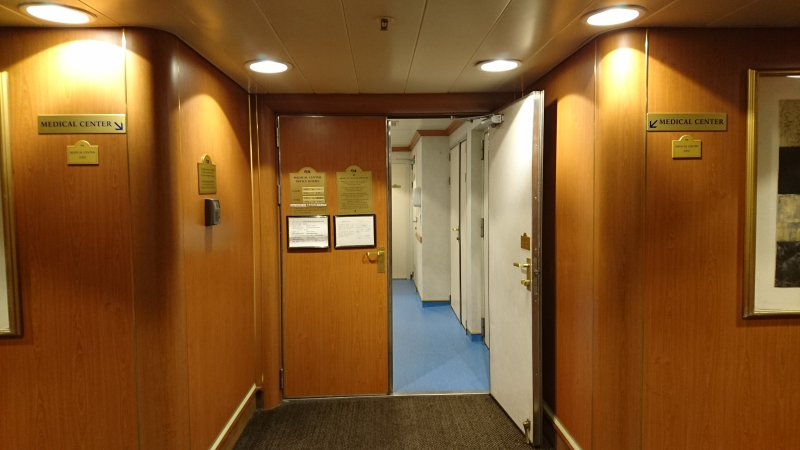 次に立ち寄ったのが船内にあるクリニック。いったいどのような設備があるのか、スタッフの数や勤務形態などに興味があった。可能ならこのような船に勤務してみたいという気も少しはある。
昨日の夜、ミュージカルの終わった後、コンシュルジュに医師資格証を呈示して医師であることを示した上で、クリニックの見学ができないかと尋ねた。ちょっと待て、キャプテンに相談するとの返事、、、船長にまで通さなければならないことか?と驚いたが、1時間ほどして電話があり、明日直接クリニックへ行き、窓口で相談するようとのこと。閑なら応対してくれそうだ。
で、寄ってみた。思った以上の施設だった。医師と話をしたかったのだが不在?『不在』ってあり得るのかなと思ったが他に何か用があったのだろう。ナースが対応してくれて、個人情報に触れない範囲で隅々まで見せてくれた。
無影灯や麻酔器の置かれた手術室が有り、簡単な手術ならできそうだった。入院用の病室は3室あり、酸素配管、呼吸器、シャーカステンなどが備わっており、隔離用の部屋もあった。船内で救急車の役割を持つストレッチャーは重装備ですぐに持ち出せるよう専用の場所に置かれていた。ただその奧にあったドアが気になった。説明をしてくれたナースはスルーしたのだが、あれはもしかして霊安室かと尋ねたら、やはりそうだった。しかも、冷蔵霊安室!日本からハワイ、アメリカからイギリスへの大西洋横断、これらの航路が5日から1週間の終日航海となり、その間に亡くなられた場合は運び出せないのでこの霊安室へ安置されるとのこと。
自分の得意な分野(各科横断的な救急処置)を説明すると、船医として十分に勤まる、というよりももったいないくらいだとおだてられた。先々でこういった豪華客船の船医も良いなあ。