My daughter reached her limit of putting up with keeping her eyes open due to jet lag. After our village tour, she fell asleep and I went out for a walk alone. I had a place which I was eager to visit since a long time ago. I got on the bus for 5 minutes and out in front of a big park. Then a 15 minute walk took me to the spot, the Ehime Maru Memorial.
  The home port of the Ehime Maru is Uwajima City, in which I lived in my childhood. Especially on Hiburijima island off the coast of Uwajima City, I spent numerous unforgettable days, and I wrote about the island several times in this blog. (Link 1, 2, 3, 4)
  The Ehime Maru was the fishery training boat for high school students and collided with a surfacing U.S. submarine off the coast of Honolulu in 2001. There was no fault at all on the Ehime Maru's side. Omitting details, reaching out for the victims and their bereaved families and building their monument by the U.S. government deepened the connection between Ehime Prefecture, in which Uwajima City belongs, and the State of Hawaii. Consequently, both government tied a friendship relation in 2003, followed by between Uwajima City and Honolulu City in 2004. I hoped that the spirits of the nine departed by the accident will be consoled a little with this.
(FYI)
http://kumo.typepad.jp/weblog/2015/07/hiburijima-island-my-spiritual-home.html
http://kumo.typepad.jp/weblog/2015/07/hiburijima-island.html
http://kumo.typepad.jp/weblog/2015/07/ehime-maru.html
http://kumo.typepad.jp/weblog/2015/03/on-the-way-to-okinawa-1.html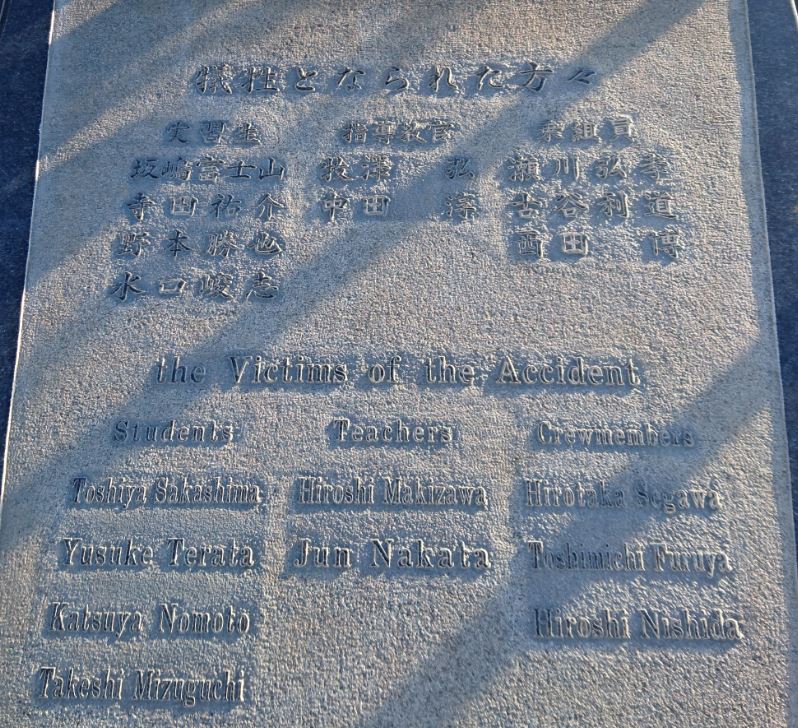 娘の眠気がここでついに限界らしく、僕は一人で散歩に出た。行きたかった場所がある。えひめ丸乗組員の慰霊である。ダウンタウンへ向かうトロリーバスに乗って5分、広い公園の前で降りた。そこから歩くこと15分、慰霊碑の前に着いた。
えひめ丸の母港は宇和島市。僕は子供の頃住んでいたことがある。宇和島市沖に浮かぶ日振島は忘れられない想い出がたくさんある心のふるさとだ。このブログでもこの小さな島について何度か書いた。(LINK 1,2,3,4)
えひめ丸は2001年浮上してきたアメリカ海軍潜水艦と衝突し沈没した。えひめ丸側に過失は全くなかった。詳しい経過は省くが、事故後の被害者支援や慰霊碑建立などで関係が深まった愛媛県とハワイ州は2003年、ホノルル市と宇和島市は2004年にそれぞれ姉妹提携。犠牲者はこれにより少しは浮かばれるのではなかろうか。
http://kumo.typepad.jp/weblog/2015/07/hiburijima-island-my-spiritual-home.html
楽しい懐かしい想い出の詰まった精神的故郷、日振島の風景
http://kumo.typepad.jp/weblog/2015/07/hiburijima-island.html
写真は日振島とは関係ありません。当時如何に不便な島だったかということを実例を挙げて説明。
http://kumo.typepad.jp/weblog/2015/07/ehime-maru.html
えひめ丸の現在の姿
http://kumo.typepad.jp/weblog/2015/03/on-the-way-to-okinawa-1.html
沖縄へ向かったときに撮影した日振島全景