Did you notice a small item like a stone on the monument in the first picture in the previous article? It was "Oban", one of the principal cakes in the victims' hometown, Uwajima City. They must have eaten it at least several times. I bought a box with 10 or 12 pieces at Matsuyama Airport just before departure from my hometown. I placed one in front of their monument and offered a short silence to them, recalling their grudge.
  Now, I walked to the coast through the perfectly manicured lawns for about 100 meters and found a public toilet. Though I got a negative vibe from a rusty bicycle on its wall, I entered and passed it. You might think that "pass" isn't proper here, but the toilet had no doors and I walked through the toilet at a quick pace straight from one entrace to another. Even every private cell didn't have its door. It might be due to security. A person lived inside and another person was on the throne.
  A few minutes later, I noticed that I had a box of "Oban", about which I wrote in the previous entry, in the daypack on my back, and went back to the toilet and placed it on the floor in front of them, saying that this is a box of cakes from the home port of the Ehime Maru. Then, I don't know what would become of that. The envelopes of some of the Obans were cut for offering, and I know it's very impolite to give those items, but they wouldn't mind that.
  When you offer something to eat or drink to the dead in front of their tombs or monuments, you have to cut the envelopes or open the bottles. It is said that the dead enjoy the smell of their offerings in Japan. These offerings will become trash if you left them, so you have to bring them back. I was going to eat Oban myself later, but if the homeless people enjoyed it, I'm happy.
(Vocabulary)
vibe [C] (人・場所から受ける) 雰囲気, 感じ
The place has a good vibe. いい雰囲気の場所だ.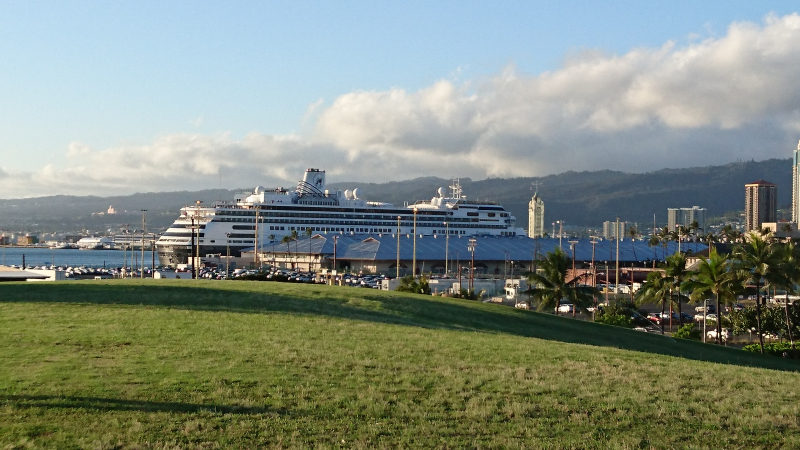 前の記事の写真で、慰霊碑の前に置かれている小さな石のようなものに気がついただろうか?慰霊碑の前に置いているのは宇和島市の銘菓『大番』で、松山空港で10個か12個入りを買ってきた。犠牲者の全員が一度は食べたことのあるはずのお菓子だ。これを供えて犠牲者の無念を想い、手を合わせた。
さて、見渡すとあたりは芝の植えられた美しい風景なので、海岸へ行ってみようかと、小さな丘を越えて百メートルほど先に公衆トイレを見つけた。横に置かれている錆びた自転車の残骸を見て良からぬ雰囲気を感じてはいたのだが、トイレに入ってみると、治安のためかドアはない。中には浮浪者が住んでいた。一人はドアのない個室で排便中。危険を感じて急いで立ち去ったのだが、背中のデイパックに入っている『大番』を思い出し、とって返して彼らに見えるようにそっと床へ大番の箱を置いて立ち去った。いくつかは封を切ってあるのだが、問題は無いだろう。残した言葉は『えひめ丸の母港、宇和島市からのプレゼントです。』その後、どうなったのかは知らない。後で良く見れば、慰霊碑の写真の向こうにいくつもテントが写っている。彼らが住んでいるのだろう。
ここで話変わって日本の仏教におけるお供えのルールを説明する。墓前に食べ物を置くとき、死者はその香りを楽しむという。なので、酒の類いは栓を開け、袋に入っているものはその袋を開ける。そのまま放置して帰ると鳥などが散らかすために必ず持って帰ることになっている。なので供えた大番は取りあえず包んでデイパックにしまったが、これも彼らに差し上げた。封を切っているものを渡すのは失礼だとは思ったが、彼らなら許してくれるだろう。