The brilliant lights were coming into my room when I woke up on Oct. 7th. We were moving to London today. After seeing around my daughter's college, I took my car back to the car-rental company, Hertz. On the way, I saw lots of people with outfits for jogging walking to the meeting place for the Oxford Half Marathon. If I had known about the marathon in advance, I would have taken part in it. I wished I could have joined it.
  The 3rd picture is the Hertz's office. I wanted to return the key into the key-return box about 8 o'clock and leave for London, but I waited for someone to show up at 10 o'clock, because I wanted to make sure that the fuel tank hadn't been full when I got the car. After coming back to Japan, as I had been concerned, an additional charge of gasoline fee was claimed from Hertz. The mileage was only 169km and I filled the car with 30 liters of gasoline on the way. I'd rather have them pay some money back. I sent the 4th picture to the company to request a refund. Finally my request was permitted and they gave some money back. I felt at the office that they were slacking a little, and my impression wasn't so far wrong. "2.8" on the left slip means that the gasoline level was 2.8 scales. This figure was written down by a staff member, but this stuff wasn't reported to the boss. One thing, however, the car which they had prepared for us was an Audi car and it was very comfortable and handy.
  The last picture was shot in front of the Hertz office. I was surprised to find it, as it resembled the Japanese one. I remembered that Mr. Hisoka Maejima who is called the father of the postal system in Japan had studied the British postal system in the U.K. That might be why both countries' mail posts are alike.
(Vocabulary)
scale 目盛り
gas gauge ガソリンメーター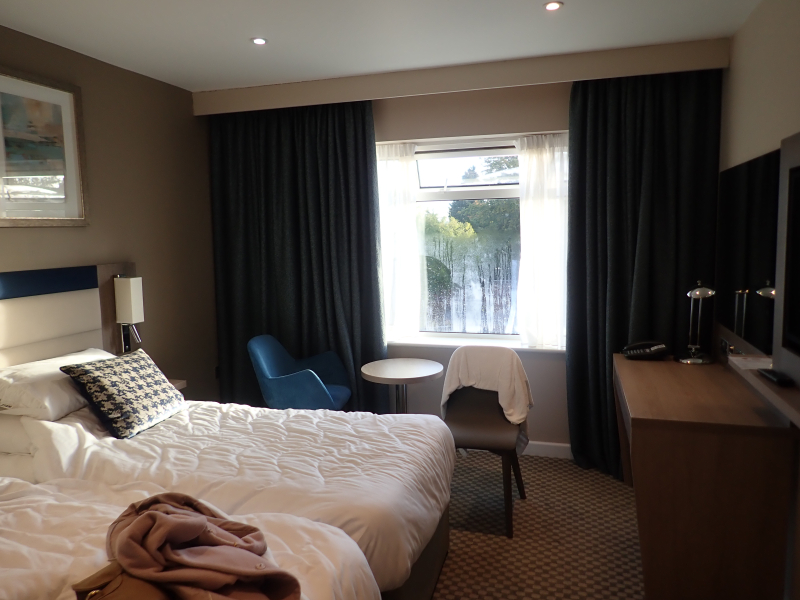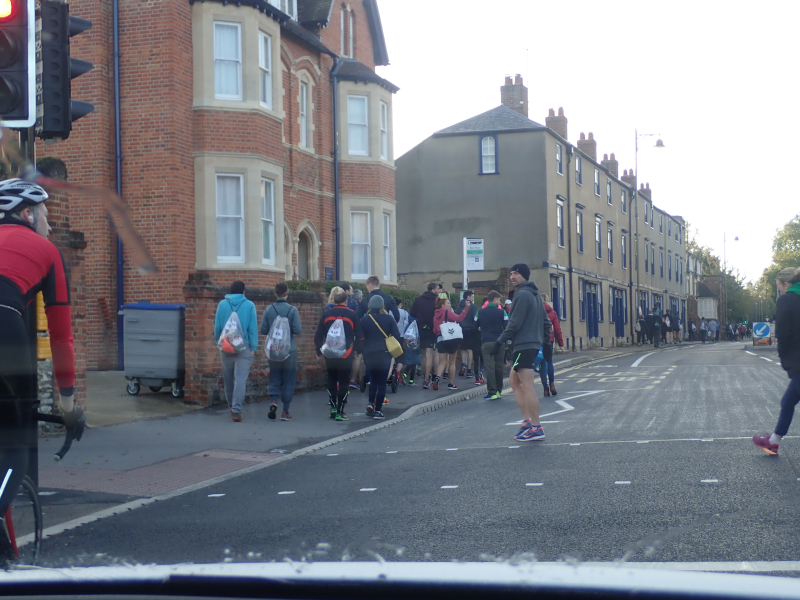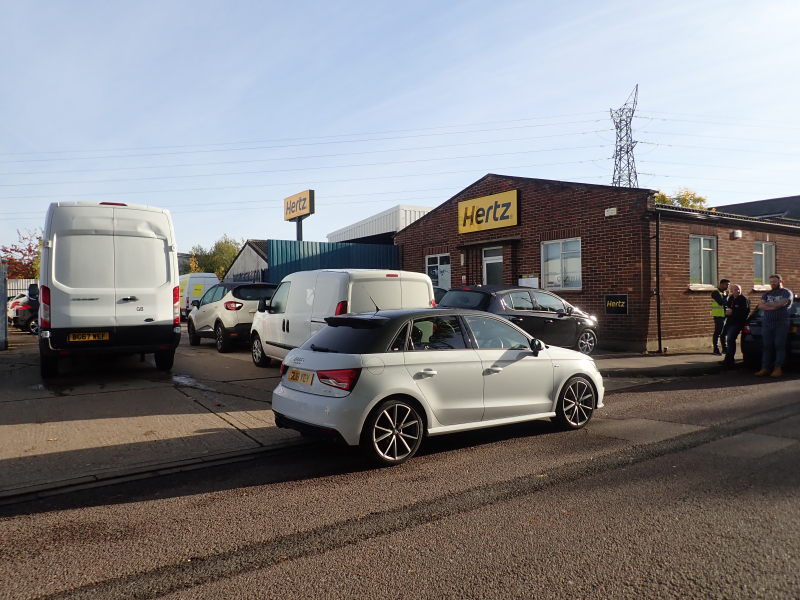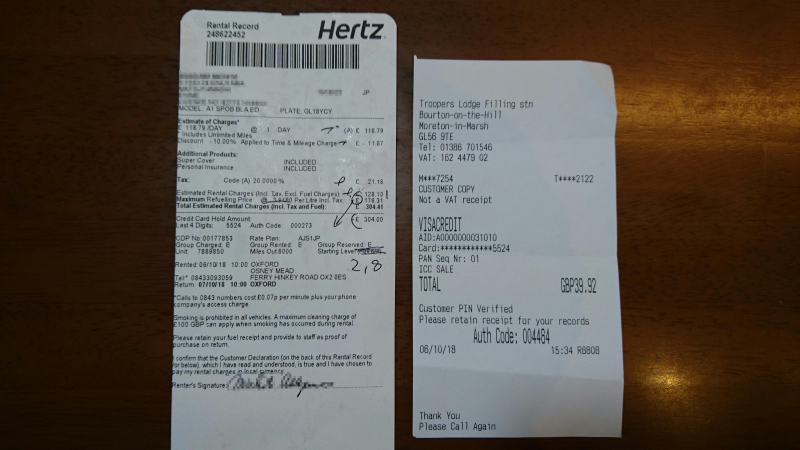 目が覚めてすぐに外を見た。快晴。今日はロンドンへの移動日。娘のカレッジ周辺をもう一度見て回ってからレンタカーを返却。移動中、オックスフォード・ハーフマラソンに集まる人たちを大勢見かけた。前もってわかっていたらオックスフォード滞在を延ばして参加していたと思う。残念。

3枚目はレンタカー会社の前に車を止めてオフィスが開くのを待っているところ。本来なら8時頃にキーをポストへ返却してロンドンへ向かうはずだったのだが、スタッフが来るのを待っている。実は、借り出したときにガソリンが1/3くらいしか入っておらず、そのことを担当者に直接念押しするため。借り出した直後に満タンではないことを指摘したところ、4枚目の写真にあるように2.8目盛りでスタートしたと、急遽係員が記入してくれているのだが、心配だったので。で、帰国後、心配したとおり、ガソリン代の追加請求が来た。4枚目の写真の右にある伝票は途中で30リットル給油した証明書。走行距離は169kmで30リットル給油済みでこのガソリン代金の追加請求はおかしいだろうと抗議したところ、認めてもらえた。スタート時と返却時のガソリン残量表示の写真を撮っておくべきだったと後悔していたが、請求が認められて良かった。ただ、今回借りれたアウディはほぼ新車でとても快適で、運転に掛かるストレスは殆ど無かった。この点は有り難かった。

営業所の前に日本のポストに似たポストが建っていた。前島密が郵便事業の視察のため渡英したことを思い出した。もしかしたら日本のポストのデザインもイギリスから来ているのかも知れない。