One night's good sleep removed the jet lag from me. After a short walk, we went on to the Hilton Customers Service for some legal procedure. My wife and I are now registered as the owners of my condominium, but we transferred the title to three daughters and I as up to 4 people can be registered. In case anything should happen to me, my three daughters are automatically able to succeed the condominium without further procedure. If you want to use the condominium not including any owner, you need some more procedure other than the owner's permission. The Hilton side might be prohibiting the sublease. Anyway, now, every daughter has become able to use the condominium with their acquaintances.
  In these procedure, the signatures of my daughters were required. I meant to write it for the youngest daughter who lives in Oxford, but the signatures must have been strictly their own. I wondered who would assure it. She apparently has to visit the U.S. embassy in London to get the certificate. It was a great lesson for me who am unfamiliar with such legal procedure. I wrote my signatures on several papers without consideration, obeying the judicial scrivener's words just like as I had signed contracts about my house and its loan. Were they OK?
  My wife looked so tired with only these procedure, and wanted to stay in the condo and sleep. It seemed that she hadn't yet recovered from jet lag, so I went downtown alone to see how Chinatown was on the weekend. Today is Saturday and most offices were closed. Few people were seen in the streets. I felt uneasy in the streets and didn't get off the trolley. The picture shows the street on which my condominium fronts.
(Vocabulary)
title to sth  (法) <不動産・土地など>の所有権
transfer the title to sb  名義を書き替える
write 《a letter》 for sb  代筆する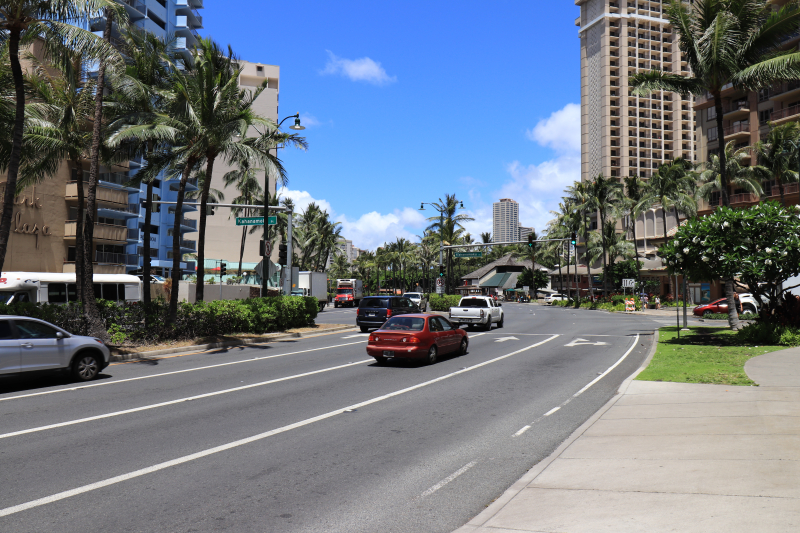 コンドミニアムの相続手続き
 
一夜明けて、時差ぼけから回復。軽く散歩の後、ヒルトンの顧客サービスへ所有するコンドミニアムの相続手続きへ。所有者として4人まで登録できるので、紹介された司法書士を通じて娘三人と僕の4人で登録。これで僕に何かあっても自動的に娘三人の共同所有となる。娘のうち誰でも、友人を連れてコンドミニアムを利用することが出来ることになった。オーナー不在で利用するには面倒な手続きが必要なのですが、これは又貸しなど、商用目的での利用を防止するためかもしれません。
 
娘三人の自署が必要というのは理解できるのですが、代筆は認められず。この手続きの際に驚いたこと。三女がオックスフォードに住んでいます。書類を郵送してサインをして返送するだけかと思ったら、この娘本人のサインであるという証明が必要らしく、その証明はロンドンのアメリカ大使館でもらわなければならないそうで、こういう分野に疎い自分には大変勉強になりました。家のローンを借りるときと同様、何枚ものサインが必要でした。言われるままにサインをしましたが、大丈夫かな(^_^;)
 
カミさんはこれだけで疲れたのか、昼寝をしたいというので(快適なベッドなので気持ちは分かりますが)僕は、その間にトロリーでダウンタウン観光。今日は土曜日でオフィスは閉まっていて、チャイナタウンは閑散としていた。少し怖い感じがあってトロリーを降りて歩きたいとは思わなかった。写真はコンドミニアムの前の道路。今日も快晴です。