Do you know who owns a Buddhist temple? It doesn't belong to the chief priest. He is only asked to stay and manage the temple by its patrons. If no one in his family inherits the temple, his family has to leave the temple when the priest retires. I visited a temple which used to be managed by my relative. I heard that the temple had no priest now and was managed by its patrons.
  The brother of my grandmother had managed the temple until a few decades ago, but no one in his family wanted to become a Buddhist priest at his retirement as the chief priest. Consequently, his family left the temple. Since then, the temple has been managed by the local people around the temple, but I felt it went to the dogs. The name of the temple is Yamadayakushi, which is one of the three biggest Yakushi in Japan and honors Yakushi, the healing Buddha. This temple is said to have been built by Gyoki in the early 8th century.
  By the way, when it comes to this temple, I can't skip the story of a big stone in the picture. I have only uncertain memories, but every time I visited this temple as a child, I played with friends in the grounds. A small building called "Daishi-Do", the hall with an enshrined statue of Kobo Daishi at a Shingon temple, stood just at the big rock.
  My father hearing the incident in Yamadayakushi, he and I headed for there. Calculating my age, it was around the time I would turn 5. I remember that I was so surprised to see the rock. Torrential rain caused a landslide on a night and Daishi-Do was crushed, but the statue was thrown out and was able to avoid the damage. The color of the rock was red at that time, but became discolored. Sticking moss, weeds, crack due to weathering made me feel that as much as 50 years actually had passed.
(Vocabulary)
go to the dogs 荒れ果てる
weathering 風化(作用)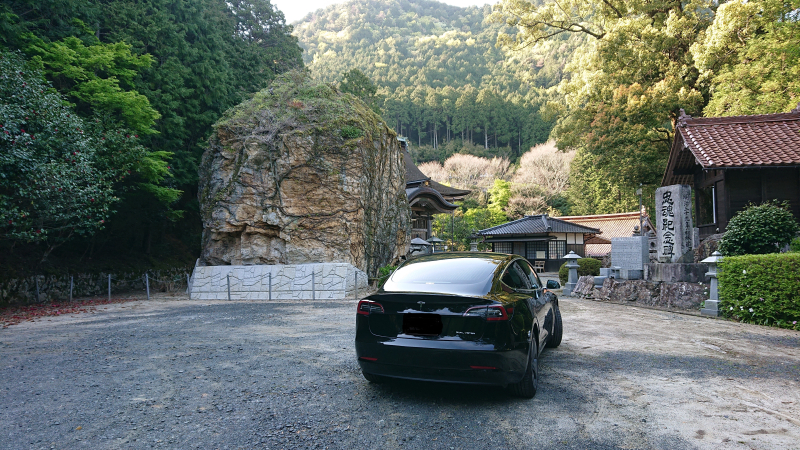 仏教寺院は誰の所有物かというと、檀家の所有であり、住職は雇われて住んでいるに過ぎない。住職の身内に跡を継ぐ者が居なければ一族は寺を出て行かねばならない。今日は少し遠出してかつて親戚であった寺に寄ってみた。今は専属の僧侶はおらず、檀家が管理していると聞いた。

かつて親戚と書いた。僕の祖母の弟が数十年前まで住職を務めていたが、引退に際し身内から跡を継ぐ者がおらず、一族は寺を出た。この寺は山田薬師という。日本三大薬師のひとつで仏教の薬師如来を祀る。この山田薬師は奈良時代の天平年間に行基によって創建されたと言われている。

写真にある大岩のことを書かねばならない。ぼんやりとした記憶しか無いが、この寺に来ると今ではこの大岩の下敷きになってしまった太子堂の周りで遊んでいた。中にはお大師様の像があり、太子堂を含めた境内全てが遊び場だった。

ある日、親父が山田薬師が大変なことになっていると聞いて、一緒について行った。計算すればちょうど5歳になる頃だった。岩を見てたいそう驚いたことを覚えている。豪雨に伴う山崩れで太子堂が潰れてしまった。しかし、お大師様は外に転び出て無事だった。当時は1個の赤い岩だったが、色は変わり、また、こびりついた苔や雑草、二つに割れた割れ目をみて50年以上の年月の流れを感じた。