Last Sunday, I enjoyed riding my scooter along the Tobishima Route as I wrote in the last entry. I'd like to show you the whole route on the map and pictures in this entry. I have been learning how to use one of the services of Google Map these days and have got it, roughly. I adopted this service in my blog. Firstly, check the following URL: http://kumo.typepad.jp/wadachi/tobishima.html. It was to my surprise that this map could be zoomed in and out, and be panned. It implies that you'll know where the area on the map is on the globe. Try to scale up and down the map. You can easily figure out the whole route.
My friend and I started for Imabari City at about 6:30. Our outward route was drawn in red on the map. Our track was accurately recorded on the map. Even the miscourse at the harbor was written on the map(grin). We got on a small ferry boat at Imabari harbor and headed for Okamurajima Island. You can trace even the track of the ferry. The bridge under which our ferry boat passed is Kurushima Bridge, which I'd shown you before: http://kumo.typepad.jp/weblog/2009/05/shimanami-kaido.html
The ferry stopped by two tiny harbors before reaching our destination, Okamurajima. The picture is of the vehicle deck.
(Vocabulary)
outward 外へ向かう
vehicle deck 《海事》車両甲板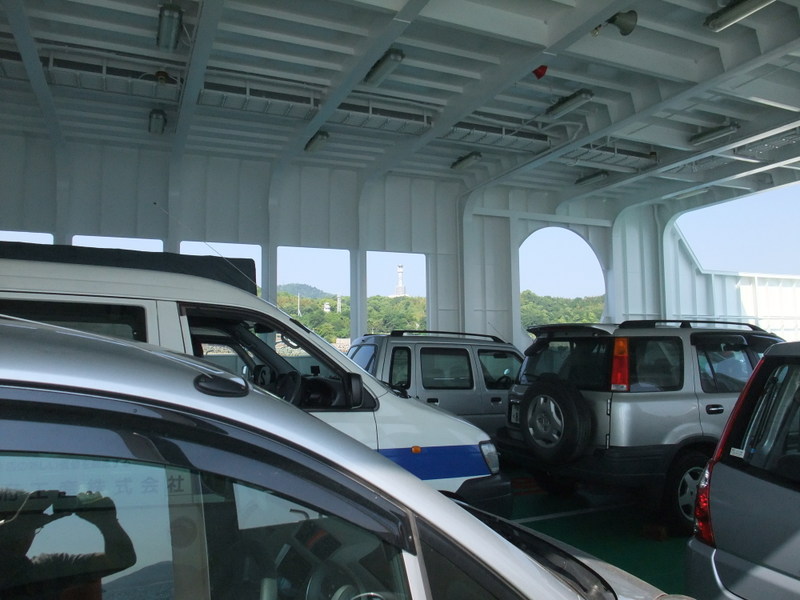 (KW: とびしま海道 岡村島 関前村 せきぜんフェリー 来島大橋)