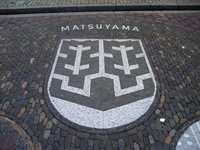 We heard of the emblem of Matsuyama City, which had been imprinted on the pavement in front of the City Hall and looked for it after we parted. The emblem was easily detected and we took pictures of it. The emblems of Freiburg's sister cities seemed to be arranged there. The name of Matsuyama was known to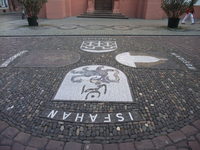 the front staff of our hotel, but Ehime prefecture where Matsuyama is located was unknown. Next, we dropped in at the shop shown in the next picture. I tried to speak in German here, and said, "Ich komme aus Matsuyama." It meant that I came from Matsuyama. The lady at the shop replied promptly,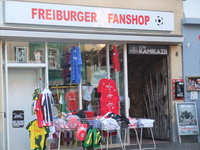 "Oh, Ehime FC!!" This shop was the fanshop of Freiburger FC and this team has a friendship treaty with Ehime FC. It was the first time to hear "Ehime" in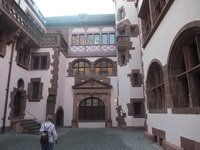 Germany. The last picture is inside of the City Hall. Is it a court? I'm not familiar with the structure of German buildings and I got restless due to the loneliness.
(Vocabulary)
emblem 紋章
part [自](フォーマル) 〈人が〉 別れる
They parted at the airport. 彼らは空港で別れた.
part from sb <人>と別れる
court (建物に囲まれた屋根のない)中庭