After dinner, we dropped in at a supermarket, the IGA, to get daily food and other necessities. Everything in the fridges looked nice and I was obsessed with an appetite to try everything. We got at first something for tomorrow's breakfast. I eat Caesar salad every time in Whistler. The main ingredient of it, romaine lettuce, is rarely seen in my hometown, and so it's much more valuable for us. Of course, I found the lettuce arranged in the vegetable area.
  I was going to buy several bottles of alcoholic beverages on the way back to our condominium, but it was Sunday. Both liquor shops in the village were closed. Did they go to church? Anyway, I was so disappointed. I should have bought something at the duty free shop at Narita International Airport.
  While walking, I found a considerably large space, which was formerly a forest, almost untouched. The first picture is of it. Yes, this was the place for the closing ceremony of the 2010 Winter Olympics. It must have been pomp-filled at the ceremony. Two couples were taking pictures.
  At the bottom of Whistler, a snowboarders' event was being performed. People were cheering to watch the acrobatic snowboarding. Snowboarders were jumping through a flaming hoop. On the opposite side, I found a nice place for drinking whisky around a fire. Inside the house called the "Irish Pub", a group of artists were playing guitars. Finally, our alcohol for tonight was a 200ml pack of Japanese sake for cooking.
(Vocabulary)
romaine (lettuce)  《植物》ロメイン・レタス
Caesar salad  シーザーサラダ
so much the more  それだけ一層
pomp-filled  華やかさに満ちた
pomp  (フォーマル) (式典などの) 壮麗さ, 華麗さ
pump  ポンプ
cheer 〈聴衆・観客などが〉 歓呼する, 喝采する, 歓声を上げる
jump through flaming hoop  (曲芸などで)火の輪くぐりをする
Olympic Memorial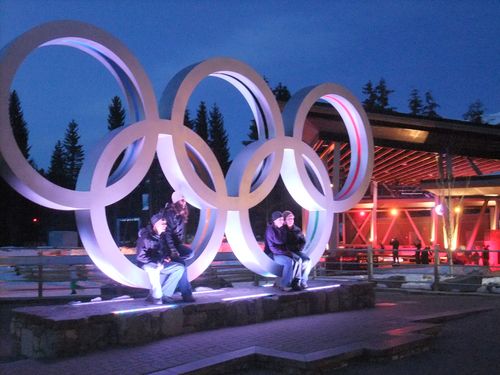 flaming hoop

Irish Pub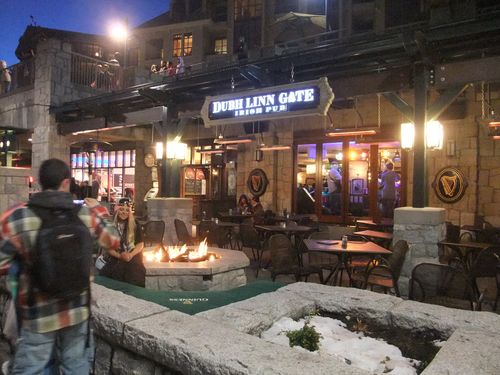 Japanese cooking sake