Our plane smoothly and successfully landed at Incheon Airport, and some passengers burst into applause at the skillful pilots. I thought I would immediately have some guidance on the next flight to Japan, but there was no instructions about what to do at the airport. Anyway, we got out of the plane. So tired! Stretching myself was really comfortable. To record the rough time of our arrival, I took the picture below. The accurate time was probably 1:00 hours local time.
  When I got out of the plane, I came across a pilot who was just coming out of the cockpit, and he said to me, "See you tomorrow." I couldn't understand this phrase. At that time, I supposed that we would take a rest for several hours at the airport, change planes and go back to Japan by another plane. That means, I thought that I would never see the same pilot on the next day. While thinking like that, I missed having time to reply to him. I was really sorry that I didn't say anything to express my gratitude for their tough work.
  I wondered how hard the operation of passenger planes was, and while I was looking for the labor regulations of Air Canada, I found a news item on sleep inertia in Yahoo News (link). According to the rules, a pilot seems to work as long as 17 hours. It must be tough, I thought.
(Vocabulary)
inertia  惰性, 停滞; 無気力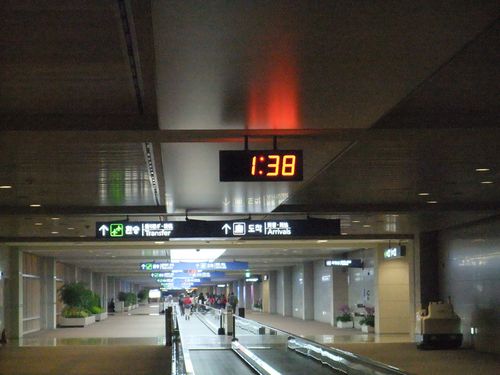 http://news.yahoo.com/sleepy-air-canada-pilot-thought-collision-coming-dives-135232948.html