My old desktop computer, which was replaced 7, 8 years ago, and another two mobile pcs have been sitting in my study for a long time. In my office, moreover, my broken pc was left in a corner of my room for a few months. I made my mind up to throw them away to make space both in my study and in my office. However, each memory device might still have classified data on patients and I had to delete them fully and completely.
  It was not difficult to remove the hard disk drives from those pcs, but one mobile pc was equipped with the SSD as a memory device. I've never seen this kind of device and took time to take that out of the pc. I'll show you some pictures taken during disintegration. This procedure was narrowly done because I didn't need to restore it. If I had to, I'd never carry it out.
  I asked Matsuyama Medical Association to delete data on the disks. They have a disk crusher for members, which destroys hard disk drives by an extremely strong magnet. During the process of deletion, I chatted with a life-long friend since my junior high school days. He was now the top of the administrative officers of the association. The alumni meeting is scheduled this weekend, but I can't attend it due to my job. I asked him to say hello to my other dear friends at the party. By the way, one of the four devices in the last picture is an SSD. I'm going to heat and distort this so that no one can reuse it.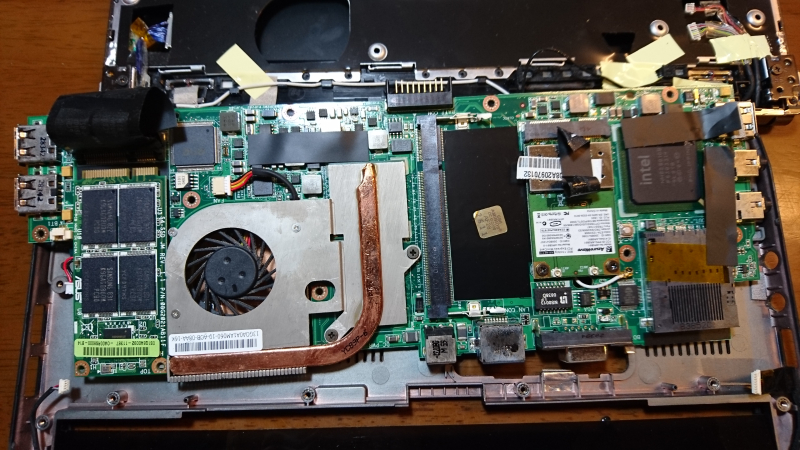 7~8年前に入れ替えた古いデスクトップパソコン、更に2台のノートパソコン、そして先日職場で使っているパソコンが壊れてこれらは放置されていたが、スペースを取るため一気に処分することにした。しかし、どれも職務上のデータが残っている可能性が有り、完全にデータを消すために地元医師会の所有するハードディスククラッシャーを使わせてもらうことにした。処分後は元のPCに収めて廃棄業者に依頼する予定。
今、医師会の事務方トップが中高の同級生。医師会館でハードディスクを処分するしばらくの間、楽しい雑談。今週末には同窓会があるのだが、仕事のため出席できない。残念だ。写真のうち、一つはハードディスクではなくSSD。これは熱を加えて変形させた上で破壊して処分するつもり。