The National Athletic Meet, which had started in 1946 to encourage people living on the heavily devastated land and has been held across Japan every year since then, is now being held in my home, Ehime prefecture.
  Prefectures take their turn to be in charge of hosting. Ehime prefecture hosts the event for the first time in 64 years. The last National Athletic Meet in Ehime was hosted by four prefectures including Ehime. In the wake of the war, even in the shortage of principal necessities like food, clothes and houses, it would have been difficult for my prefecture to shoulder all the costs alone.
  Their Majesties the Emperor and Empress visited Ehime two days ago to attend the ceremony and were supposed to be back in today's afternoon, so I was on standby on the roadside to send them off since two hours before the estimated time of their passing to get a position in the front line of the crowd. Directly looking at them, I waved my national flag. I set my camera at the height of my chest and shot pictures without aiming. That's why some pictures were oblique. They were so refined. His Majesty the Emperor was seated to the back of the driver and was half-rising from his seat and gently waving his hand at us. I wasn't able to help praying for the happiness of the Imperial Household, which is linked to Japanese mythology, and the 125th His Majesty the Emperor.
(Vocabulary)
the National Athletic Meet 国体(国民体育大会)
Their Majesties the Emperor and Empress 天皇皇后両陛下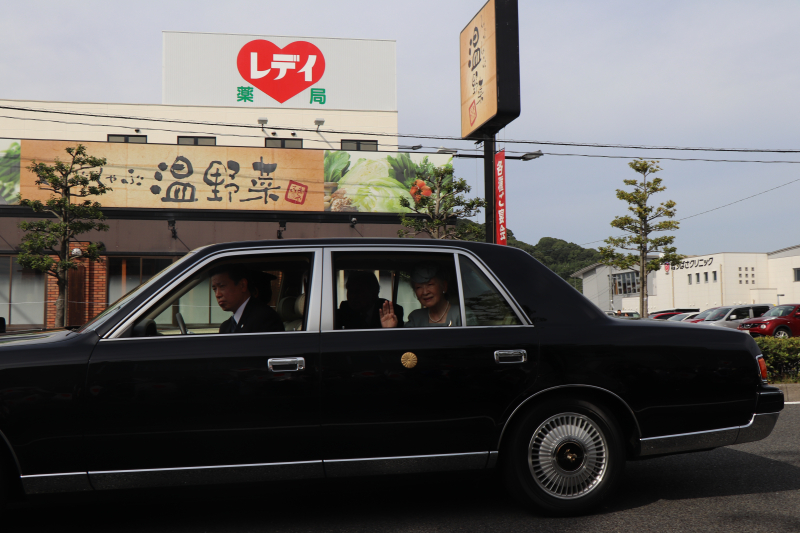 愛媛国体
1946年から開催されている国民体育大会が今年は我がふるさと愛媛県で開催されている。戦後の荒廃した国土で国民を元気づけるために始まった大会だが、現在では各県単位で持ち回りで開催されている。愛媛県で開催されるのはなんと64年ぶり。前回は四国の4県合同で行われた。戦後間もない頃で食糧難の時代、一県だけで開催するのは困難だったのだろう。
またこの国体は天皇皇后両陛下が出席される3つのイベントの一つで、今回の大会に合わせて愛媛県を行幸された。一目、そのお姿を見たく思い、通行される道路脇に2時間前から待機した。写真は胸の高さにカメラを構えて、ファインダーを覗かずに取ったもの。そのため少し傾いている。
上品なお姿だった。運転席の後ろに座られている天皇陛下は中腰になられてこちらに手を振ってくださった。神話に連なる皇室、第125代天皇陛下、そのご健康を祈らずにはいられなかった。