Lots of the traditions or cultures of Japan were deleted through the defeat in the Great East Asian War. Several national holidays were abolished in that context. The Naval Anniversary Day was one of those deleted holidays. Today most Japanese people don't know about this day. May 27th is the day. On this day in 1905, the Japanese Imperial Navy totally knocked out the Russian Baltic Fleet.
  If Japan had lost that sea battle between Russia and Japan, Japan would have become a part of Russia today and we, Japanese, would be spending slave-like days along with all the other colored people. This day can be thought of as a happy anniversary for all the colored people. However, this day hasn't become a national holiday even now.
  However, it's not immoral to pay tribute to the victims of both countries on this day. I attended the memorial service for them which was held on Tsushima island in the Sea of Japan. The following picture shows the ceremony and national flags of Japan and Russia.
  Just like other trip memos, I'll write about my two days' trip in several continuous articles. One thing, I forgot to change the date setting of my compact camera into Japanese time after coming back from Hawaii this April. Don't mind the date display in some pictures.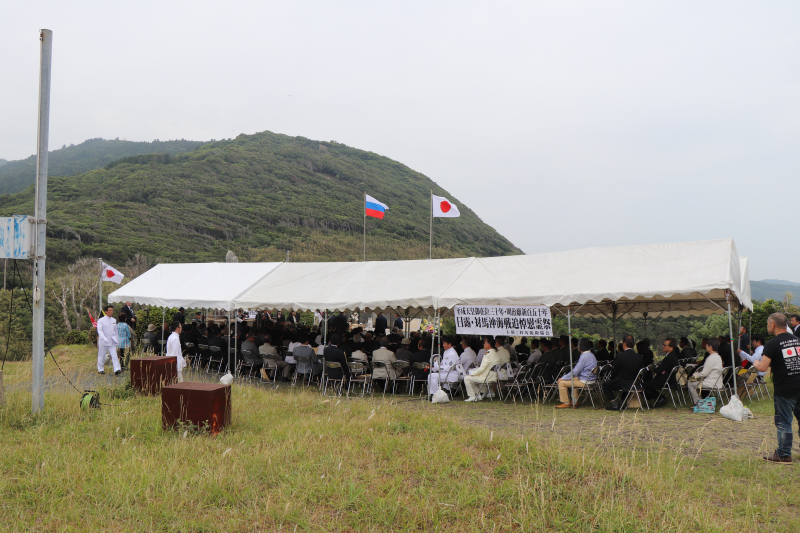 戦争に負けたことにより、日本の伝統的な文化の多くが消されてしまった。その一つにいろいろな祝日がある。日本は軍備を否定されただけでなく大東亜戦争敗戦前まで制定されていた海軍記念日が消されてしまった。今では多くの日本人がこの素晴らしい日を忘れてしまっている。5月27日がその日である。日露戦争でバルチック艦隊を撃破したことを記念して選ばれた。
もしこの戦争に負けていたら、日本は今頃ロシアの一部であったろうし、我々日本人は奴隷のような生活を強いられていただろう。また全有色人種もまた植民地支配を抜けられずいまだに被支配階級であったろう。この日は全有色人種にとっての記念日とも言えるが、現在、国民の祝日とはなっていない。
とはいっても、この日に日露の犠牲者を悼むことは道義に反することではない。海戦域に近い対馬で行われる日本海海戦の犠牲者の慰霊祭に出席することにした。1泊2日の小旅行をいくつかに分けてここに記録しておく。
いつものように写真を呈示するが、コンパクトデジカメで撮影したものはカメラの日時設定が4月に旅行したハワイ時刻のままになっている。