I got on standby at a few steps up the stairs of Victoria Memorial. I was just in front of Buckingham Palace. I took the first picture after the ceremony to record my standing site. I was viewing the ceremony at this point without moving even a single step.
  My SLR camera was equipped with a 50mm standard lens (fixed focus lens). As my camera was APS-C, the lens was equivalent to a 80mm semi-telephoto lens of the full-frame digital SLR. The second picture was shot by this camera. It was taken by a hand-held shooting, but it's nicely taken. I had another digital camera and took pictures of the ceremony with both cameras. My daughter's position was shown in the next picture. She was also just in front of the central gate, but was on the third line. As we were playing with wild squirrels in the park, she wasn't able to stand on the front row, but after the starting of the ceremony, taking advantage of being packed in chaos, she seemed to come out on the front row. She was able to see even the faces of each guard, but wasn't able to view the whole display of the ceremony.
  The march of the Guards was gorgeous. When I was a little boy, I played with small replicas of them. It was great for me to see the real guards. The Change of Guard Ceremony was held inside the fence and I wasn't able to watch them from my position, but it was ok. The concierge told us that the best position differed as to what we wanted to see. Marching? or Ceremony itself? Now I understood his words.
  I was surprised to notice that several policemen had a big gun. You would never see such type of guns in Japan, at least in public spaces. Take a look at them in the last picture. I understood that we were a possible target site of terrorism.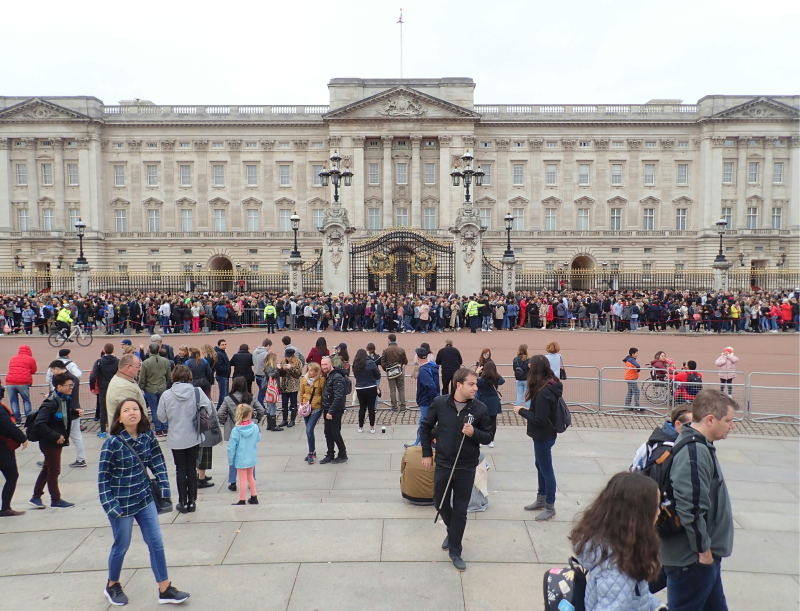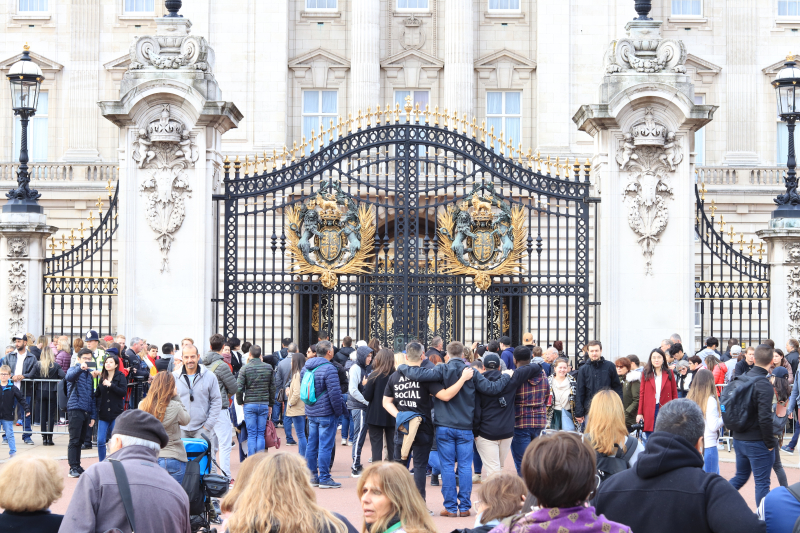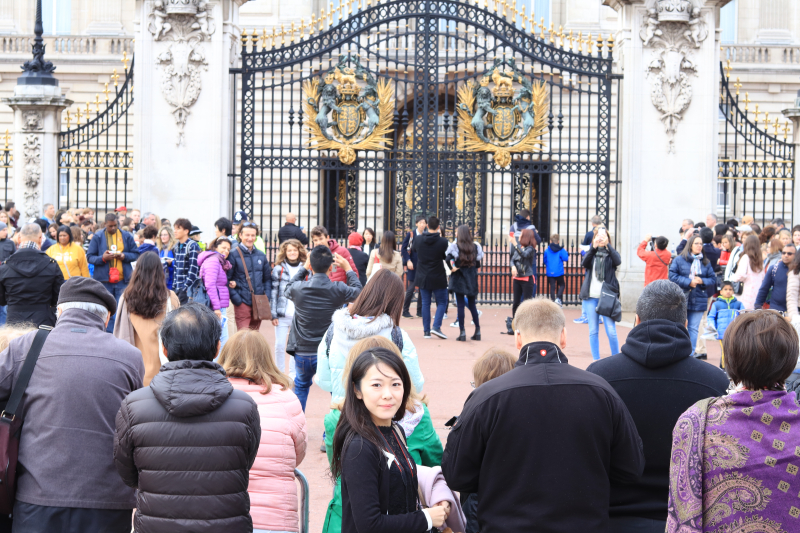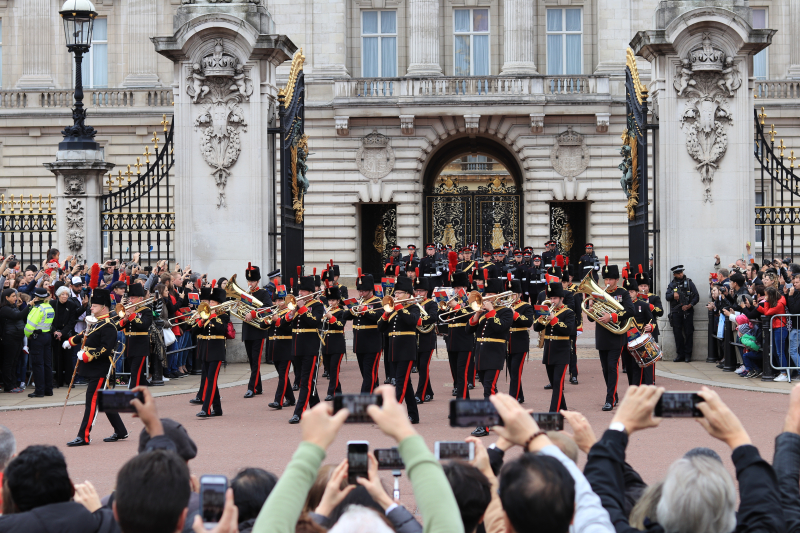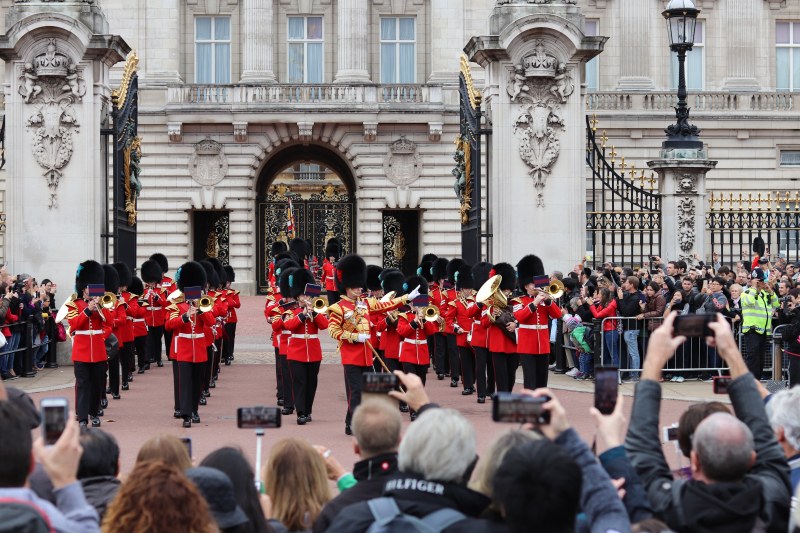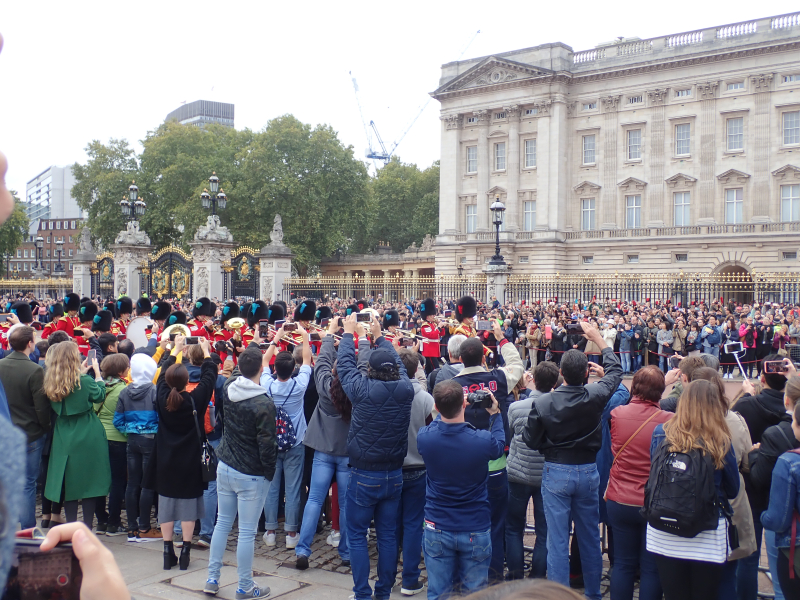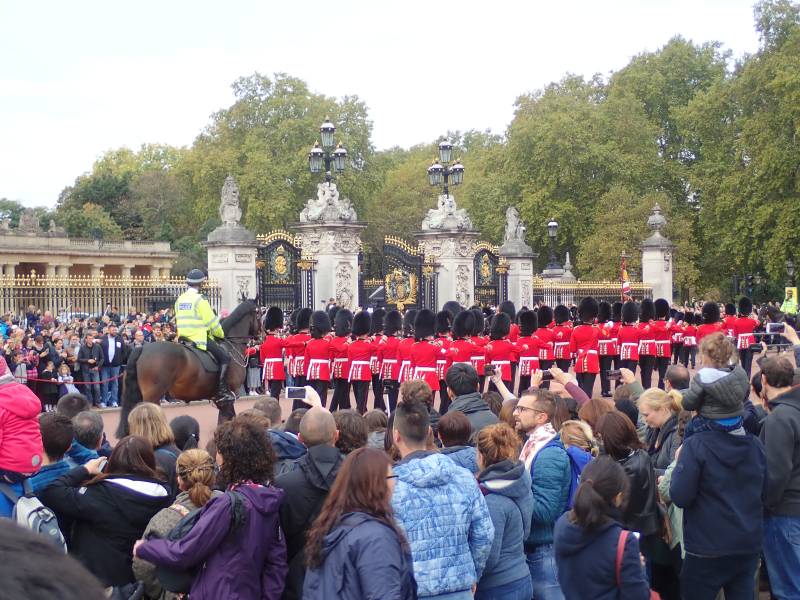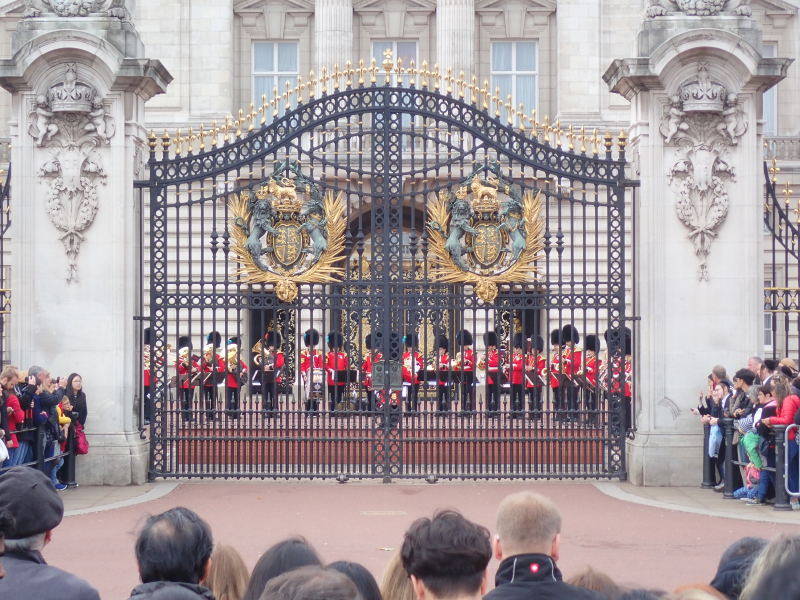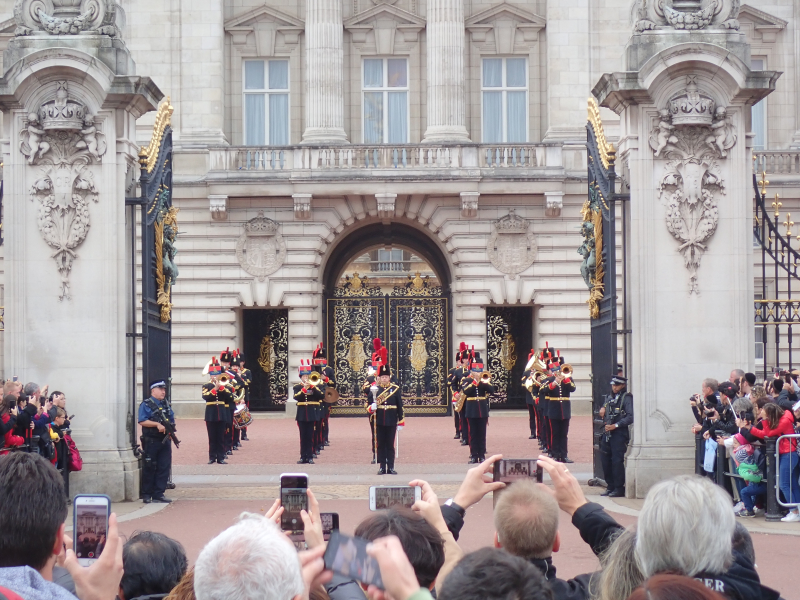 約40分前にビクトリア記念碑の階段を数段上ったところへスタンバイ。バッキンガム宮殿の真正面だ。どのような場所に居たかと言うことを記録するために取っておいた写真が一枚目。これはセレモニーが終わった後で取ったもので、この場所から一歩も動かずにセレモニーを眺めていた。

一眼レフカメラには50ミリの標準レンズを付けていたが、僕のはAPS−Cなので、標準換算80ミリの中望遠レンズとなっていて、こいつで正門を見たのが二枚目の写真。手持ち撮影だがきれいに撮れている。ちなみに娘の位置は三枚目の写真の通り。これまた真正面だが3列目くらいか。野生のリスに餌やりをしていたために最前列は取れず。ただ、見ていたら混乱に乗じて最前列に出られた模様。しかし、彼女の場所からは衛兵の顔まではっきりと見える代わりに全体を見渡すことが出来なかったとのこと。

衛兵の行進は勇壮で豪華だった。子供の頃、この格好をした人形でよく遊んだなあとその頃のことを懐かしく思い出しながら、還暦の年に『本物』をみるとはなあと感慨に浸りながら『本物の衛兵』の行進を眺めた。肝心の交代式は塀の中なのではっきりとは見られなかったがこれは仕方ない。コンシュルジュが何を見るかによって待機場所が違うと行っていたことが理解できた。衛兵交代そのものを見るなら宮殿の塀際に待機すべきだとわかった。

最後の写真を見て欲しい。警備員が持っている銃は日本では街中で見かけることはまずあり得ない銃だ。おそらく殺傷能力の高いものだろう。この銃を見て、テロ攻撃のターゲットになり得る場所にいるのだと感じた。