The eradication therapy of Helicobacter pylori with me started at the end of last year, and after a course of medication, I got infected with influenza, like adding insult to injury. While I was on medication for the eradication of Helicobacter pylori, I had refrained from alcohol. Telling my family that the intake of alcohol might be short for body sterilization, I was mockingly laughed at.
  Consequently, I was taken in lenient confinement for five days. It's officially decided that you must not go to work for at least three days after the decline of the fever. It's for the protection of others from the infection of influenza.
  I made my bed in my study and the toilet on the second floor was designated as my own for this period of time. I asked my daughter to bring a cup of tea, and the door opened silently in a few minutes and her hand only with a cup sneaked in and out leaving the cup alone as shown below. The next picture shows my breakfast placed on the floor. I felt as if I became an inmate. I had been sadly treated as a kind of dirt for some time.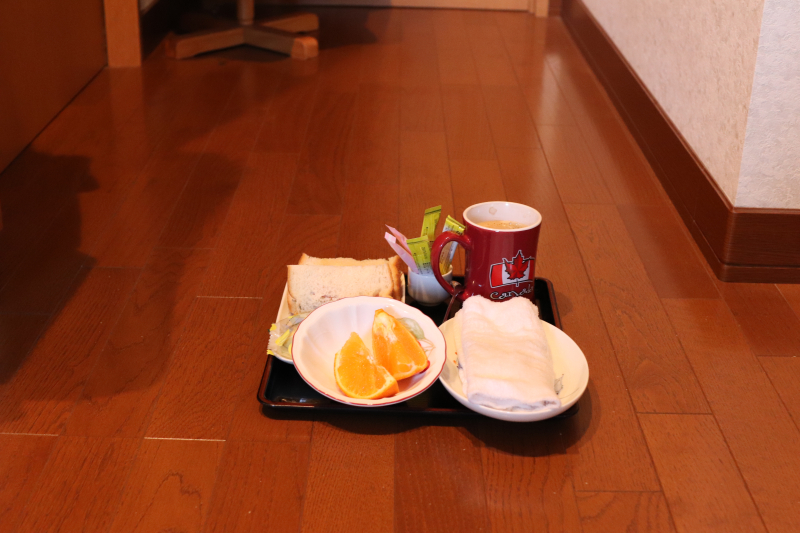 年末からピロリ菌の除菌療法が始まった。そのためアルコールは控えていたが、それが終わると今度はインフルエンザに罹患。踏んだり蹴ったり。アルコールを控えていて身体の消毒が足りなかったのかも、、、と家族に訴えると呆れられてしまった。(^_^;)
で、自宅軟禁の生活が5日間続いた。解熱して体調が戻ってから3日間は職場に出てはいけないという規定がある。この期間は他に感染させてしまう危険があるからだ。書斎にふとんを敷き、お茶や食事は写真のように運ばれてくる。お茶などは娘の手首までがドアの隙間から部屋に入り、写真のように湯飲みを置いていくのだ。2ヶ所あるトイレのうち書斎から近い方が自分専用となった。とにかく、汚物扱いの5日間だった。