We left Porotokotan and made for Noboribetsu Spa, which is one of the most popular hot springs. "Betsu" of Noboribetsu means "river" in the Ainu language. I imagined that the Ainu named this area after seeing hot water flowing in the river. As I was thinking of the things of centuries ago, I drove the car for about 30 minutes on the highway and got off at the Noboribetsu IC to go to the Noboribetsu Spa.
Noboribetsu Spa is also noted for having several kinds of hot water. Various kinds of hot water come out at the same area. Japan has many hot spring sites, but such a spa is not common. Almost all of the tourists who visit here are looking forward to soaking in these hot springs.
As soon as we arrived at Noboribetsu Spa, we checked into our hotel, Takimoto Inn. This hotel was a small western style one and its common bath room seemed to be average. You might wonder why I chose such a small and ordinary bath. It was because this hotel has a sister hotel that was very big and fancy and the customers of Takimoto Inn could take a dip in this gorgeous hotel. Understand? Yes, I was going to reduce our expenses. My plan was successful. Dinner and breakfast in our hotel was very good and we could enjoy a relaxing soak three times in the sister hotel.
Let me explain the Japanese style of common bath. Firstly, people take off their clothes in their room and put on "Yukata", a so-called Japanese style bath robe, over their underwear and go to the common bath with their own towel. The common bath is strictly separated into two. One is for men and the other is for women, but mixed types are sometimes seen. One thing, if you email me I can suggest some mixed hot spas, but in this type of spa you must be a gentleman if you are a man and follow the rules. People soak in the same bath tub with no swim suits. The biggest bath tub that I experienced could accommodate 200 people at one time.
By the way, I have a sad story about bathing in Canada. When I visited Whister in 2002, I met a black student who was at a loss on the easiest ski trail. He twisted his knee. I reported his position and status to the officials at the ski lift and notified his condition to his friends who were waiting for him at like 5 km down. That night, two of his friends visited my condo and said "Thank you" with a crate of beer. They were gentlemen and looked intelligent from their beautiful English. My ski fellows and I wanted to have a party with them and invited them the next day. The moment I said, "We have a fancy open air jacuzzi. Bring your swim suits!", I felt that one of them got shaken up. I came to understand his attitude the next day. When 4 Japanese and 5 Blacks got in the bath tub, a group of Whites went out. Their behaviour was not good to us. Our group was not men only. A Japanese and two of 5 black students were women and I was sure that we didn't look like gangsters. One of my black friends asked me whether I had seen the black swimmer. He continued that he didn't want to be born as a black. To be a black is not my responsibility. Is being black a bad thing? I've sometimes heard that the U.S. is like a melting pot of races. I'd thought that it was true. However, since I heard his story, I've thought that the U.S. is a mosaic of races, never fused, never melted.
Getting back to Noboribetsu, most Japanese don't mind different races. Even if you are black it doesn't matter. You can enjoy the Japanese hot spas. Yesterday's TV news told that a dozen "Okami," who are female managers of Japanese style traditional hotels that we call "Ryokan", visited Thailand to promote Japanese tours. The TV broadcast showed a scene of how to bathe in a hot spa in Japan. Though I don't know much about Thailand, the Thai people seem to have no custom to bathe together with many people. Even so, they could enjoy Japanese hot spas. I hope many Thai people visit Japan.
The pictures show the judge, "Enmadaiou," living in the afterworld. In Buddhism, people are supposed to stand in front of Enmadaiou after death and be given sentences from him. He decides who should be sent to heaven, who to hell. This statue moves on the hour from gentle face to fearful one and his right arm smashes the table with anger directed towards the people. This is a kind of attraction for the tourists.
By the way, why is he here? The answer will come along in the next entry. Wait for a few days!
(Vocabulary)
a crate of beer ビール 1ケース
shake sb up <人>を動揺させる
afterworld 後の世、来世、死後の世界
on the hour 毎正時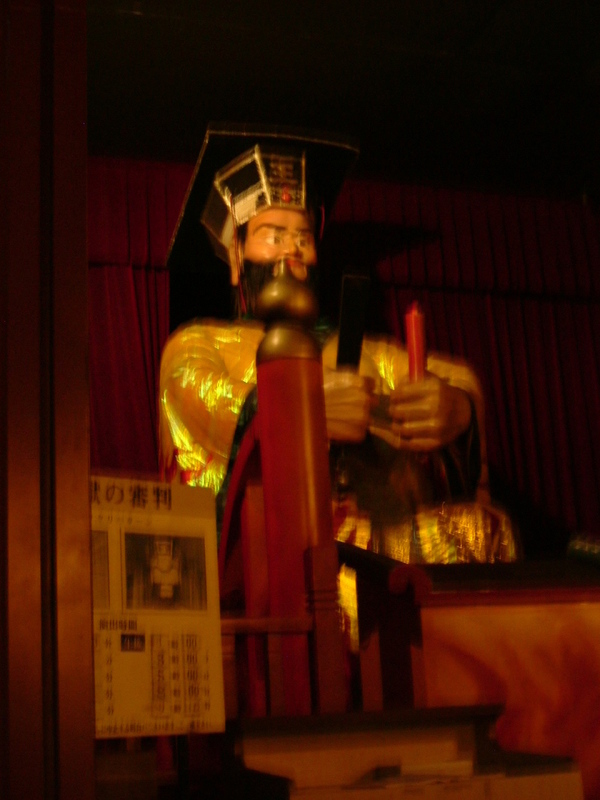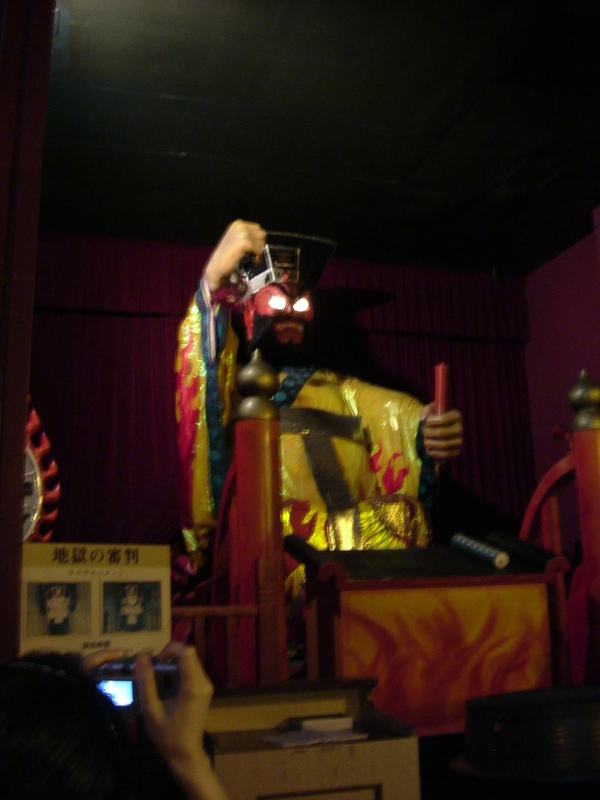 (KW: 滝本イン 登別温泉 閻魔大王 からくり人形)