I got an e-mail from my eldest daughter, Eri, a university student who lives in Tokyo. The following picture was attached to her mail.
     African Fiesta 2008, sponsored by the Japanese Foreign Ministry, was held in Yokohama City and Eri visited for fun.
     Her mail says.....
     She happened to see the booth of Senegal and tried to dance the newest style of sabre dance from Senegal in front of the booth to their ethnic music. The Senegalese in the booth were so astonished to see her dance, because her dance steps were the most recent ones. "How do you know this dance?" She was asked. She took some pictures of her and them and sent me one of them. She sounds like she enjoyed African culture and food and chatting in French.

     By the way, I don't know how she knew the dance, but she had practised jazz dance for more than 10 years since she was in short pants. She was so talented that was selected at the age of 12 as a member of the dance team dispatched by my city to Sacramento in California, USA. Sacramento is the sister city of my city and both cities have been mutually exchanging cultural envoys every two years.
     I guess when she was watching the performances on the stage for the first time, she might have picked up their steps. She likes dancing and I'm showing an old picture in which Eri and Yuri, the second daughter, were dancing at a campground in Canmore, near Banff in Alberta in 1995.
(Vocabulary)
in short pants: 幼少で
I've known Mike since he was in short pants. 子供のころから、マイクを知っている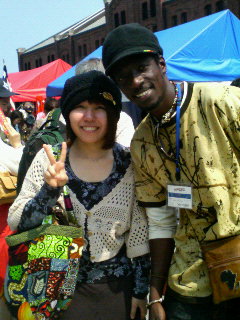 (KW: サクラメント セネガル ダンス)