We took seats on the right side. Shortly after the departure from Offenburg, I knew our train had turned a sharp left while I saw the railway track running straight from just beneath us. The train track was bifurcated several kilometers up north of Offenburg. I visualized the map of around here and knew that we were traveling to the west.
     About ten minutes later, the train reduced its speed abruptly and came to a standstill at the station that you can see in the first picture. A few dozen of teens and their teacher-like persons got onto the train here. I wondered from where they came. This station seemed to be just like the "Hikyo Eki" in Japan. It means the stations that are located in rarely-visited regions. The hundred stations are sanctioned as the "Hikyo Eki" and visiting these stations captures the hearts of many Japanese now. The stations, which you can't easily get to without trains and there are few houses around, are called "Hikyo Eki". Don't you think that this station was just in that category seeing the picture?
     After coming back to Japan, I checked the map and got the truth. A town was stretched out to the south from the station and it was the opposite side of our seats. It was not the "Hikyo Eki".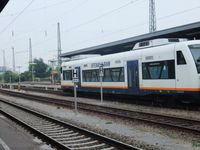 While remembering the "Hikyo Eki", our train slipped into the Kehl station, which seemed to be deserted. I didn't notice at that time, but this station looks like used to be huge judging from the satellite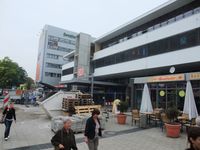 images. From Frankfurt to Basel, there is no branch line to extend to the river Rhine but this one, so Kehl might have been the important junction where the cargo was landed and loaded into the freight car. I took a picture of the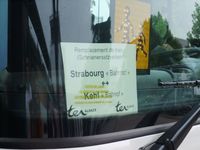 entrance of the Kehl station. The last picture was of the bus that we got on from Kehl to Strasbourg. The spelling of Strasbourg was wrong.
come to a standstill
 停止する, 行き詰まる
rarely-visited regions  
秘境
capture the heart of 
(場所などに)ブームを巻き起こす
deserted 
(場所・通りなどが) 人けのない, 閑散とした
branch line 
(鉄道の) 支線 【参考】
main line
land
 [他] (船・飛行機などから) 〈乗客・荷物など〉 を降ろす
They plan to land 3000 troops to the west of the city.  
彼らは3,000人の軍隊を市の西方に上陸させる予定だ。