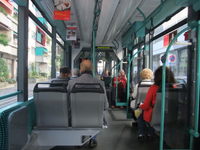 We headed for the Altstadt of Basel then. As we walked, we happened to come across a tram station and got on a tram that I
thought, would go to the south. It was lucky that the tram took us to the center of the city. It was also fun to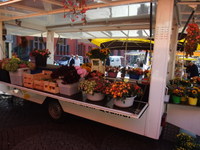 use a tram in the strange city. As we didn't have any special purpose in this city except visiting the three countries' corner, we could get off wherever we wanted and we were dropped off at the busiest street. It was the Markt-Platz, which means market place. The Markt-Platz was not so wide, but attracted huge crowds. Various vegetables, flowers and foods were sold there. I don't usually buy vegetables in Japan and didn't know if the prices were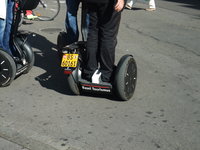 reasonable or not. I found a group running on Segway. It said "Basel Tourismus" on it. They must have been tourists. I'd never get on a Segway. The next time I would try it. The Segways had their license number plates on it. That is to say, Segways are supposed to be allowed to run on the streets though it is not permitted in Japan. There were many tables around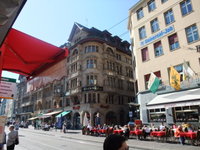 the Markt-Platz, but we tried to have lunch in a market stall. Two sausages, a bottle of mineral water and a non-alcohol beer cost twenty-some Euro. What? Though the woman at the stall didn't look bad, I thought she might be cheating us. The price was unbelievably high. The Swiss currency is Swiss Franc (CHF) and 1 CHF equals to 103 yen, while 1 Euro equals 133 yen. We didn't have CHF and had to pay with Euro. She asked twenty-some CHF and we paid twenty-some Euro. To tell the truth, I didn't know that Switzerland wasn't a member of EU until then. I received some coins from her and ate expensive sausages.(grin) After lunch,
we took a walk around and took lots of pictures. The last picture except two was of a sightseeing boat. The boat was going upstream. The next picture was of the Cathedral which was under repair. We could go up the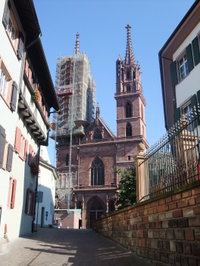 tower, but didn't. I'm afraid of heights. We got on a tram again at the station in !
the last picture and moved to the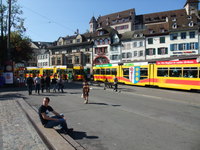 Basel SBB, the Basel station of Swiss National Railways.
(Vocabulary)
drop ([他]常に+[副]/[前]) (車などから人を)降ろす=drop off
drop sb at/in sth <人>を<場所>で降ろす
I'll drop you at the station. 駅で降ろしてあげますよ.
drop sb/sth ↔ off (車から) <人・荷物など>を降ろす, <物>を置いていく
market stall 市場の露店
acrophobia 高所恐怖症
be afraid of heights 高所恐怖症である