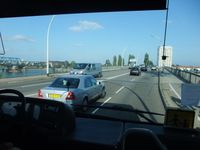 We got back to Germany by a bus and this was the last time passing over the border for this trip. I was expecting to be checked at the immigration control at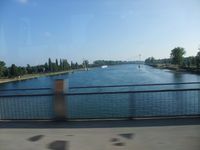 every border and the number of stamps on my passport would rise, but there was no check at the borders. The pictures were taken on the bridge over the river Rhine, the border between France and Germany. The fourth picture was shot when we just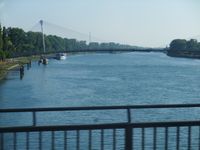 passed through the bridge and we were in Germany. 
We got relieved and relaxed to be back in Germany though we aren't German. I can understand German a little, but it wouldn't be the reason why we felt happy here. I think that my relief would imply that I really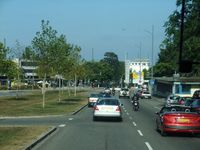 came to hate France this day.
     By the way, I recalled a tiny bridge that had been the most miserable and ridiculous bridge in the world. I visited there with my eldest daughter early spring and wrote the trip notes in this blog. If you are interested in the bridge, please look
here
. Will the day come when some day people could freely walk on the bridge?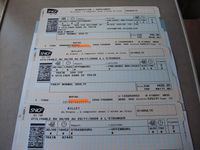 The last picture shows the ticket from Strasbourg to Freiburg. I noticed the schema of a block calendar and a clock on the face. It might have been for people who didn't know French, but I thought that "DATE" or "TIME" should be all right. I wondered how high the literacy rate is in France.
(Vocabulary)

block calendar / tear-off calendar  
日めくり
face  
(時計の) 文字盤
a clock face