"Sakano Ueno Kumo" is the title of a famous novel written by Ryotaro Shiba, dealing with the Japanese-Russo War (1904-05). Just for your information, greedy Russia hatched a plot to invade Manchuria, the Korean Peninsula and Japan at that time and Japan was able to foil the plot and fight them back in the war. It was the first-ever war that the colored race could repel the white race. All Asian and colored people erupted into cheers and applause for Japan's victory because lots of countries and areas in Asia and Africa were ruled by the white people then.
  To continue, the major naval battle fought during the war is the Battle of Tsushima, commonly known as the "Sea of Japan Naval Battle" in Japan. The flagship of the Japanese fleet was "Battleship Mikasa" and I wrote about the battleship (1, 2, 3) before.
  Now my friend is shooting the NHK TV drama "Sakano Ueno Kumo" as the executive producer. He talked with me about the location site of the drama and I had wanted to visit the site. The site, then, was on my way to today's destination, Toyama City. Naturally, we visited there and expected the full-scale Mikasa, but it was disappointing.
  That is to say, it was built only for shooting the drama and not for the museum which has historical significance. The stern of the ship was omitted and the space under the left side of the deck was the storage space for shooting materials and stage properties. The commander, Heihachirou Togo, is said to have stood still on the deck during the fight to know how things went on against the risk of his life. The place where he was standing must have been important in terms of shooting the drama, but it was not set up. That scene would have been shot in another place using a smaller set or something. To my surprise, this backlot was utilized not only as Mikasa, but as Russian military vessels as well. Some pictures were displayed and I'll show you some of them. The destroyed Russian battleships in the pictures were reproduced on this same Mikasa. It would be an usual way of shooting movies.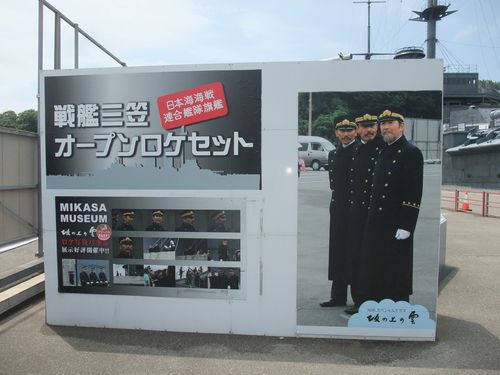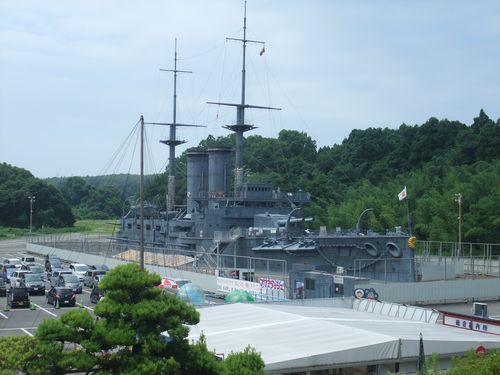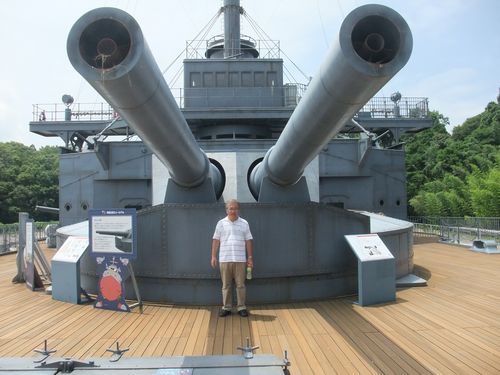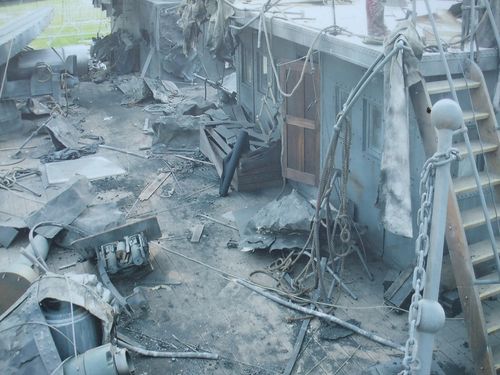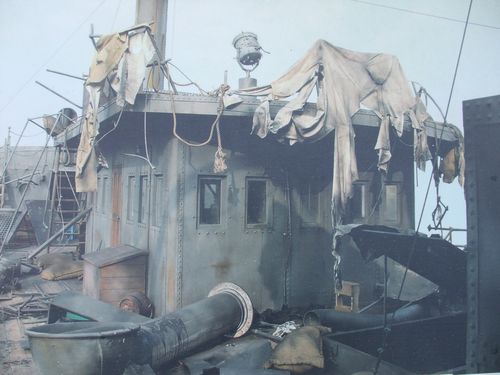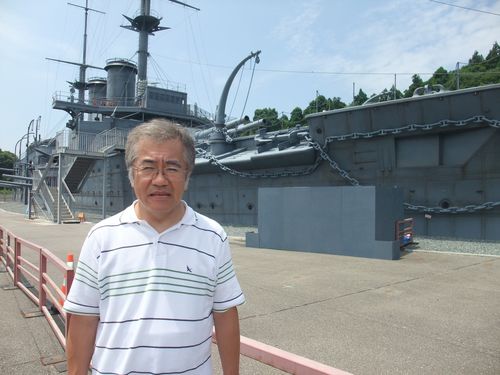 (Vocabulary)
location / shooting place  ロケ地
Japanese-Russo War 日露戦争
Manchuria  満州
hatch a plot  陰謀を企てる, たくらむ
foil a plot  陰謀を阻止する
To continue,  話を続けますが、
as large [big] as life / full-scale 実物大の
stage properties 小道具
backlot (映画会社所有の) 野外撮影用地
reproduce  再現する