The next day was rainy. The picture was taken on the way to the restaurant through the window of the aisle in the hotel. In Beppu City, clouds of white steam rise from all over the city. Tourists who visit the city for the first time might think they were fires. I'm really sorry not to be able to show you a clear view of the city.
  At the restaurant, what you call a smorgasbord style one, I could have as much as I wanted from lots of dishes. I was fully satisfied with them for there was a variety of cuisine. I've only ever stayed in German, Canadian and American hotels and often utilized the same style restaurants. The dishes that had been served there were all western dishes. It's, of course, natural. When in Rome, do as the Romans. However, I sometimes felt like eating acquired tastes. IN JAPAN, I can have both Japanese and western cuisine in a single restaurant. The second picture was my first serving; rice, miso soup, tofu, jako (dried young sardines), a boiled egg which was heated with the steam from the earth and a western style dish. I like my bacon crispy but it was soft, to my regret.
  After breakfast, we started sightseeing in the rain and I'll show you the unique tourist attractions in the next entry.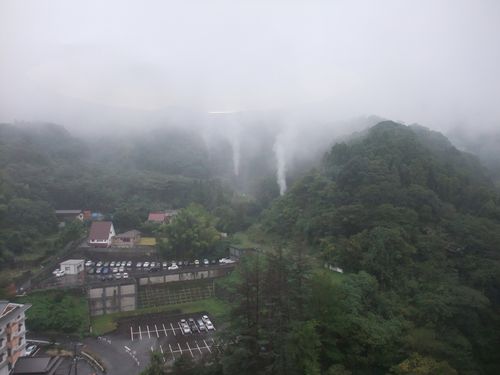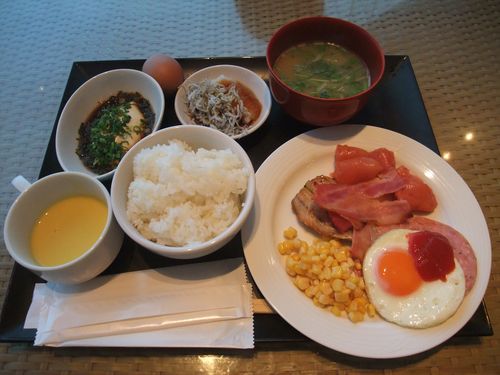 (Vocabulary)
a variety of sth  さまざまな<…>
acquired taste  慣れ親しんだ味, 習い覚えて好きになっていくもの
acquire a taste for sth   <…>が好きになる
like  (好み・嗜好(しこう)などについて) …を好む
I like my coffee strong.  コーヒーは濃いのが好きです.