After I arrived at Osaka International Airport, I had to ride to my hometown for about 6 hours, but I had another plan to visit my friends in Kobe, with whom I had visited Canada in 2012 for skiing. I'd like to visit Whistler again next March after 3 years' interval. It was the meeting for that. The plan isn't yet fixed, but if my friends will go, I'm going to join them.
  I arrived at my home at 21:00 hours. I was thankful to get back home without any accidents. I got e-mails from two friends with whom I went, saying that they also were back.
  I'll show you two flags and some comical certificates in the pictures. When I visited Hokkaido in 2001 and stopped by a Hokuren filling station, their flags were out of stock. It's the flag in the first picture that an attendant gave me at that time, saying that if I didn't mind, it was one of the last year's. So, I added "+1" to the year number, 2000. The small slip of paper reads "It certifies that you filled your tank in the NORTHERNMOST service station." Take a look at the second picture next. The flag in the picture was given in 2006 and the small slip certifies that I ate SEA LION meat in the small island of Rebun.
  By the way, I'm vaguely thinking of the next plan. How about Karafuto, Sakhalin in English. I heard the paths in Sakhalin are mostly bad and have bumps all over. Should I replace my scooter with an off-road type motorcycle? Or shall I rent one somewhere? At present, I'll visit Sakhalin in 3 years. I was going to visit South Korea several years ago, and I learned the Korean language. Now I can understand basic conversation required in usual sightseeing, like greetings, for shopping, for the transportation system, and so on. However, Russian appears to be fairly difficult. What shall I do?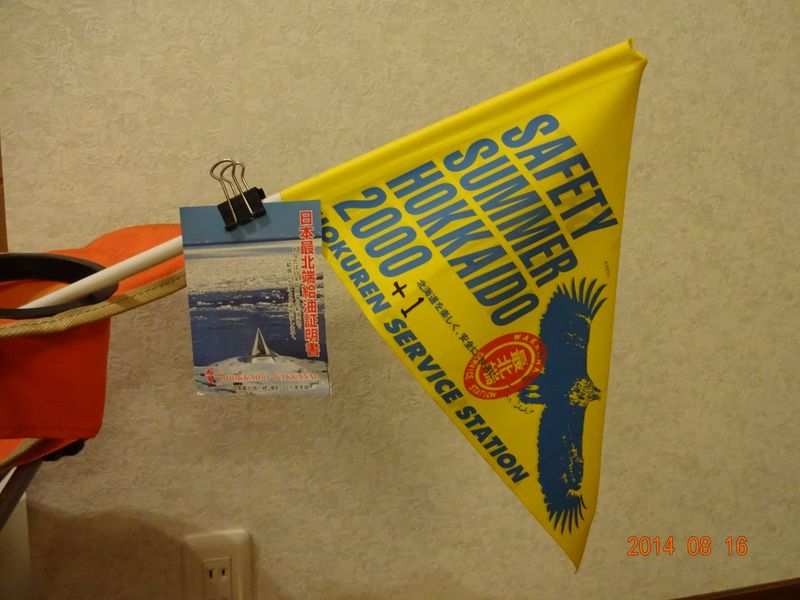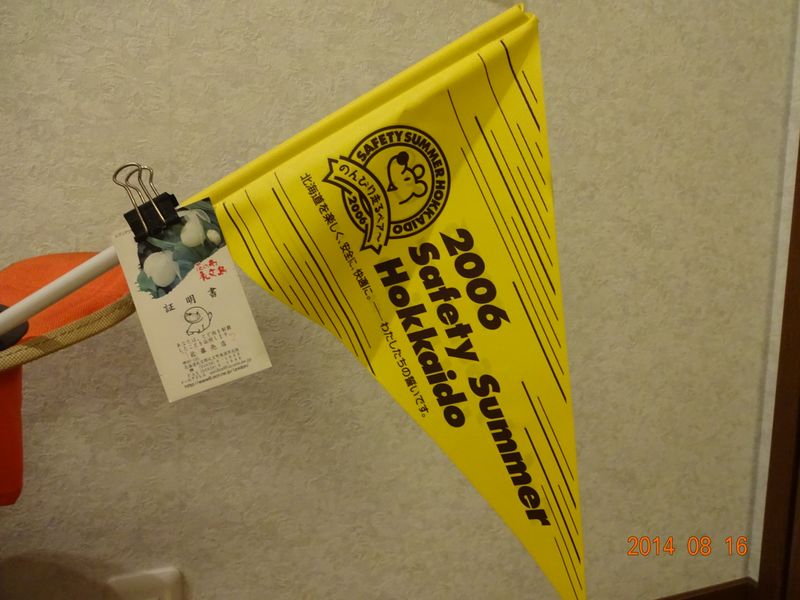 飛行機は伊丹に着いた。大阪からは6時間かけて愛媛に戻るが、神戸に寄り道。来春のカナダツアーについてスキー仲間と相談する。もし彼らが行くなら一緒に行こうと思う。3年前に成田に降りることができず、エアカナダからのプレゼントのソウルツアーをした仲間だ。そして21時頃自宅に着いた。事故もなく楽しい旅だった。

 以下に写真を呈示する。2001年のツーリングでホクレンの旗が在庫切れでその前の旗をもらった。なので+1と追加記入している。小さな紙切れは日本最北端の給油所で給油したという証明書。土地柄か、このような証明書があちこちで配布される。今回も知床の先端を見たという証明書をもらった。2枚目は2006年の旗。礼文島でトド肉を食べたという証明書を付けている。
 さて、次の計画である。今のところ、3年先くらいの樺太ツーリングを考えている。道が悪いらしいのでオフ車で行かなければならない。買い換えるか、レンタルするか、さらに挨拶程度のロシア語を勉強していくか。

 これでツーリング記はおわりです。長い間お付きあいくださりありがとうございました。