Two ferry companies operate between Aomori and Hakodate. I chose the cheaper one to save money. It was apparently not for sightseers but for freight transportation, and wasn't equipped with any amusement facilities. The passengers were several local people and professional truck drivers except us.
  I wanted to see a certain landscape from the boat. It was Hotokegaura which I had visited 10 years before. It's my article in which I wrote about Hotokegaura (URL). I wasn't able to view it from offshore at that time because I didn't have time to wait for the sightseeing boat. Even if from the far offshore, I'd like to see the unusual terrain. Checking my location on the Google Map, I magnified the view through my camera and found it. I'll upload the picture and the point from which I took a shot.
  By the way, I happened to find a monument honoring Omachi Keigetu at Hotokegaura 10 years ago. I didn't pay much attention to it then, but I came across another monument also honoring him later in a small village in Kochi Prefecture. He loved nature, travels, and hot spas all his life. He was born in Kochi and so it's natural that his monument stood in Kochi Prefecture. However, why in Aomori? I'm not so interested in him, and left this question unsolved when I saw his monument in Kochi..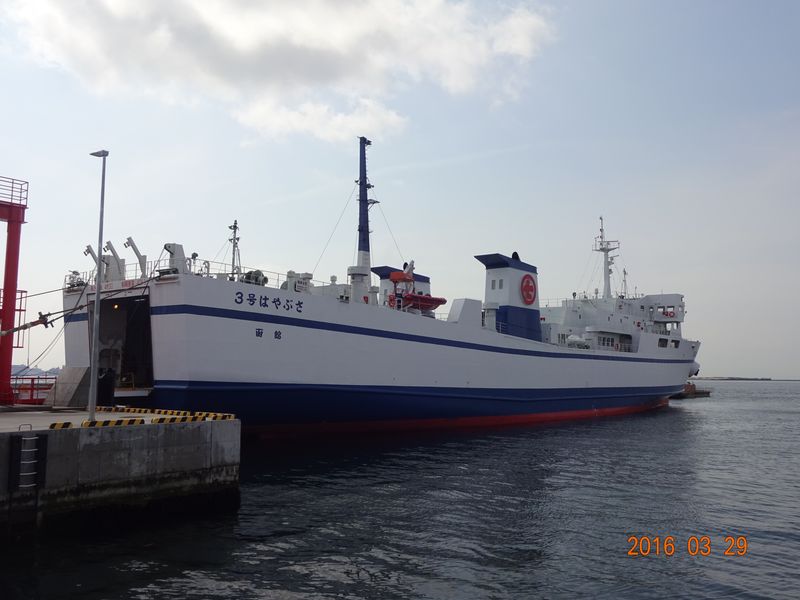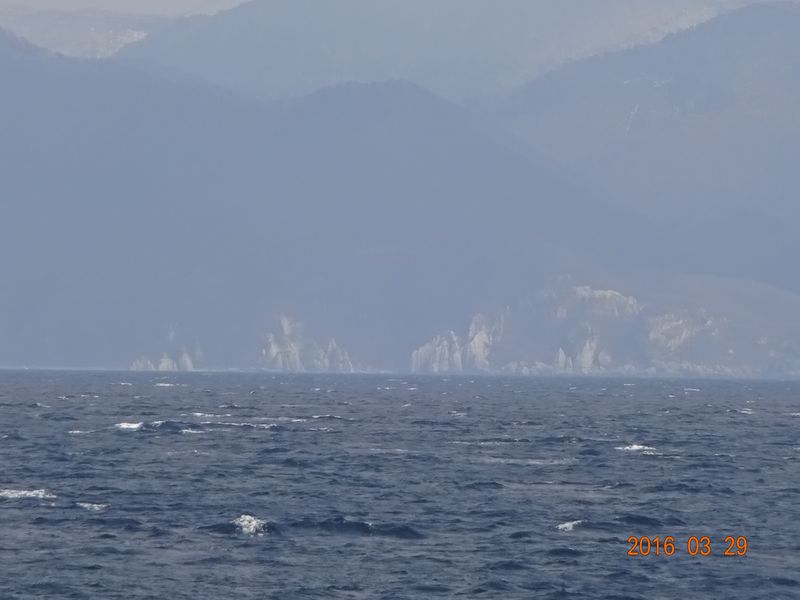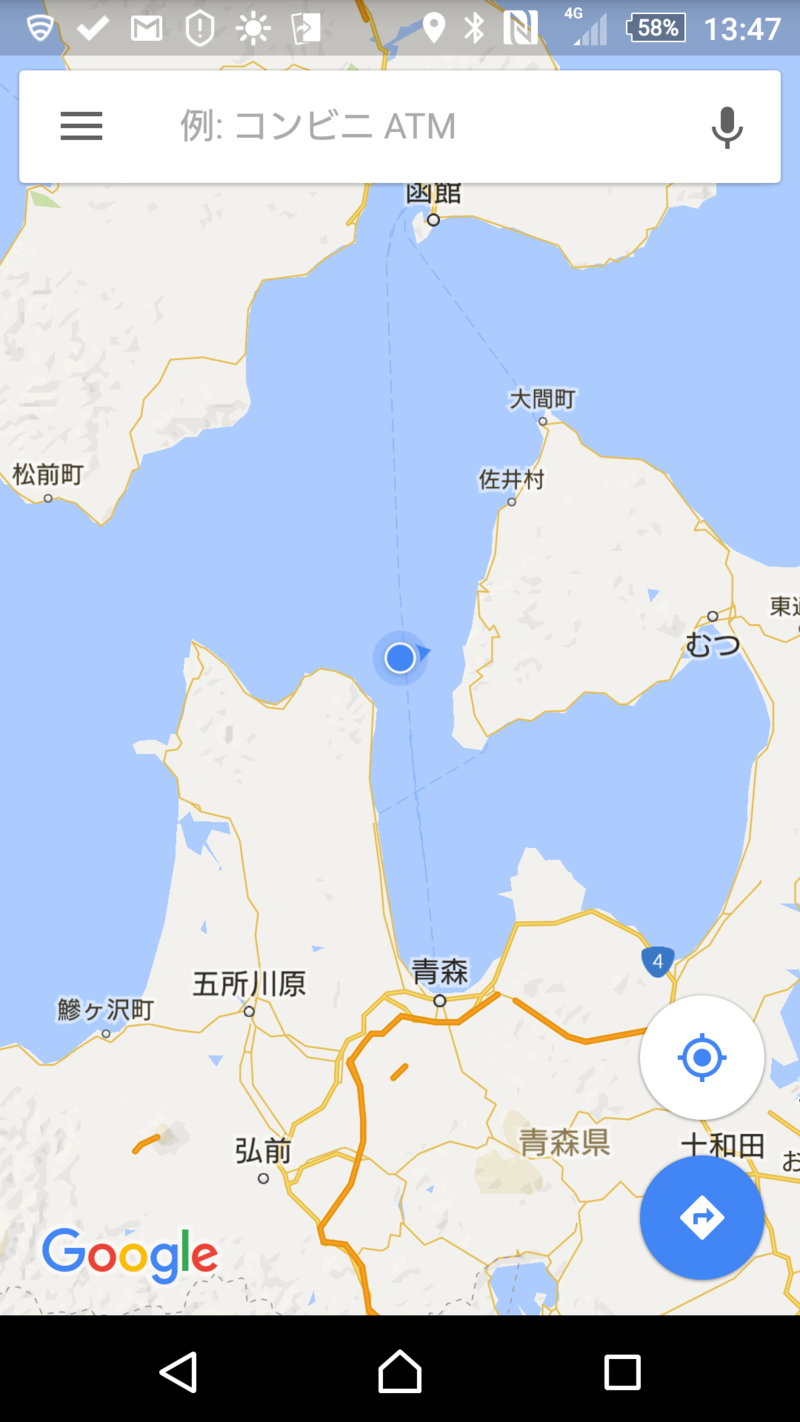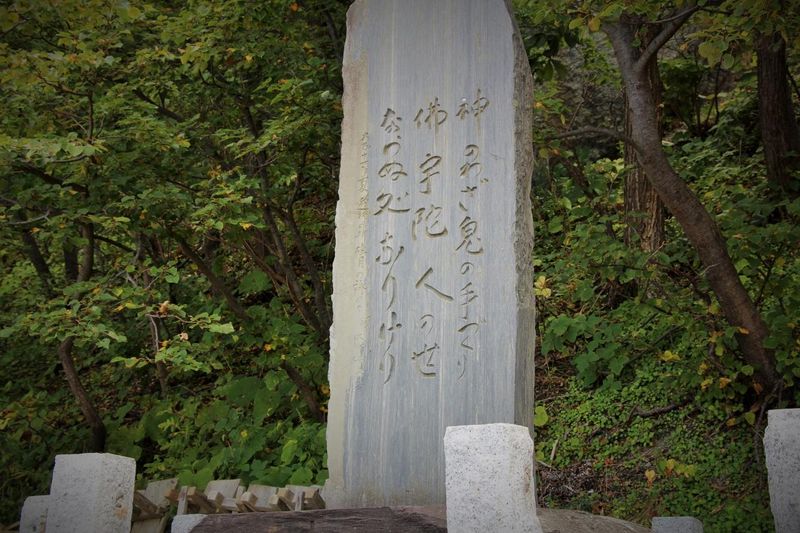 http://kumo.typepad.jp/weblog/2006/08/hotokegaura-jap.html    (The 3rd picture in this article shows the same monument.)

 フェリーには2系統あるが、安い方。船内設備が古いだけで問題なし。観光客は我々だけで、他には地元の人が数名とトラックドライバーが10人くらい。船内には娯楽施設は全くなし。貨物輸送がメインのフェリーなのだろう。
 
 見たい景色があった。10年前に訪れた仏ヶ浦。時間が無くて遊覧船に乗れず沖合からの風景を見ることができなかったのだ。グーグルマップを見ながら位置を確認し、カメラのレンズを強拡大にしてさがすと、、、見つけた!
 この仏ヶ浦で10年前、大町桂月の碑をみつけた。このときは誰だろうと思う程度で気にとめなかったのだが、その後しばらくして、高知県檮原町で大町桂月の碑を見つけたのである。そのとき、彼の名前の桂月は高知県の観光地、桂浜に昇る月からとられたと知った。が、そこまでだった。はからずもこの旅で彼を深く知ることになる。