When I woke up, it was raining. I was sad but only because I was disappointed because I was going to ride a road bike for the first time. As my car was a 2-seater and I was not able to bring my bicycle there, I rented a road bike shown in the first picture. Then I got to the meeting point of beginners. All the participants were grouped into two groups, i.e. advanced and beginners and I belonged to the beginners, who would ride for 40km. FYI, the advanced cyclists would ride for 100km around the island.
  Participants classified into the beginners group were separated into smaller groups which consisted of 5 to 8 persons and each group was led by a skilled cyclist. Our team started at about 9:30 am. Reaching the entry of a large inlet, we deposited our bikes into a transportation truck as shown in the second picture. Our bikes were supposed to be carried to the destination of the small and tiny ferryboat, which we were going to get on board there. The destination of the ferryboat was the theme park of Nijushino Hitomi Eigamura.
  Let me write about this park. "Nijushino Hitomi" literally means 24 eyes. The park was built on the basis of the movie set for "Nijushino Hitomi", in which a young woman was dispatched as a school teacher and took on 12 pupils, i.e. 24 eyes. The story was in the era before the Great East Asian War. Years later, the teacher came back to the island and heard about the former pupil's stories. Some of them were still not accounted for in the battlefield, and some of them were killed by the enemy's bombing. Recalling her happy days with pupils, she shed tears. The ending scene was like that. The author was born on Shodoshima island and the story was from her real life.
  I took a walk after lunch in the park and started riding on the way back. We dropped in at a few resting sites and received cordial welcomes at every site. In the last but one picture, we were served olive-related products. The last picture was shot when all the beginners' teams got back without any accident!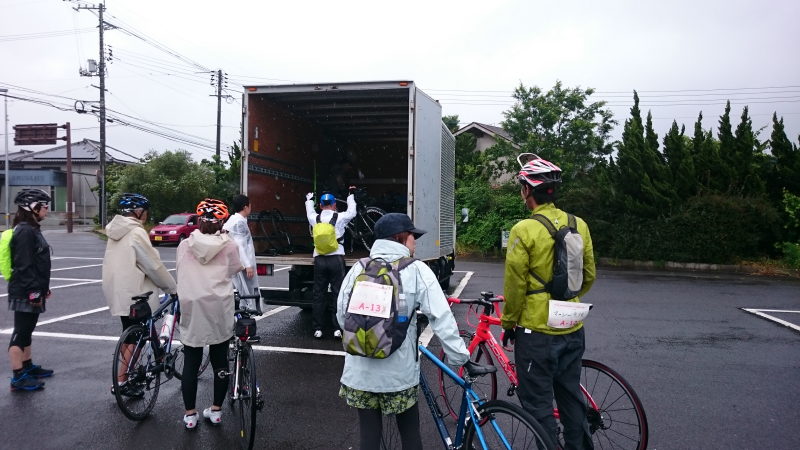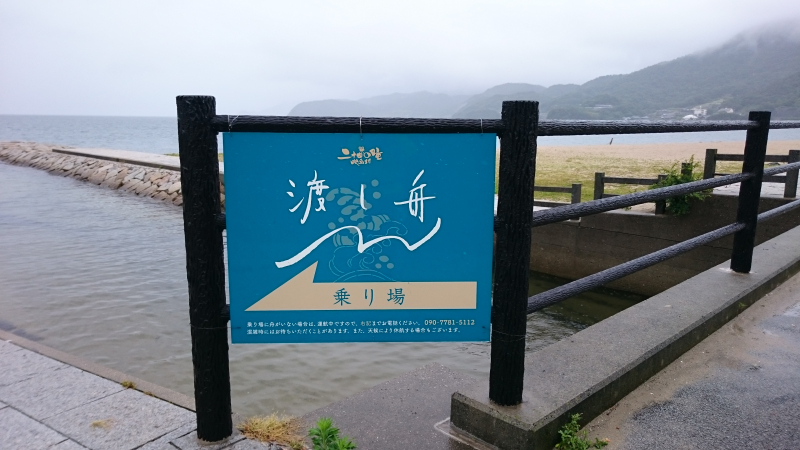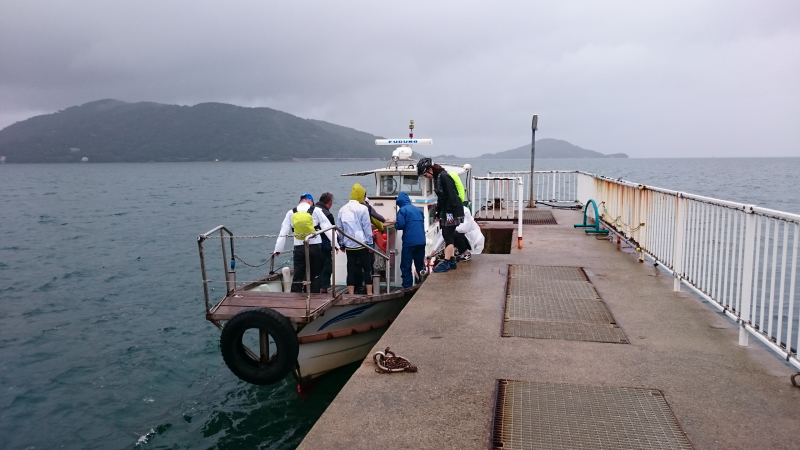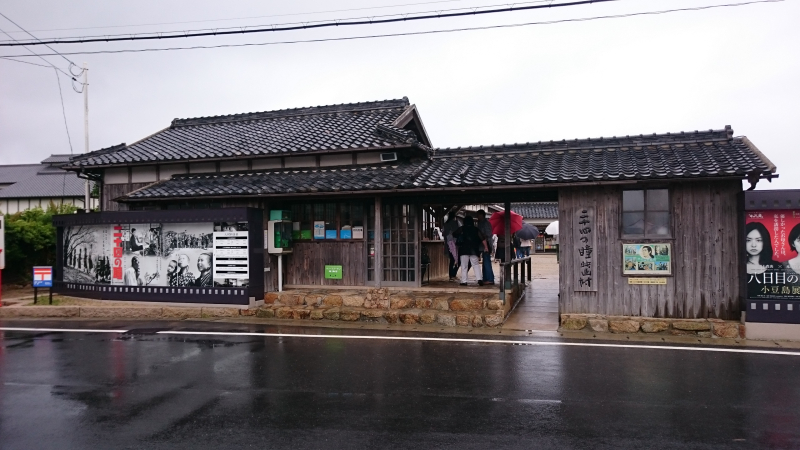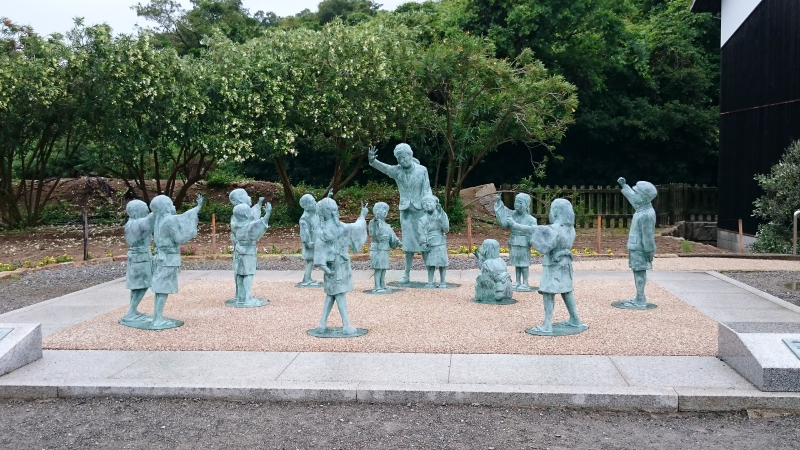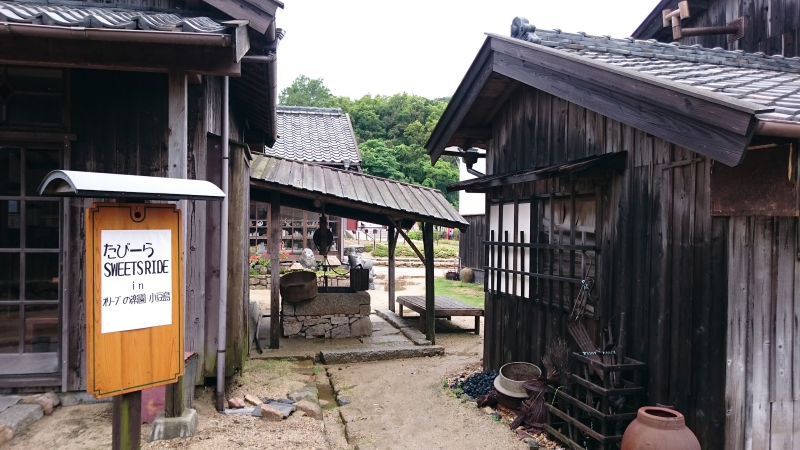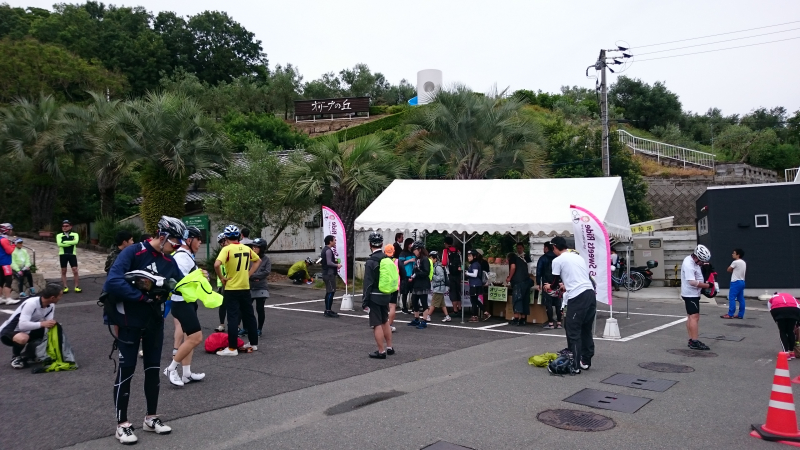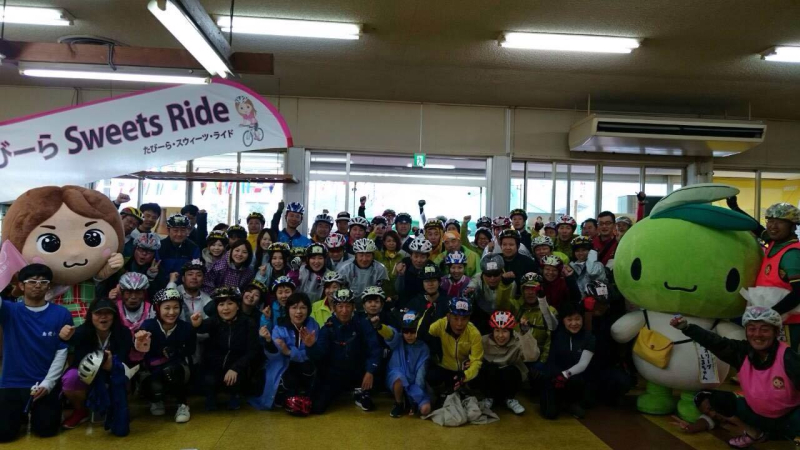 天気は雨。1枚目の写真はレンタルした自転車。ツアーは上級者と初心者に分けられ、上級者は島一周100km、僕は初心者コースで入り組んだ入江は渡し船でパスすることで走行距離を短縮して40km。
途中で自転車をスタッフに預けて渡し船に乗った。この船は二十四の瞳映画村の前まで行く。映画村内で弁当を食べてしばらく散歩。帰途、オリーブの丘でオリーブを使ったお菓子やそうめんなどごちそうになる。
 映画村は二十四の瞳という映画が撮影された跡地に立っている。映画の原作はこの島出身の作家による。映画は、ある若い女性が教師になって初めて赴任したこの島の小学校で12人の子供を教える。そして転勤する。その後大東亜戦争が起こり、ふたたびこの島へやって来た女教師はかつての教え子の何人かと再会し、他の子供達のその後を聞く。戦争で何人も死んでいた。最後には涙を流さずにはいられない。
 映画村からの帰途、地元企業に立ち寄りながら甘い物をたくさんいただく。事故なく皆ゴールに戻り記念撮影。