I saw some serious news on the front page of a newspaper, which was delivered to our room for free. It told that a patient infected with the Zika virus had died in Sabah province where we were. I hoped that the quarantine procedure entering Japan wouldn't be influenced by it.
  I was interested in items which were displayed under the numerous blue tents which were seen under the window, but we decided to visit the Sabah Museum at first, because we couldn't figure out how long it would take to see all the exhibition. We walked through the bunch of tents at a brisk pace and took a taxi to buy time, though I wanted to use the public bus service. The driver was really kind and we took his taxi on our way back. I felt that most people in KK were amiable, as I felt alike in Kuala Lumpur. A person whom we met last night in a restaurant kindly helped us order dishes. Such little kindnesses which we receive in strange countries makes me happy. I realized that I should be kind to international visitors in Japan.
  The museum consisted of two buildings; the Main Building and the Heritage Village. As we approached the main building, its distinctive shape caught my eye. According to the driver's story, it derived from the traditional folk houses of the Rungus and Murut tribes. Those houses are called Rungus or Murut Longhouses.
(Vocabulary)
Sabah Museum サバ州立博物館
brisk 〈足取りなどが〉 きびきびした, 活発な
a brisk walk 早足の散歩
buy time 時間を稼ぐ
Rungus ルングス族
Murut ムルット族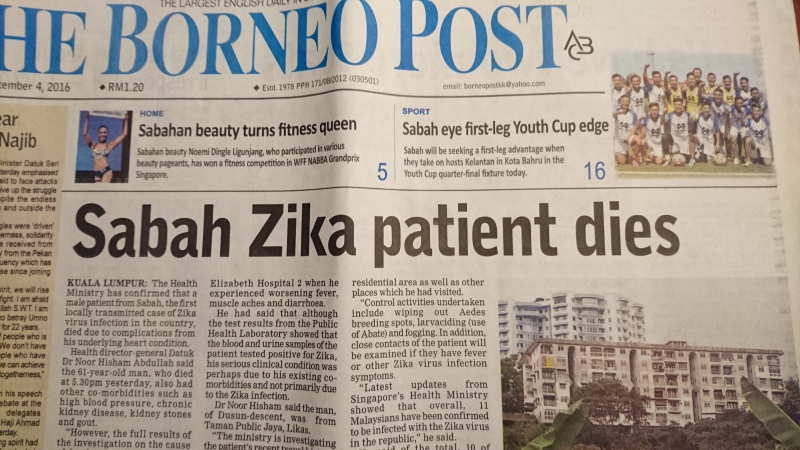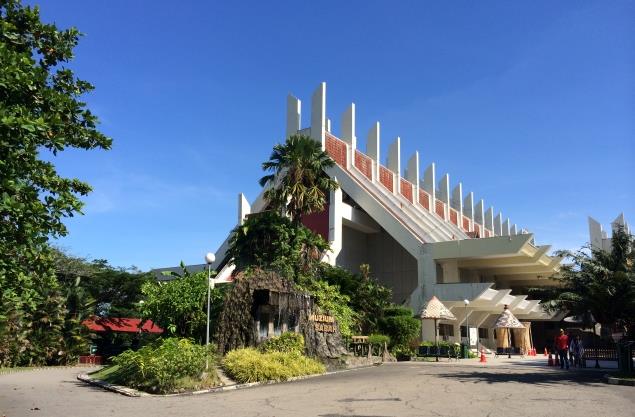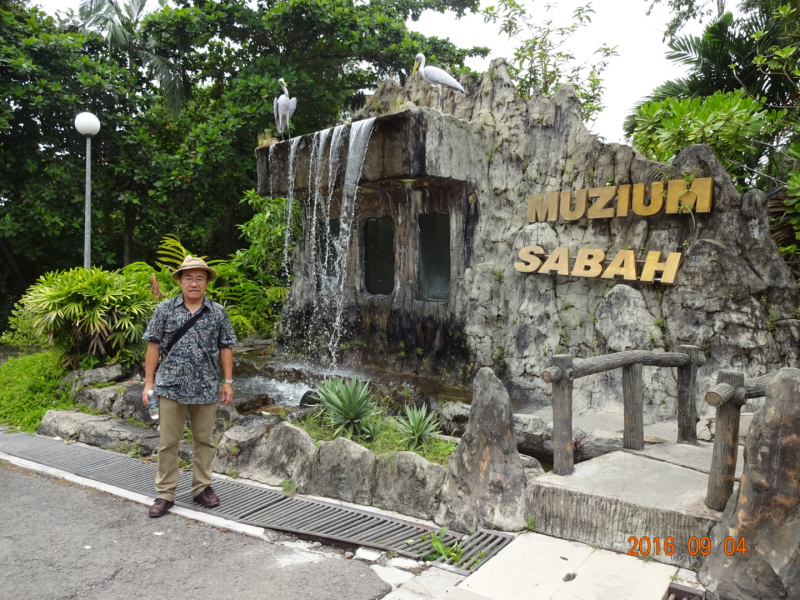 マレーシア旅行記: ジカウイルス! サバ州立博物館へ
部屋に届けられた新聞の一面にジカウイルスで患者が死亡したというニュース。なんと我々のいるサバ州の話だった。帰国時に成田で、検疫で時間をロスすることが無ければ良いのだが、、
 
窓から見えるテントの中でどんな物が売られているのか楽しみだが、今日はまずはサバ州立博物館へ向かうことにした。ガヤ通りを足早に抜けた後、サバ州立博物館へ向かった。マレーシアに到着してからまだバスに乗ったことが無かったのでバスに乗りたかったのだが、時間を稼ぐためにタクシーを利用した。運転手は実に親切な人で、電話番号を聞いて帰りも利用することにした。クアラルンプールでも感じたが、総じて親切な人が多いような気がした。昨夜のレストランでの通訳もしかり。訪れた国でのこんな小さな親切がその国のファンを増やすのだろうなあと思う。日本に帰ったら外国からのお客さんに親切にしなくてはいけないなと思う。
 
博物館は本館とヘリテージ・ビレッジから構成されている。本館に近づくとその独特の形が目に入った。運転手によるとルングス族、ムルット族のロングハウスを模したものという。