Most tourists seemed to be heavily worn out. We were supposed to walk around the city center for an hour in the afternoon, but even local people weren't walking outside. I thought that one hour was useless. I can't help pointing it out to be a fault of the travel agency. There would be other air-conditioned facilities and tourist spots, or beautiful scenery which we were able to see from inside of the bus. Looking at the map, the area we visited was only a small southeastern part of the island. We didn't see well-known beautiful beaches on the west coast. I know it's hindsight-based opinion, but I should have picked up an air-conditioned taxi for sightseeing. In Phuket, you should spend time at beaches, I assumed.
  When our bus stopped at the pier, which was connected to the Diamond Princess, I was relieved. The picture shows the Diamond Princess and its tender boat coming to pick us up. "I can get back to my comfortable cabin." I uttered silently in my mind.
  My cabin wasn't equipped with a bathtub, and I bathed in the Japanese-style public bath this evening. Then I took a walk on the stern deck. There was a basketball and volleyball court. The second picture shows my dessert. I was able to eat as much dessert as I wanted. I got a hunch to gain weight. I was determined to have some exercise on the next day and slept.
(Vocabulary)
hunch 予感, 虫の知らせ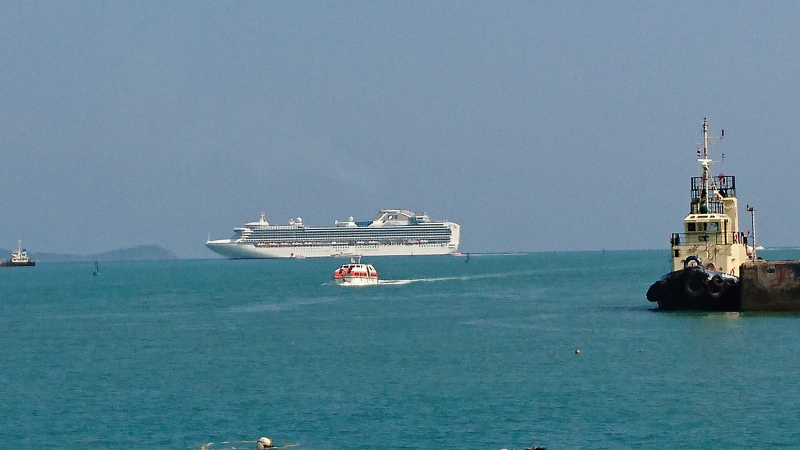 昼からはツアー客のほとんどが暑さに参っていた。予定ではプーケットタウンの街を自由行動となっていたが、外を歩いている現地の人など、ほとんどいない。この1時間ほどは無駄な時間だった。旅行会社の観光スケジュールは間違っていたと言わざるを得ない。冷房の効いた観光施設、あるいはバスから眺める美しい景色が他にもあったろうにと残念に思った。地図を見ると我々が廻った地域は島の南東部のごく一部。有名なビーチが並ぶ西岸地域は行けなかった。結果論だが、冷房付きのタクシーをチャーターすればよかった。
バスが桟橋について沖に待つダイヤモンド・プリンセスを見てホッとした。写真は沖に停泊するダイヤモンド・プリンセスと迎えに来ているテンダーボート。やっと船に戻ることができる。つまり、快適な場所に戻ることができると言うことでツアー客には安堵の表情がありありと出ていた。
我々の船室にはシャワーしかなかったので、夜は久しぶりに日本式の風呂に入り、船尾方面を散歩。屋上にはバスケットボールやバレーボールのできるコートがあった。写真は夕食の後のデザート。もちろんデザートも数十種類あって、食べ放題。太る予感。明日は運動をしようと心に決めて就寝。