I'll show you our room in which we would stay three nights and four days. It was fairly spacious for the three of us and we felt a little bit lonesome from its space. There were two bathrooms and a closet other than pictures which I had uploaded. We wanted to try some cooking with local materials, but didn't. We thought it would produce leftovers of ingredients and seasonings.
  In the end, we used our kitchen only for boiling water, brewing our coffee, and making several pieces of toast, or warming something in the microwave. Next time, anyway, we have to bring some seasonings from Japan. Furthermore the room was equipped with a washing and drying machine. When we went out, we perspired so much. It was handy that we were able to change clothes every time we went out.
  We saw a magnificent view of Waikiki Beach from the balcony, though Diamond Head was behind a building. This trip was only 3 days and we wanted to spend the time efficiently, but my wife was suffering heavily from jet lag. Only my daughter and I went out for sightseeing. The travel agent from whom I bought air tickets offered us discount tickets for the trolleybus in the downtown. We took it and headed for the biggest Hawaiian shopping mall called the Ala Moana Center.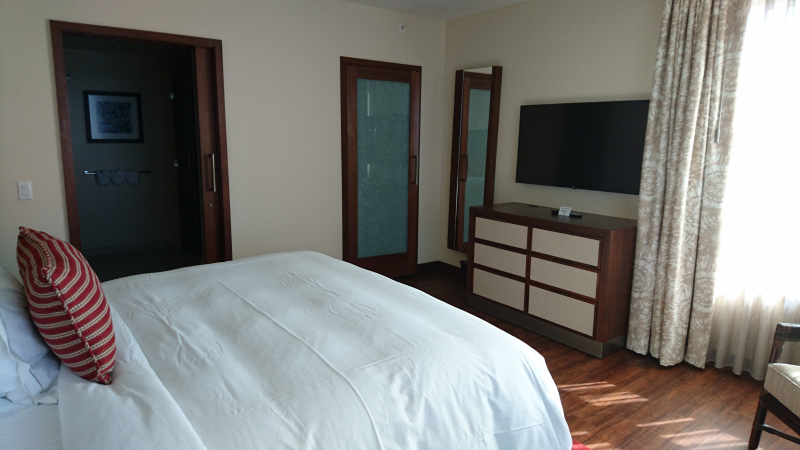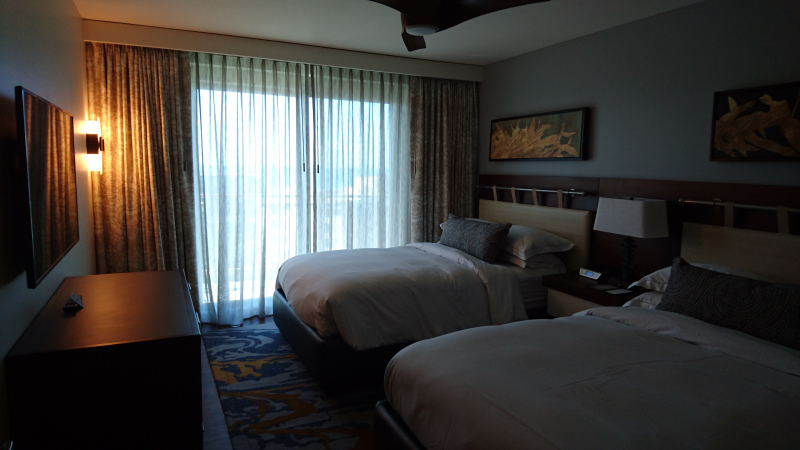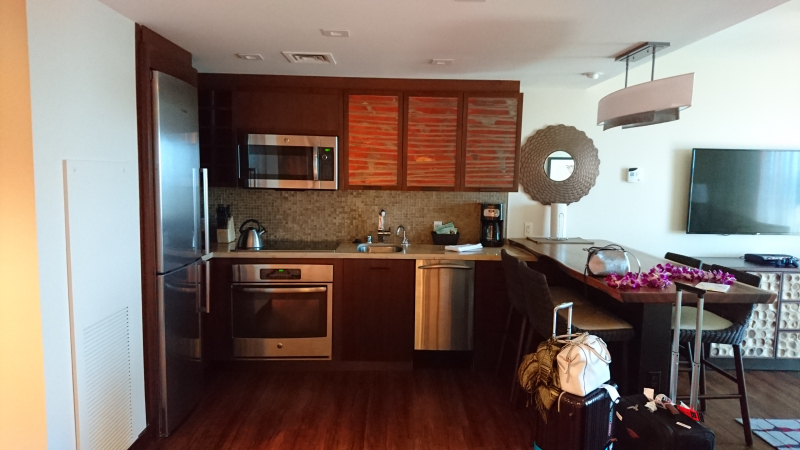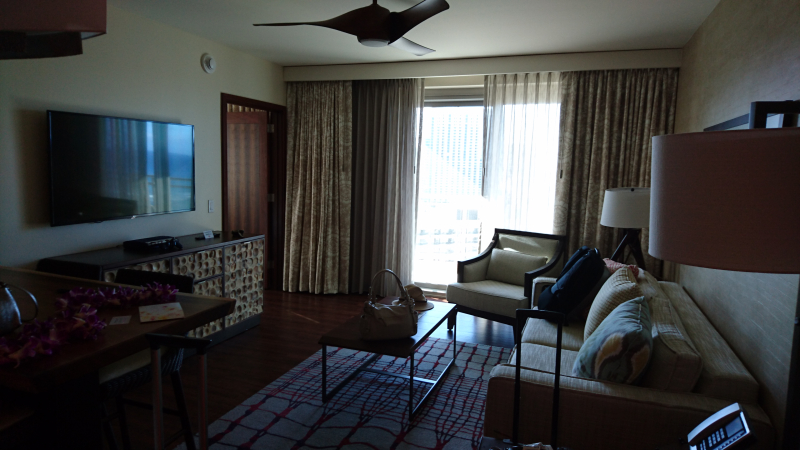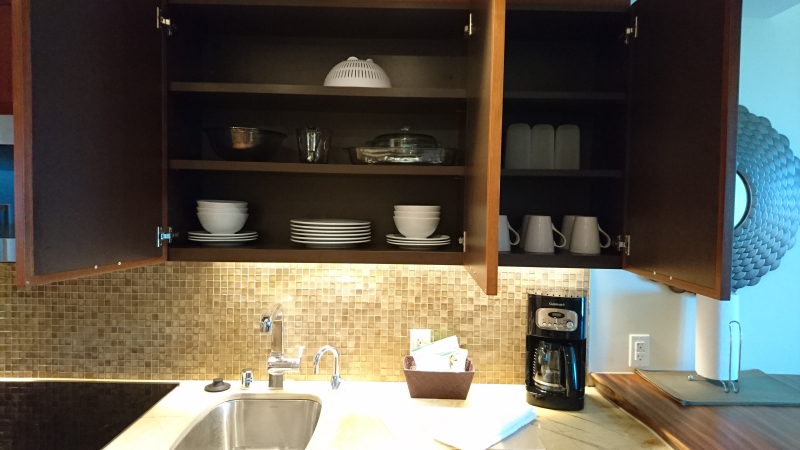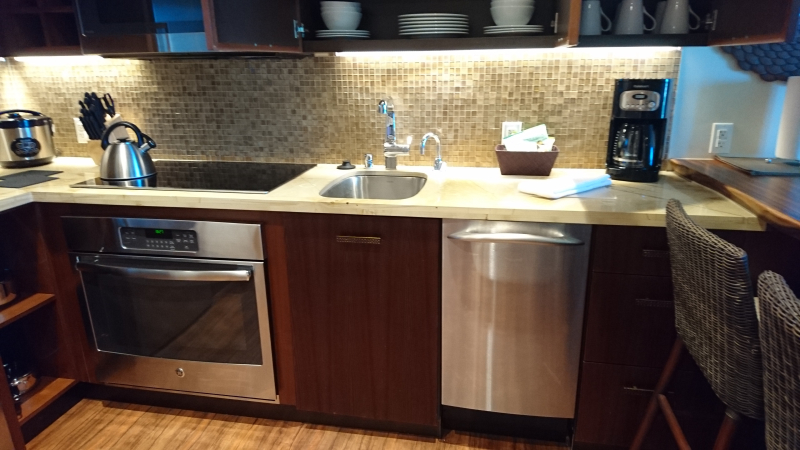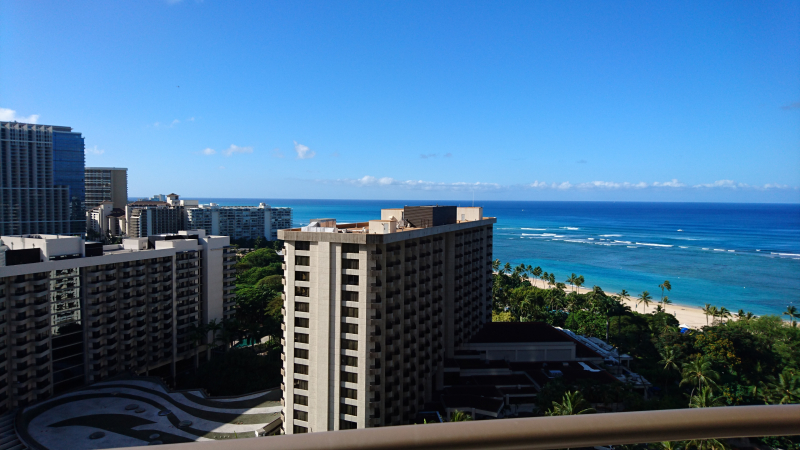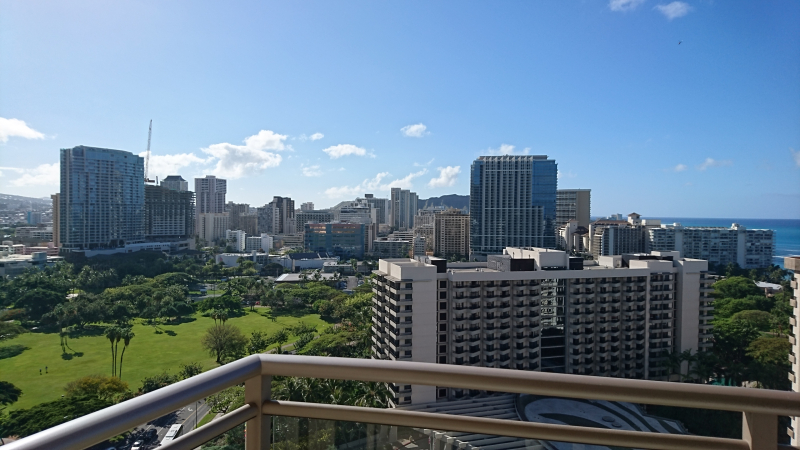 3泊する予定のコンドミニアム。3人では寂しく感じるほど広い。アップした写真以外にバスルームが2つ、クローゼットもあった。地元の食材で料理を試してもみたいが、調味料などが余るだろうし、手間もかかりそうなので、調理はやめた。お湯を沸かしたり、コーヒーを入れたり、トーストを作ったり、その程度のことにしかキッチンは使わなかったが、使いやすいキッチンだった。そして洗濯機と乾燥機もあった。外を歩くと汗をかくが帰宅してすぐに洗濯できる。
バルコニーからはワイキキの浜辺が一望できた。ダイヤモンドヘッドはビルの陰で残念ながら見えず。今回は3日しかないのでワイキキを見て回ることにした。カミさんは酷い時差ぼけで眠くて堪らないと言い、コンドミニアムで熟睡。で、娘と僕はHISからいただいたトロリーバス乗り放題チケットを使ってワイキキの街を巡ってみることにした。まず向かったのはアラモアナセンター。