On the way back to our inn from the sushi restaurant, I ran into a convenience store and entered the store. I wanted to know what the inside was like though I thought every convenience store was the same all across the country.
I happened to find a wine named Otaru. I found myself with the wine in the basket at the next moment. Besides that I picked up some nibblies and a bottle of tea.
The wine "Otaru" tasted so-so. I should have chosen another wine.
At any rate, I had a relaxing time far away from my office. "No Emergency Call" is very good for my mental health.
(Vocabulary)
nightcap 寝酒
run into = bump into
run into somebody (インフォーマル) <人>にばったり会う
I ran into Ruth this morning outside the station.
今朝駅前でルースにばったり会った.
nibble  [自] 少しずつかじる, つつく
nibble at/on sth  <食べ物など>をちびちび食べる
nibbles 《複数扱い》(英)(インフォーマル) おつまみ, スナック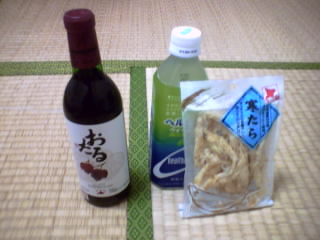 (KW: 小樽 コンビニ ワイン)