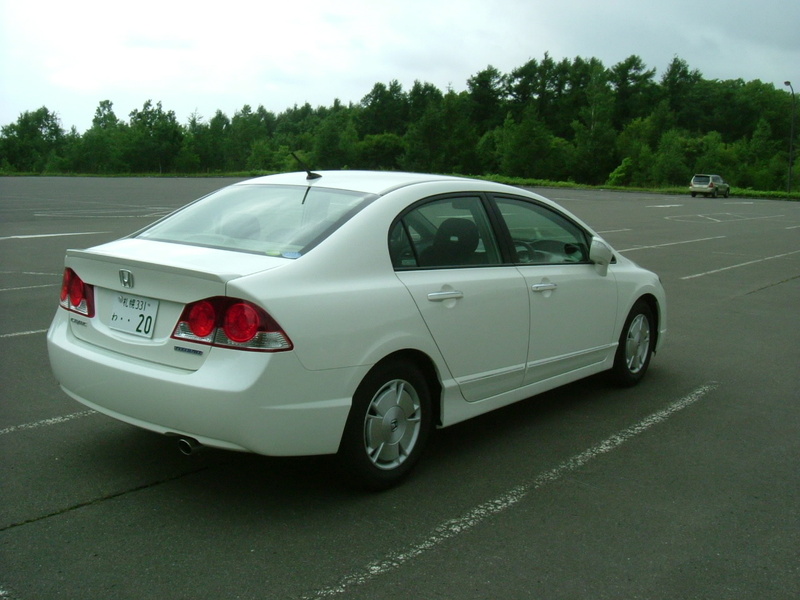 This car was our car during the 2 days. It cost 24,000 yen (about 200 US dollars) for two days with full insurance. I knew only the name of a hybrid car, a TOYOTA Prius, but I hadn't driven one. Though this is not so well-known in the world, HONDA revealed their hybrid car a while ago. I was going to drive this new hybrid car since I had started to plan this trip with my daughter. This car was planned and produced after Prius had started to be rolled out, so I thought and expected that this car was just like or better than Prius in everything. HONDA is the type of company that tries to outstrip their competetors all the time.
As you can see, the parking lot was not crowded. It was maybe because of the cloudy and sometimes rainy weather.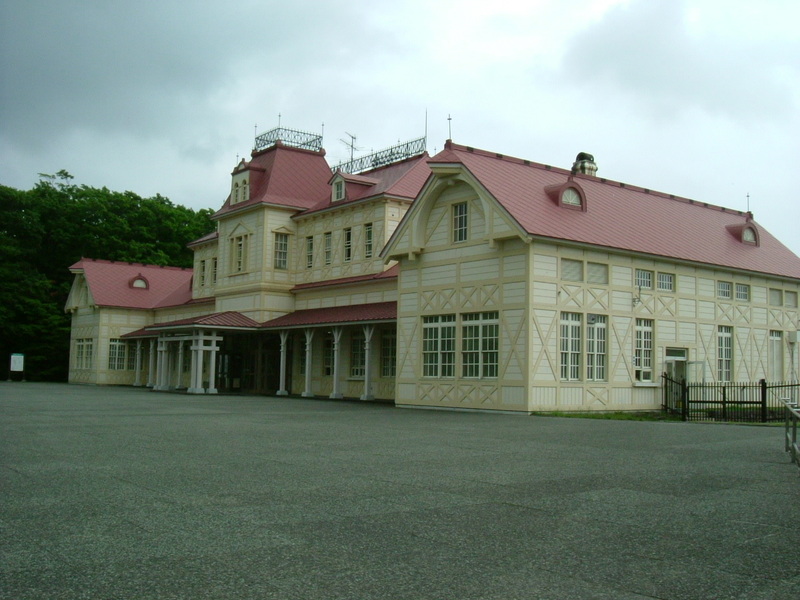 This is the entrance building of the village. People buy tickets and receive some pamphlets and information about the village. The name of the village isn't the real village. This is kind of a theme park, like Disneyland. This park has also its own museum but it was closed today. Today seemed to be a regular closed day of the week. It might be another reason that there were few people.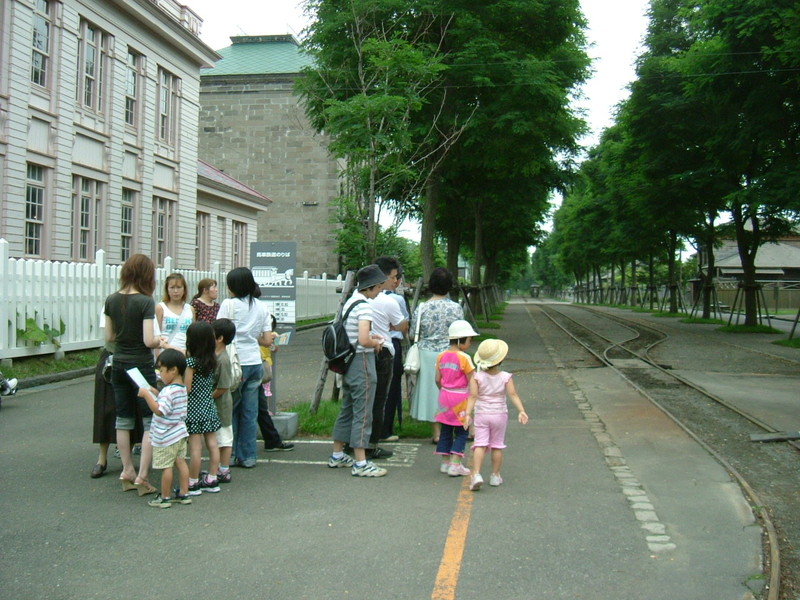 This facility is kind of a theme park, of course, but has the nature of a museum, which is vast and has no roof. It can be said that this facility is also a historical heritage site, though "historical" doesn't mean centuries ago. The scenery of Hokkaido of 50-100 years ago is displayed here. I suppose that older people might long for those days or feel nostalgic for this scenery.
This picture shows the track of a coach and horse and people who are waiting for their coach. This park is provided with wheelchairs, but is too vast to walk around with a wheelchair. Even aged or handicapped people can easily move on the main street with this coach. Talking about me, myself, I wanted to check everything, so I looked around on foot.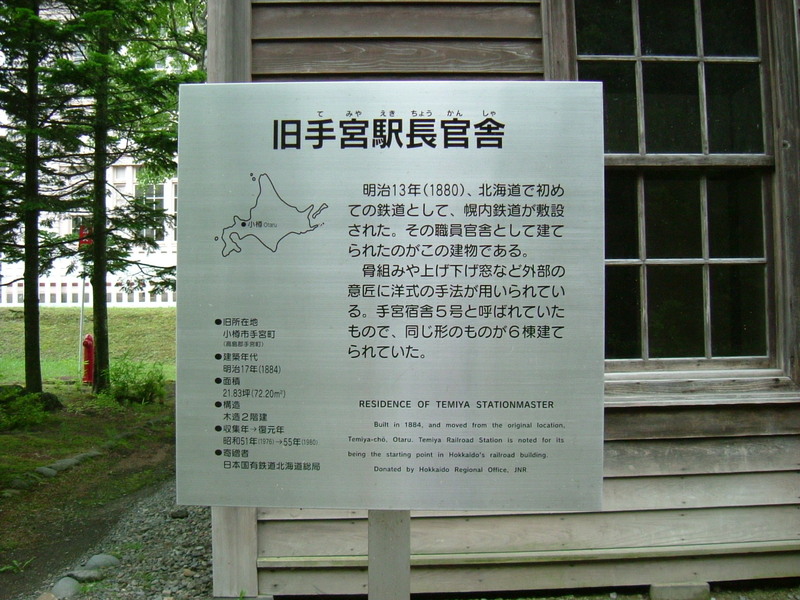 Residence of Temiya Stationmaster:
Built in 1884, and moved from the original location, Temiya-cho, Otaru. Temiya Railroad Station is noted for being the starting point in Hokkaido's railroad building. I wrote a diary entry about this railroad before.
http://kumo.typepad.jp/weblog/2007/08/wandering-in-ot.html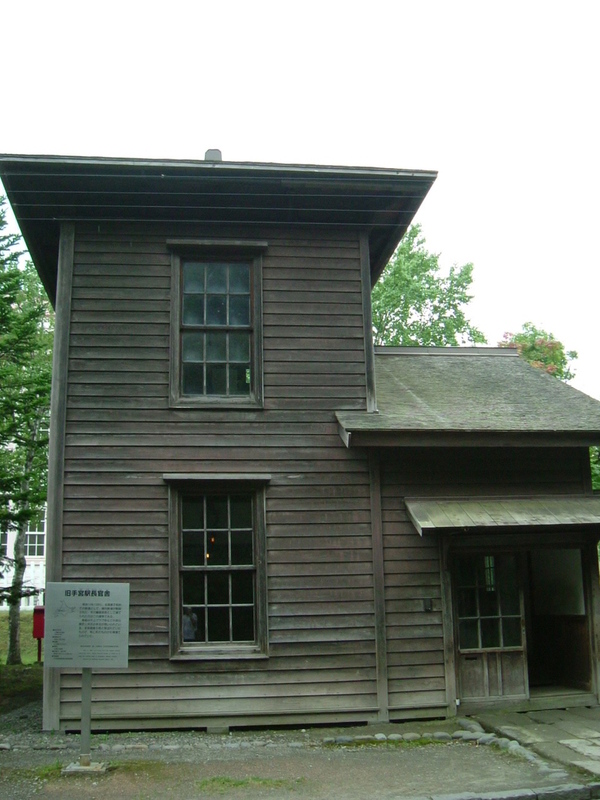 Having stepped into the house, I was surprised to see that I was permitted to go up into the house. In ordinary Japanese houses, people must take off their shoes at the entrance and after that they can enter into the house. I went up to the Tatami room after taking my shoes off and looked around, a small tiny living room, a shabby but tidy kitchen, a washroom,,,. I could easily imagine how hard life was in this land of severe cold.
(Vocabulary)
outstrip 〈ライバルなど〉 に勝る, を上回る
long for sth (すぐには実現しそうもない) <…>を切望する
(KW: 北海道開拓の村 手宮駅)