Though it was raining this morning, I went out touring, which I promised to do with my friends a few weeks ago. I was going to start at 9 o'clock, but it was raining at that time and I delayed the time after seeing the weather. Finally we started at 10:30 and the rain stopped around noon.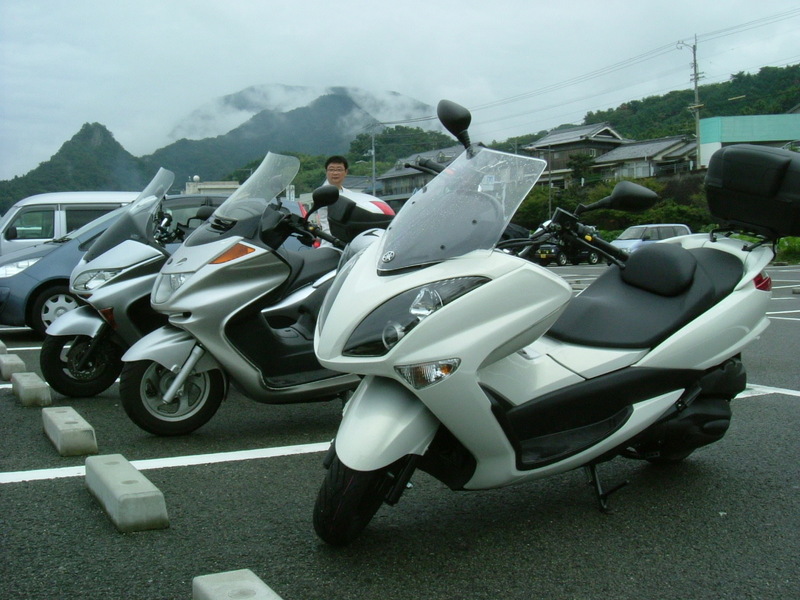 At the beach side park in Futami town with two other scooters. After 30 minutes' riding it stopped raining. The nearest scooter is mine. We started for Uchiko town after 20 minutes' break. We turned left from the national road onto a narrow municipal road.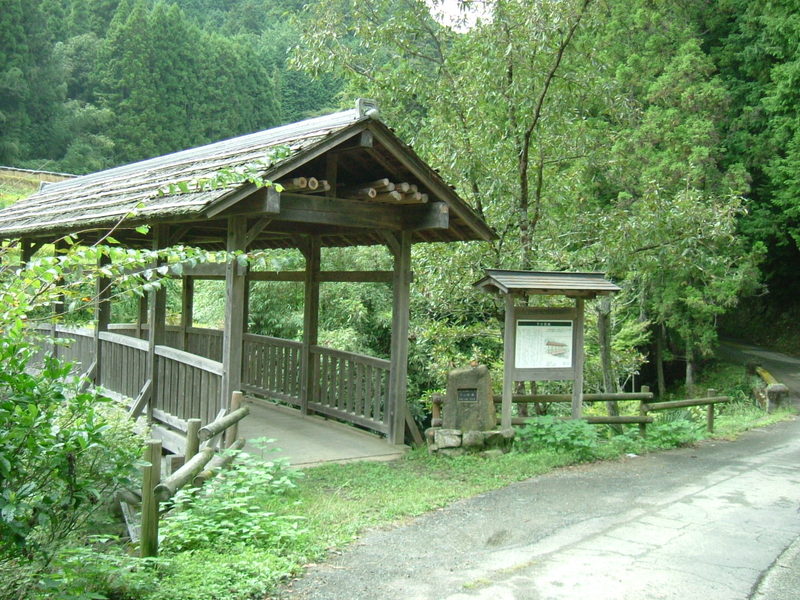 The road was paved but narrow and tightly winding. I rode my scooter slowly because I was a beginner on the scooter. TTR (the name of my former off-road motorcycle) was excellent on such a winding road but my new scooter is not so good. Maybe it's because the turning radius of my scooter is wider than TTR. Anyway we passed the highest point and the border of the town. The greens around the road were very beautiful with the dew of the rain. The picture shows a covered bridge that we encountered. It's just like the bridge in Madison County though there was no lady around here.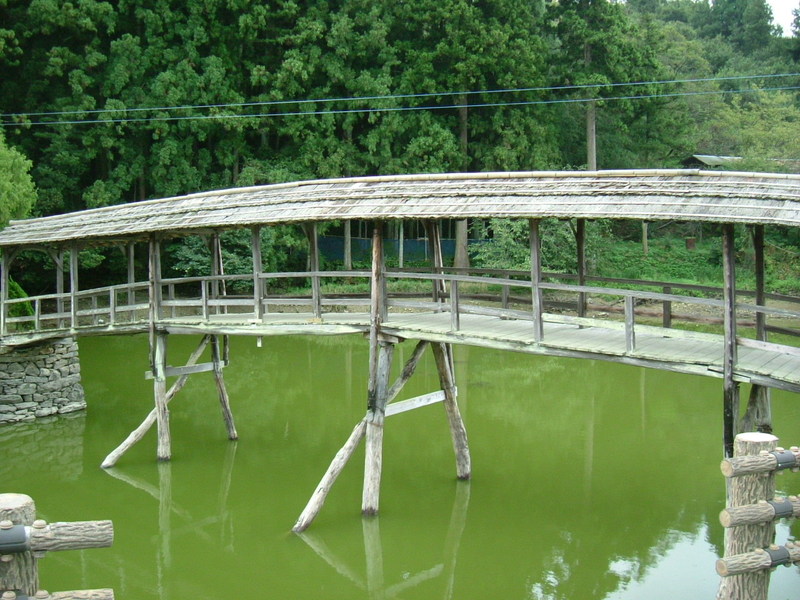 We went on and on without checking the map. At every bifurcation we decided the way we went according to the mood of the moment. We came across another covered bridge that is shown in this picture. An old and mossy shrine stands over the bridge and people can visit there by walking on this bridge. The next picture is a distant view of this bridge. The frame of the bridge looked so fragile. A friend who is an engineer said to me, "The arched structure of the bridge must hold the bridge." I really think so.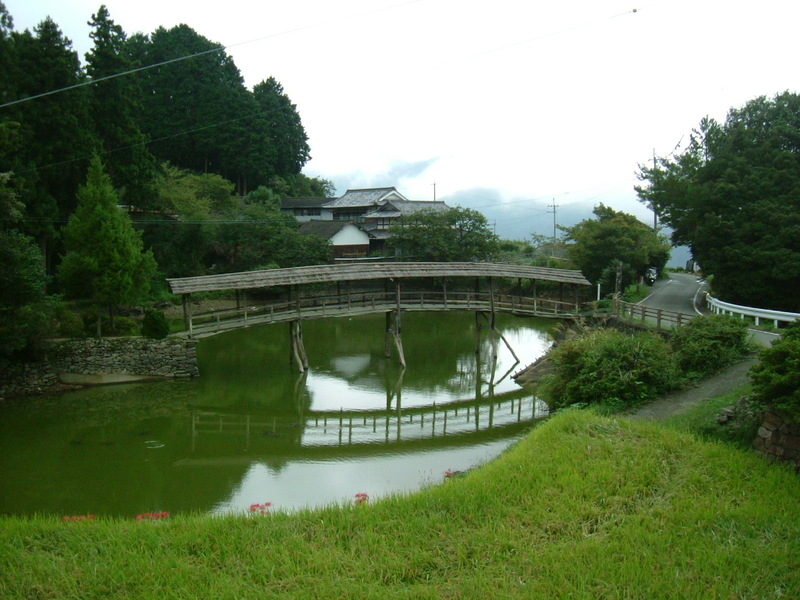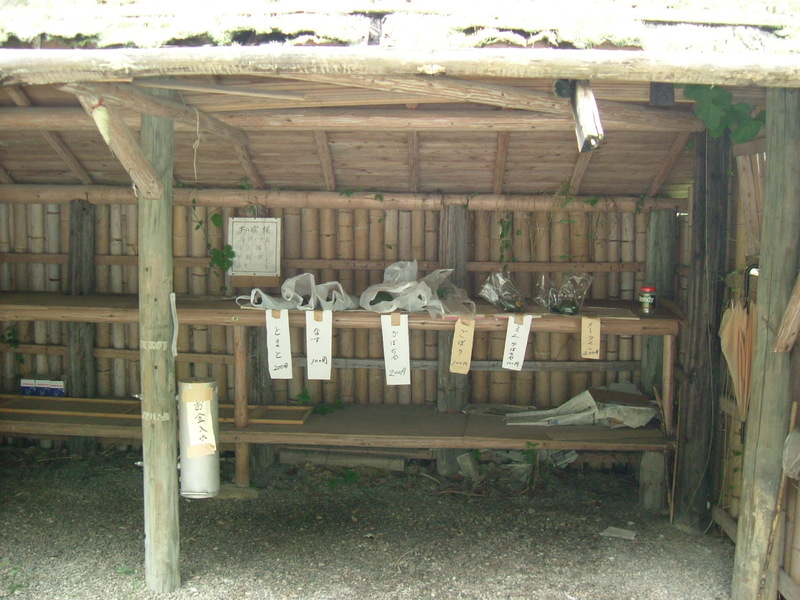 A street vendor hut. There's no one around here. If you want something here, you have to put coins in the can hanging on the pole. All the goods were harvested this morning and put here by farmers, so they are fresh. Moreover, the cost of the transportation is nothing so it comes at a lower price.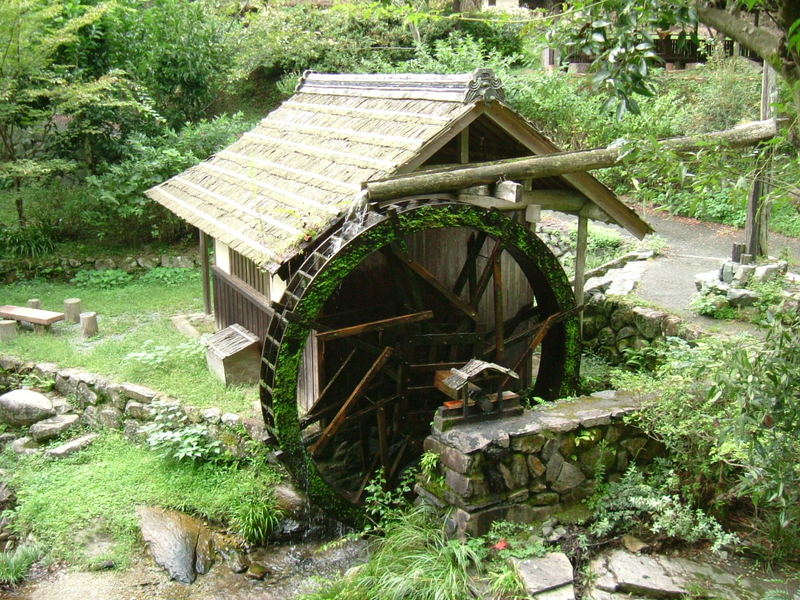 It's a watermill that we ran into. We enjoyed walking around the mill. This area was very intersting. The road was like a spider's web. The riding itself was fun. I thought I would be back before you know it.
(Vocabulary)
municipal roads 市町村道
turning radius 回転半径、旋回半径
covered 《[名]の前でのみ》屋根のある, 屋根付きの
according to the mood of the moment その時の気分次第で
(KW: 内子町 中山町 屋根付き橋)