I have been using Ichitaro, a word processing software, like the wordstar in English-speaking lands. In the DOS era, Ichitaro had a large market share, but as Windows became dominant, the share was considerably taken over by Microsoft Word. However, the ability to handle Japanese sentences is better in Ichitaro than in Microsoft Word, and moreover my fingers are much more used to Ichitaro than Microsoft Word. That's why I have used Ichitaro for 20 years.
     Ichitaro has been upgraded every year lately and I upgraded it this year for the first time in 4 years. The picture shows the package of the newest version of Ichitaro.
     Ichitaro has dozens of supporting softwares and Koujien's DVD version is one of them. This dictionary is the most popular dictionary of Japanese words and has a considerably dominant market share, but to my regret it is edited by people who have been heavily influenced by Chinese communism. I've never allowed my daughters to use this dictionary, especially in looking for current affairs so as not to be brainwashed.
     Nowadays this issue is coming to the surface. I hope many Japanese people have noticed this fact.
     If you are Japanese, try to look up "日中共同宣言, the mutual declaration between Japan and China" in Koujien. You will be surprised to know how Taiwan is described in it.
(Vocabulary)
English-speaking lands    英語圏の国々
upgrade the software    ソフトウェアをバージョンアップする
the mutual declaration between Japan and China 日中共同宣言
 この20年一太郎を使っている。指が慣れていることもあるが、日本語を扱う能力は捨てがたい。その一太郎を4年ぶりにバージョンアップした。そのパッケージを写真に示しています。
 一太郎をサポートするソフトは数十にも及ぶが、広辞苑もそのひとつ。これは日本で最も人気にある日本語辞書である。しかし、残念なことにこの辞書は中共に強く影響を受けた連中が作成しており、娘達にはこれを使わないように言っている。徳に時事問題に関しては洗脳されないようにと。
 最近になって、この問題が表面化したが、多くの日本人がこの事実に気づくことを望む。もし読者が日本人なら「日中共同宣言」を引いてみるとよい。そこで台湾がどのように表現されているか、知ると驚くことだろう。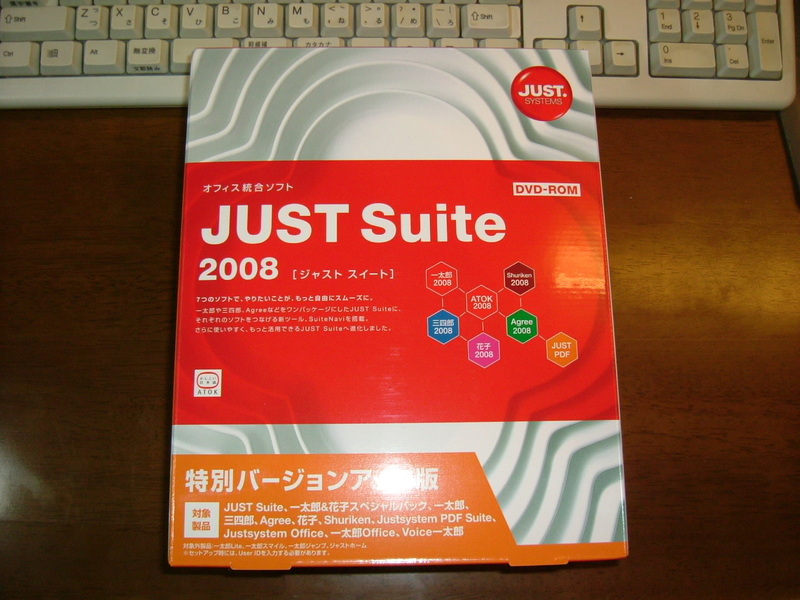 (KW: 広辞苑 反日左翼)