The Pearl Harbor Historic Sites consisted of four areas; USS Arizona Memorial, USS Bowfin submarine Museum and Park, Battleship Missouri Memorial, and Pacific Aviation Museum Pearl Harbor.
  The visitors weren't allowed to carry their bags into the sites and I left my bag at the baggage storage service after taking valuables out. I had to hang both my single lens reflex digital camera and compact one from my neck and put my smartphone, passport, credit cards, etc into my pockets. I started sightseeing following the proposed route.
  USS Arizona Memorial is built on the ocean of Pearl Harbor and we have to use a shuttle boat to approach it. The starting time of my boat was written on my ticket and there wasn't enough time left to spend time in the building explaining the road to the war, but I heard that I would be able to enter the building even after coming back, and went straight to the Pearl Harbor Memorial Theater. I didn't want to watch any movie there, but I was obliged to watch a short movie before getting on the boat.
  As I had expected, I had to listen to the stupid waging-the-war address of a madman, Franklin Delano Roosevelt(FDR). He criticized the surprise attack by Japan, but the surprise itself was correct. Japan didn't mean it, but the attack finally and officially became a surprise due to a clerical error. However, before criticizing Japan, tell me which war in history wasn't a surprise. Most wars had started from incidental conflicts or surprise attacks catching the enemies off guard. While I was listening to the declaration of war by FDR, I thought like that. By the way, I'm a perfect gentleman and I feel a bit uncomfortable expressing another country's late president as a madman, but it's not my words but quoted from the book written by also former president Herbert Clark Hoover, "Freedom Betrayed".
p.832
Document 9 Hoover's Conversations with General Douglas MacArthur May 4, 5 and 6, 1946:
from the 4th line;
Of special interest is Hoover's blunt assertion that World War II in the Pacific (the whole Japanese War) had resulted from "a madman's" desire to get into war ? a stinging allusion to President Franklin D. Roosevelt.
p.833
I said that the whole Japanese war was a "madman's" desire to get into war. He agreed and also agreed that the financial sanctions in July 1941 were not only provocative but that Japan was bound to fight even if it were suicide ----
  When I was checking my pictures during waiting for the boat, I found a ridiculous description. Take a close look at the third picture, which was magnified from the 2nd one. The surprise attack by Japan triggered the U.S. involvement into World War II. Don't twist the historical fact! I'll write about that in detail later.
(Vocabulary)
clerical   事務(員)の, 書記の
a clerical error   (書類上などでの) 事務的なミス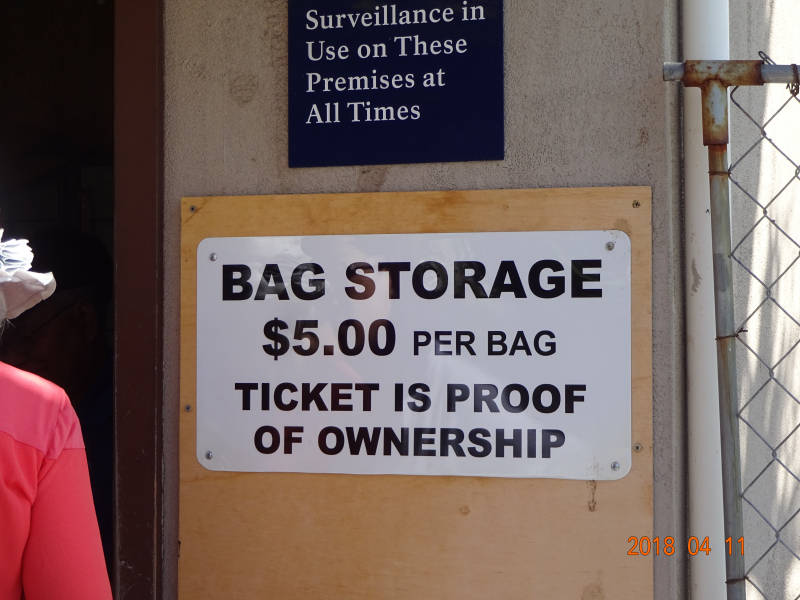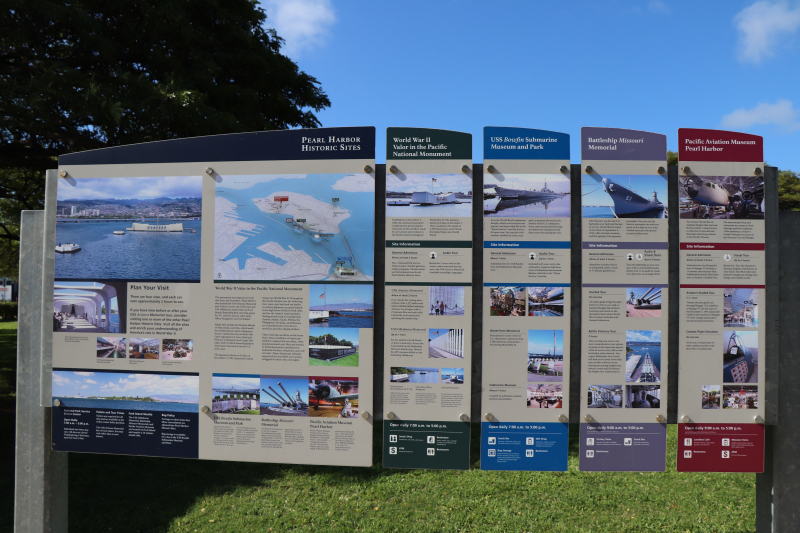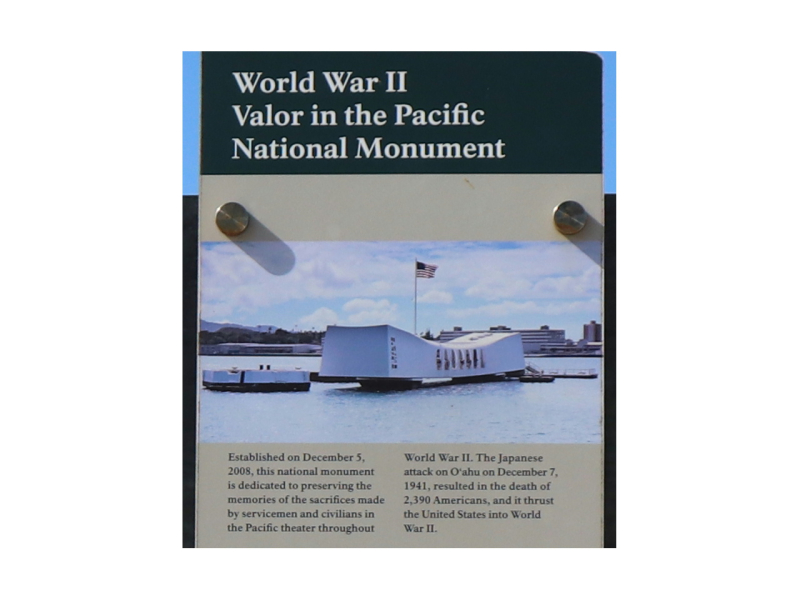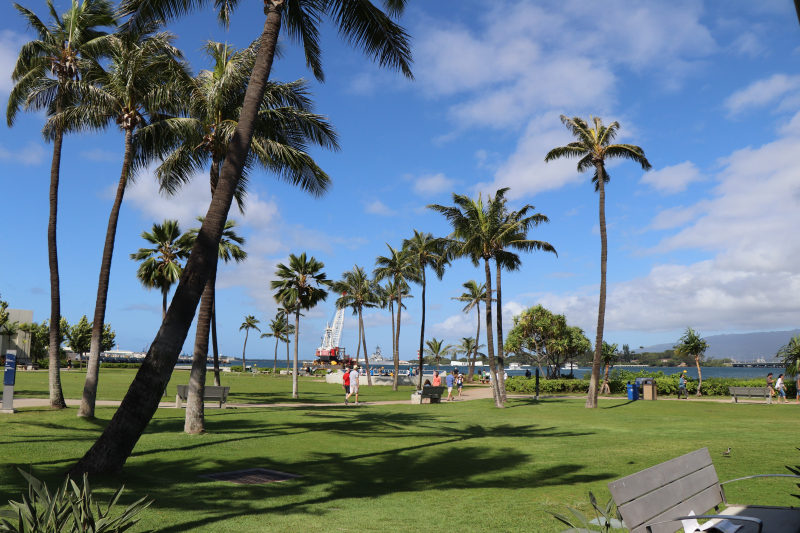 真珠湾歴史地区は4つの区域に別れる。日本軍の攻撃により沈没した戦艦アリゾナが内部に戦死者を残したまま慰霊碑となっている。そして大東亜戦争で活躍した潜水艦の展示、同様に戦艦ミズーリ記念館、そして航空機の展示施設である。
 
まずバッグ類を預けなければならない。一眼レフカメラと小型のデジカメを首からぶら下げ、スマホ、パスポート、カード類などをポケットに詰め込んで、貴重品以外全てを預けた。順路に沿って、まず戦艦アリゾナ記念館へ向かった。
 
アリゾナ記念館は洋上に造られており、そこへ行くには船に乗らなければならない。チケットを買うと船の時刻が既にチケットに刻印されていて、戦史を説明している建物(入り口に戦争への道と書かれていた)にはあまり時間を割けなかったが、後で立ち寄れると聞いたのでじっくり見るのは後回しにして素通りしてパールハーバーメモリアルシアターへ入った。ここで映画を見なければ慰霊碑までの船に乗れないことになっている。
 
予想通り、くだらん男のくだらん演説を聴いた。記録映画の中で日本軍は当然ながら悪者だった。宣戦布告がなかったと批判されているが、確かに事務上のミスで宣戦布告は攻撃後になってしまったが、ならば宣戦布告をしてから始まった戦争があるのだろうか?多くは偶発的な衝突か相手の隙を突いた奇襲から始まるのではないか?狂人FDRの演説を聴きながらそんなことを思った。仮にも他国の元大統領を狂人と呼ぶことには抵抗があるのだが、実はこれは僕の言葉ではない。アメリカの元大統領フーバーの言葉である。(と書いても出典を示せと言われることがあるのでここに抜き書きしておく。"madman"とはっきり書かれています。)
 
渡船に乗るまでの間、撮った写真を整理していた。その中である記述に気がついた。3枚目の写真を見て欲しい。2枚目の案内板の一部を拡大したものだ。日本の真珠湾攻撃が原因でアメリカは第2次世界大戦に参戦することになった、、、、嘘つけ!